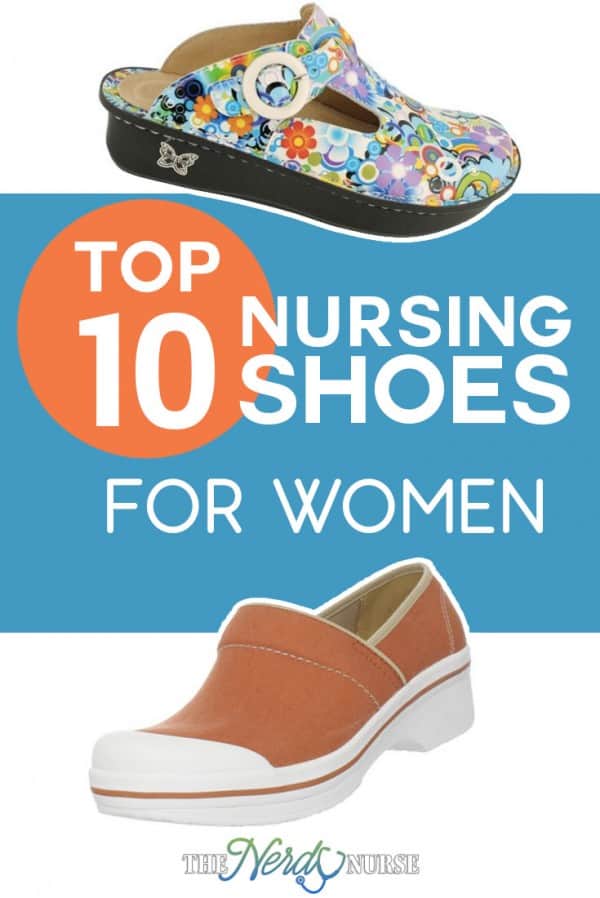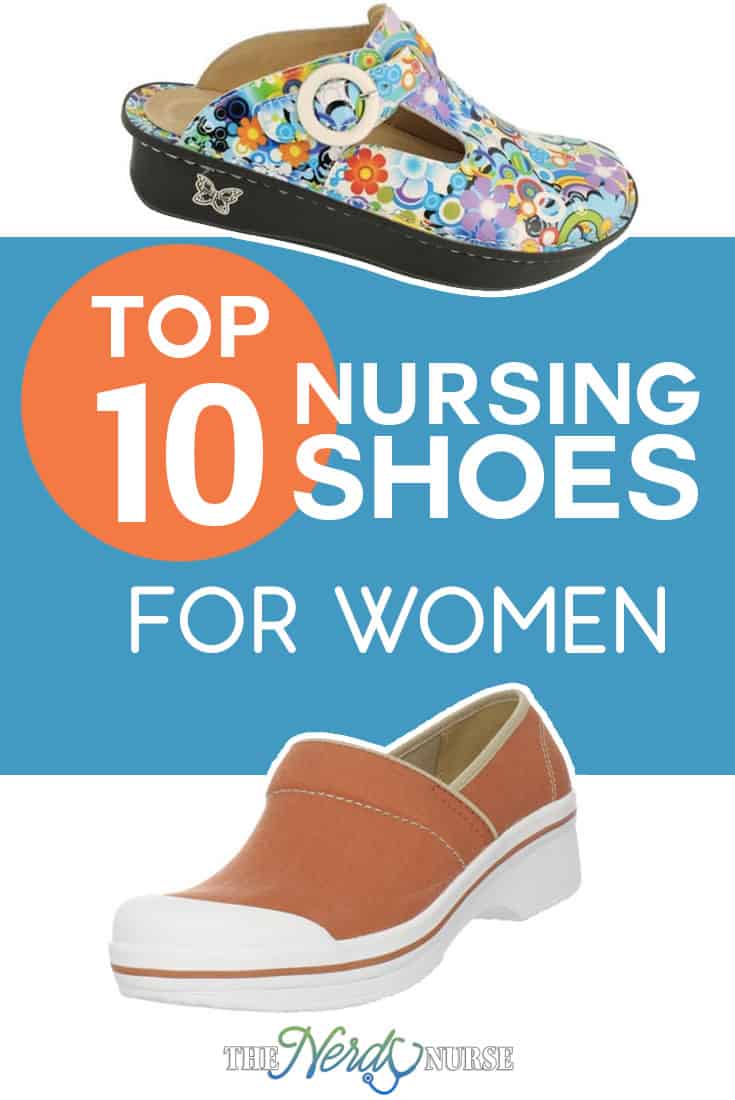 I've rounded up some of the top nursing shoes for women to save you time and effort searching for that perfect pair. Everyone knows that working as a nurse means spending hours on your feet. Not every nurse takes the best care of their feet. Finding the right pair of nursing shoes for women or men can make a big difference in the a nurse's life. It's not just about whether your feet hurt. Rather it's about promoting quality posture and spinal alignment as well as preventing long-term leg and foot pain. While all of the footwear listed in this post does not address every one of these aspects, several of them do and should be considered when you are looking for a near pair of nursing shoes.


Benefits of a Quality Pair of Nursing Shoes
less foot pain
less back pain
assist in balance
prevent spinal issues
reduce stress and discomfort
A nurse on the floor can spend 12 hours or more a day on their feet. Having uncomfortable shoes that don't fit properly or offer enough support will not only leave you with aching feet but more complex aches and pains in the legs and back. Sometimes this pain and discomfort can translate to long term back and leg problems that are difficult and costly to treat. Fortunately, there is a wide array of nursing shoes, specifically designed to address the needs of a nurse who works on her feet all day.
Here is a list and short reviews of the top 10 nursing shoes (best sellers) for women to hopefully help you find exactly what your feet are looking for and your sense of fashion demands!
Top Nursing Shoes for Women

Made with synthetic materials and canvas, the Dansko Women's Volley Clog, with a slight platform and a 1 ¼" heel, provides the hard-working nurse with the benefit of both comfort and style. This clog is available in a wide variety of solid colors and patterns, in everything from black and purple to blue patchwork and rose floral. Depending on the color/pattern you choose, the MSRP ranges from $70.00 to $95.00, but can be found on Amazon.com for less.

Similar to the canvas Dansko Women's Volley Clog, the Dansko Women's Volley Box Leather Clog features a 1 ¼" heel, synthetic and fabric materials and a rubber sole for stability. However, this clog is made of box leather and is only available in black and white. Although the MSRP is $85.00, this comfortable and professional-looking nursing shoe can be found for less at Amazon.com.

One of the most popular brands in women's shoes for everyday wear is Skechers. Now, the same comfort you find in your favorite pair can be found in this all white or white with navy trim nursing version known as the Skechers Women's Premium-Premix Slip-On Sneaker. Typically the MSRP of this shoe is valued around $59.95 but often sells for about 17% less on Amazon.com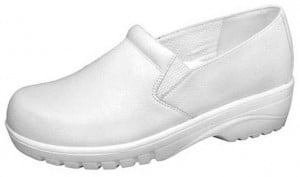 Comprised of 100% cotton and durable leather, the WorkWear Peacock Women's Step In offers a lightweight outsole and breathable linings. A more traditional nursing shoe, this style can be found at Amazon.com for approximately 10% less than the MSRP of $48.00.

The Dickies Intense Women's Slip On Nursing Shoe features washable leather and a lightweight, slip resistant outsole. This nursing shoe is available in black or white and is available in in both wide and regular sizes. Retailing for $60.00 per pair, you can find this uniquely designed nursing shoe on Amazon.com for about 23% less.

A more popularly seen nurse's shoe is the Women's Nurse Mates DOVE Slip On Loafers. Made mostly of leather with a rubber slip-resistant sole, this shoe comes in a variety of colors you can pair with your favorite scrubs. Colors include, but are not limited to, black, metallic navy, pink and all white. The MSRP on the DOVE Slip On Loafer from Nurse Mates is $70.00. However, you can order yours today from Amazon.com for 20% less.

Arguably one of the most comfortable nursing shoe brands on the market, Alegria brings style along for the ride. Although they are priced slightly higher than some other brands, with an MSRP ranging from $109.95 to $119.95, many feel they are worth the price. The Donna Clog is a leather upper with manmade sole, removable latex, memory foam and cork footbed, with colors and patterns to spare, including Friends White, Froggie Sue Black, Navy Sew Hope and of course black and white. Sold on this shoe? Check out Amazon.com to save around 43% on the Alegria Women's Donna Clog.
We also featured the Alegria Clog as the most comfortable shoes for nurses.

Another shoe designed with not only comfort in mind, but style as well. The Alegria Women's Professional Slip On is comprised of leather with a slip-resistant rubber sole and an adjustable Velcro closure featuring button detail. Let's not forget the patented interlocking cork memory foam footbed that molds to your feet and walking pressures to maximize comfort. Available in a variety of colors and patterns, including Black Butterfly Patent, Professional Floral and Black Patina, this Alegria shoe has an MSRP of around $120.00, but can be found on Amazon.com for about 25% less.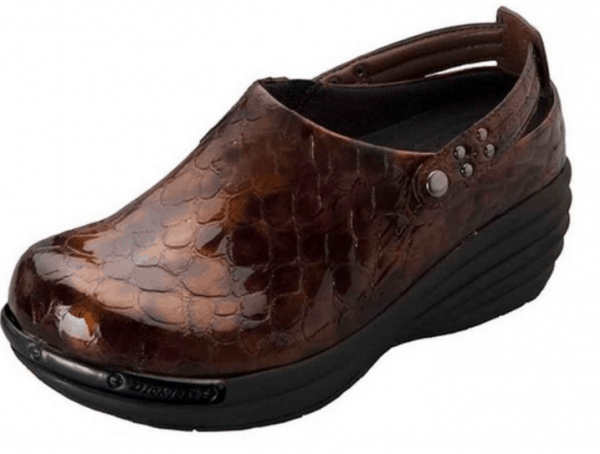 The Dickies Uniforms Women's Conquest Axiom Leather Clog is a beautifully designed piece of nursing footwear. It is made of premium leather with patterns and details as well as a moisture absorbing lining material. Rather than being a completely closed clog, it does include a swiveled and adjustable back strap. The insole is soft and anatomical, and the sole is slip resistant. The midsole is made of a lightweight material. Best of all they are stylish and super comfortable.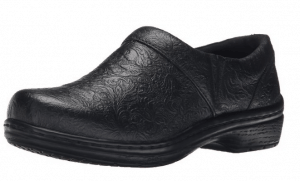 Last, but certainly not least on our top ten women's nursing shoe list is the Klogs USA Women's Mission Mule. This shoe is frequently rated as one of the best shoes by nurses and currently has 4.7 stars. It is available in leather and a choice of different patterns and colors. Designed to be comfortable and stylish, the Klogs USA Women's Mission Mule is available on Amazon for as low as $69.
Need a white pair of nursing shoes? Check out our blog post on the best white nursing shoes for women.
You can also take at more great nursing shoes for women including the most comfortable shoes for nurses, and the most popular shoes for nurses. Of course, we couldn't forget about all the wonderful male nurses. We have some recommendations for them too: top nursing shoes for men. To address your uniform needs, we've also rounded up some great Carribean blue scrubs and Christmas scrubs.
And don't forget Every Nurse Should Wear Compression Socks at work!
There is no need any women should have to compromise style for comfort in any profession. The nursing shoes listed here provide you with many options from style to color, never letting up on the comfort and again, all can be found online for way less than most retail stores.
What are you thoughts on the best nursing shoes for women? Do you like clogs, sneakers, leather or canvas? Sound off and let us know what you think.