I am thankful to have an opportunity to share my knowledge and passion with the nursing and technology community. On this page, you'll find a collection press, interviews, and articles I've been quoted in. You will also find honored awards and mentions. If you are looking for a nurse expert to include in your publication, please feel free to contact me.
Interviews
Leveraging Technology for Your Nursing Career from Keith Carlson and The Mastering Nursing Podcast
The "Nerdy Nurse" Brittney Wilson on Nursing and Technology from The Nursing Assistant Podcast
Nurse Spotlight: The Nerdy Nurse from Nurse.org
What I Wish Someone Told Me BEFORE I Became a Registered Nurse from Rasmussen College
5 Nursing Mistakes to Avoid from Rasmussen College
Cover Story Feature in the Minority Nurse Fall 2017 Edition
The Nerdy Nurse Talks Nursing Informatics Podcast with Johnson & Johnson
31 Nurses & Experts Answer 3 Important Diabetes T1 & T2 Questions – The Diabetes Council
Time to Leave the Floor? Other Careers for Nurses – Minority Nurse
"The Nerdy Nurse" Blogs on Bullying – Article on Minority Nurse
Resumes, LinkedIn, and HR Portal Profiles, Oh My! – Article on Minority Nurse
Brittney Wilson, "The Nerdy Nurse"! – Interview on Blog Talk Radio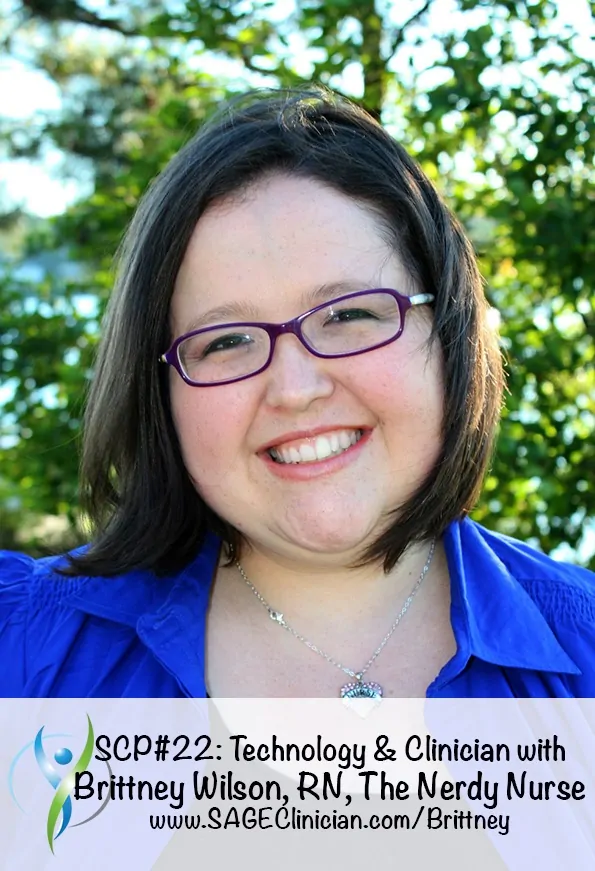 Expert Interview with Brittney Wilson About Paying for Healthcare – Mint.com
Nursing In The Digital World: The Nerdy Nurse Tells Why You Should Be on Social Media – Nursing Degree Guide
SCP22: TECHNOLOGY FOR CLINICIANS WITH BRITTNEY WILSON, THE NERDY NURSE
RN Brittney Wilson IS The Nerdy Nurse on Nurse Talk
Finance Your Nursing School Education with Scholarships on Minority Nurse Magazine
The Nerdy Nurse Talks Nursing Informatics on Johnson & Johnson Podcasts: Nursing Notes Live
Clinical Staff HIPAA – The Nerdy Nurse from Help Me With HIPAA
Press
How Healthcare Organizations Can Overcome Staff Shortages from HealthTech
5 Knowledgeable Creators Of Healthcare Media from Ezvid Wiki
The Best Thermometers, According to Doctors, Nurses, and Pharmacists from The Strategist
How to Stock Your Medicine Cabinet, According to 49 Doctors, Nurses, and Pharmacists from The Strategist
Recommended Reading: 3 Books by Inspiring Nurses from Capella University
25+ Medical Experts Reveal Their Recommendation for the Best Stethoscope from Criticpedia
Expert Roundup on Healthy Pregnancy Tips 2017 – Consumer Health Digest
Transfer big files – 44 pros reveal how to send large files – psdtowp.net
10 Experts Weigh in: How to deal with on-the-job stress – Nursing Degree Guide
Meet the Nerdy Nurse: Brittney Wilson, BSN, RN on Travel Nurse Source
Awards and Mentions
Thank you to those who have included me in your list with incredibly talented nurse bloggers and honored me with an award or recognition.


30 Healthcare IT Influencers Worth the Follow in 2022 – HealthTech Magazine
2021 Top 10 Nursing Blogs – also named top blog in the "lifestyle and hobbies" category -intelyCare
5 Nurse Speakers and Authors Making a Name Online – AJC
20 Community Movers + Shakers in 2020 from Higher Logic
Community Spotlight – May 2019 from NurseGrid
50 Best Medical Blogs by Cables and Sensors
30 Nursing Blogs You Need to Read from Rasmussen College
The Best Nursing Blogs You Should Follow from Creative Nurse
Fan Girl Blogs to Follow from The Joyful Nurse.
Named one of the Top 10 U.S. Social Media Influencers in Healthcare by Agility PR.
50 Top Nursing Blogs for 2015 – Top RN to BSN
The Top 10 Nursing Blogs – Best Informatics Nurse Blog via Wilkes University
Top 10 Blogs for Nurses in 2014
Top Nursing Blogs For Students – Listed as the #1 nursing blog
Nursing Blogs and Resource Sites…A Must Read!
20 Health IT Influencers to Watch on Health IT Leaders
Google+ for Nurse Practitioners & Entrepreneurs: 55 Great Pages
Brittney Wilson Awarded First Place in the 2014 AJN Book of the Year Awards
7 Nursing Blogs to Follow in 2016 via Live Clinic
Top 10 Nursing Blogs in 2016 – National CPR Association