*articles contain affiliate links*
One question is at the forefront of the mind of nearly every nursing student "How to pass the NCLEX?" Some even lust about the possibility of finishing the exam at the 75 question mark so they can be done with the agony of the dreaded "nursing boards" as quickly as possible. No one wants to pay the $300 (and up) fee to take the test again. So passing the NCLEX on the first attempt is a huge priority
Nursing school is a challenging experience. Nursing student constantly question "why is nursing school so hard?" until they take the NCLEX and see just how challenging the nursing boards can be. As if the rigors faced during your nursing education weren't enough, you then have to take your professional licensure exam. Now comes the stress of preparing for the NCLEX. Whether you have completed an RN or LPN program, you still must pass your "boards" to practice as a nurse. Nursing school is about jumping through hoops, and NCLEX is just one more to jump through.
What is the NCLEX Pass Rate?
You may find yourself wondering "what is the NCLEX pass rate?" It's actually a pretty common question. Knowing how well others perfect on this critical exam is important. NCSBN reports the 2018 NCLEX pass rates (for BSN programs) as 92.39%. The chart below shows NCLEX pass rates for ASN, diploma, and even LPN programs.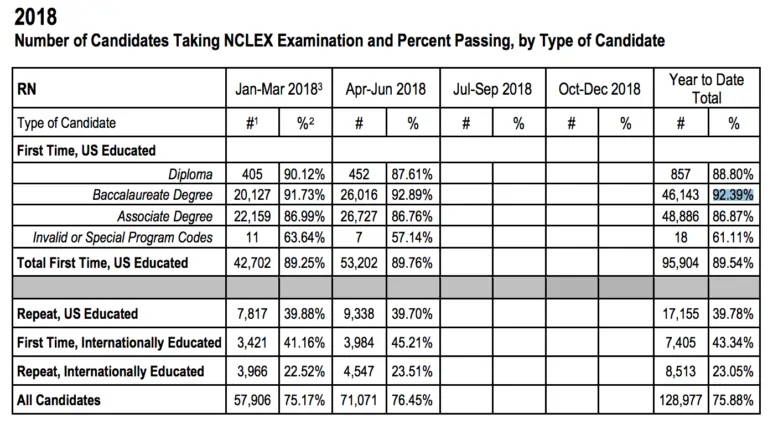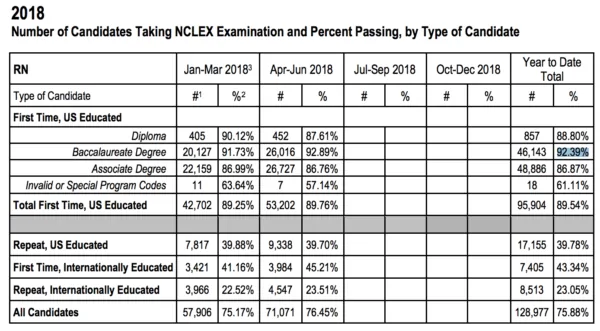 You can find LPN pass rates (and other information) by downloading the report from NCSBN.
Passing the NCLEX
Passing the NCLEX RN in 75 questions can be a reality for you!
If you've stumbled onto this page in a nervous effort to find any tips or advice you possibly can to do well on the NCLEX, then you've come to right place. If you're worried about your NCLEX test preparation, you are not alone. You wouldn't be a good nurse if you didn't think things through (nursing process, anyone?). But since you're already thinking like a nurse, then I'm sure you'll do fine. However, just to be on the safe side, here are a few NCLEX tips and strategies that will give you a little extra confidence and help you answer the question: "How to pass the NCLEX?"
How to Pass the NCLEX
Stop Stressing.
The hard part is over. You've completed nursing school and put in the time and effort needed in order to be worthy of taking your state nursing boards. The tests you take in nursing school are meant to mimic the types of questions you will see on the NCLEX. In my experience, the questions on nursing school test my senior year were far more difficult than 70% of what was on the NCLEX.
You passed those, right?
Don't Cram
By now you know most of what you're going to know. Attempting to go over every detail you've learned in the last 2 years in a month is not going to get you anywhere. You should retouch on areas you had difficulty during school, but only briefly. Do not attempt to memorize your entire drug book! Do not listen to MP3s of lab values when you're going to sleep.
Just don't!
Review an NCLEX Strategy Guide
I think that the best NCLEX guide is Saunders Strategies for Test Success: Passing Nursing School and the NCLEX. This book will give you the foundation you need to approach any NCLEX question (whether you know the material or not) with the tools you need to select the right answer. It's impossible to remember every single lab value or medication, but it is possible to eliminate wrong answers and then make use of deductive reasoning to find the best possible answer of those that remain. I wish I had known about this book before I started nursing school because it teaches you how to answer the types of questions that are on all the tests in nursing school. Those tests are designed to prepare you for the NCLEX.
Use Your Nursing School Notes
If you created a well-organized nursing school binder, you can use it to study the NCLEX. It can be helpful to rewriter and research topics and subjects that you struggled with during nursing school. Start with the content that you made the lowest grade on and work backward. Use this in conjunction with online study programs like Nursing.com NCLEX Prep Academy.
Review Questions and Take Practice Tests
Don't spend every waking hour of every day with your nose in a book or computer screen taking practice tests. But do spend some time keeping your testing skills in peak performance. There are several good resources online for practice NCLEX questions as well as books. When you want to know how to pass the NCLEX you must first focus on what the important subject matter is and the mechanisms to get this information as quickly and easily as possible.
My favorite NCLEX question bank resource is Nursing.com NCLEX Prep Academy.
NCLEX Prep Resources and Tools
Online NCLEX Resources
Nursing.com Academy – One of the best, and most affordable NCLEX study solutions. Billed as "Your All-In-One, Secret Weapon for Dominating Nursing School and the NCLEX® Exam… Guaranteed." It event boast a 200% money-back guarantee.

This comprehensive program includes all the subject matter areas that are critical to passing the NCLEX.
Subjects include: ABGs, Cardiac, EKG, Fluids & Electrolytes, Fundamentals, GI/GU, Hematology/ Oncology, Immunology, Integumentary, Lab Values, MedMaster Pharmacology, Mental Health, Metabolic, Endocrine, Musculoskeletal, Neuro, OB, Pediatrics, Respiratory, Test-Taking, and so much more!

Picmonic – Simplify complex nursing information and study for the NCLEX with beautiful imagery through visual story-telling. You can get 20% just by using this link!
Crush NCLEX – A user-friendly online NCLEX-RN preparation platform featuring review courses with relevant and comprehensive nursing content and a high-yielding practice question bank, all according to the latest NCLEX test plans and based on the NCLEX-RN blueprint.
BoardVitals – "3300 NCLEX-RN board review questions with detailed explanations to help you prepare for your nursing certification exam." This is a great option because the questions distribution in the question bank mirrors that of the actual NCLEX. Get 10% off using code NERDY or buy one month get one free with promo code NERDYBOGO
Brilliant Nurse – NCLEX RN and PN review programs. They have one-click daily reading and practice assignments as well as thousands of NCLEX questions and rationales. You can get 20% off using promo code nerdy20.
NCLEX Question Bank Resources
NCLEX Practice Questions – This resource is from Nursing.com. This is a great resource with over 3500 NCLEX style questions as a super affordable price.
Lippincott's NCLEX 10,000
BoardVitals – "3300 NCLEX-RN board review questions with detailed explanations to help you prepare for your nursing certification exam." This is a great option because the questions distribution in the question bank mirrors that of the actual NCLEX. Get 10% off using code NERDY or buy one month get one free with promo code NERDYBOGO
Find more resources for NCLEX Questions in our latest post containing over 60 NCLEX Question and study resources.
NCLEX Apps
Books
Check out our post on 5 Best NCLEX Review Books.
You may also like: Is Nursing.com Academy the Best NCLEX Review?
Study, But Don't Over Study
Here's one of my favorite NCLEX tips, because it's just so simple. Determine a study routine and stick to it. I caution you not to overdo it here. If your study routine consists of spending every waking hour from now until test day trying to cover every single item you may have touched on in the last two years, you need to seriously reconsider. Spend a few hours each day reviewing what you struggled with during nursing school. Make sure you focus on test-taking strategies as well. These strategies are actually what you need to know how to pass the NCLEX, rather than just the raw data that will make up the questions. The question banks are a great resource, but you need to ensure that you are training your brain to think critically rather than trying to memorize answers. This is one of the biggest mistakes many NCLEX preppers make.
Focus on Your Problem Areas
You should try to touch every area but spend more time on the areas that you really struggled with. One area that most students are challenged by is Pharmacology. Consider looking at some different resources outside of the class notes and books you already have. To study Pharmacology for NCLEX prep, I recommend the Pharmacology course from Nurisng.com. It is very affordable and it's video and audio lessons can save you a lot of time and effort trying to find the pharmacology information you need to know from multiple resources. You can get more information about this course, as well as some pharmacology study tips in our post 3 Pharmacology Tips to Help You Pass the NCLEX.
Don't Study On Your NCLEX Test Day
Just don't study on test day. You aren't going to find some magical formula on how to pass the NCLEX the day of your test. You'll just end up stressing yourself out if you try to cram in "just a few more questions." We've already discussed how at this point you really shouldn't be attempting to cram in content. Try to find a relaxing activity to fill your day with. But avoid anything NCLEX on NCLEX day, except well… the NCLEX itself.
Show Up Early
The last thing you want to do to do is fail your test by missing your appointment. Make sure that you know your way to your destination and arrive in enough time to use the restroom, drink some water, and sit down and relax. You don't want to be running around like a chicken with your head cut off trying to get to your testing appointment.
Go with Your Gut and Don't Doubt Yourself
I cannot tell you the number of times I thought to myself "It's supposed to be harder than this," while I was taking the NCLEX. I found myself in doubt of answers that I knew; I just had to stop and tell myself to stop doubting. If I knew the answer, then why would I try and tell myself I didn't? You have to be confident in your decisions on the test. Read all the answers and use critical thinking, but don't be afraid to go with your gut.
CAT: Computerized Adaptive Testing
The NCLEX uses computerized adaptive testing technology. What that basically means is that is choosing your next question based upon if you successfully answered a question. Once you answer a certain amount correct in a certain level you bump up to the next level. You then have to answer a certain amount correct to bump up again until you get to a minimum of 75 questions. Every question you answer makes the computer recalculate your probability of success. So based on how many you get correct, it predicts if giving you more questions will help you pass or not. So getting past 75 questions does not mean you fail the NCLEX, it actually means it's pretty sure you can pass it. However, it needs you to answer a few more questions correct before it can be sure.
Don't Psych Yourself Out Trying to Figure Out the CAT Process
Don't freak yourself out trying to figure out if the question you are answering is easier or harder than the one you just answered. In addition to the fact that you're just wasting time, and it doesn't make a difference, somewhere along the lines of 30 questions will be "test" question for use in future NCLEX exams. So you may be freaking out because you got an easy question after a serious of select all that apply and thinking that you bombed them when in reality the computer is just throwing in a "test" question (that doesn't count) at random.
Do Your Best and Forget the Rest
Do your very best and have confidence in yourself. There is no use trying to incorporate any and all what-if's. You know this stuff, and you can and will pass the NCLEX and practice as a nurse.
Use the critical thinking skills you've developed in nursing school. They teach you exactly how to pass the NCLEX. All those hoops and ridiculous questions did have some justification. Trust me when I tell you that nursing school won't be the last time you use your brain.
Hang on tight; this nursing ride can be a crazy one, but we are thrilled to have you!
Get More Nursing School Test & NCLEX Tips
Our friends over at Nursing.com have crafted a free webinar sharing several more key strategies that can help you pass the NCLEX and ace your nursing school tests. Knowing simple nursing school testing tricks can really make a big difference in your confidence level and your overall results. Check out the quick video and get full access to the video with the rest of the NCLEX test-taking tips.
FAQ about How to Pass the NCLEX and NCLEX Questions
What is the NCLEX?  What does NCLEX stand for?
he acronym NCLEX stands for National Council Licensure Examination. It frequently referred to as "nursing boards" or "state boards." It's a test that nurse must pass after the completion of nursing school in order to be licensed as a nurse. NCLEX-RN is the state licensure exam for registered nurses. NCLEX-LPN is the state licensure exam for licensed practical nurses.
How Many Questions are on the NCLEX?
The NCLEX can have between 75 to 265 questions.
What does finishing the NCLEX at 75 questions mean?
Finishing the NCLEX as 75 questions means that the Computerized Adaptive Testing was confident in assessing your knowledge and critical thinking abilities. 75 NCLEX questions is not a direct indication of pass or fail. It means you were either doing really well or really poorly. If they kept getting harder right until it stopped at 75 questions, your chances are high you passed. If it did not, you might have failed.
How does the NCLEX Work?
The NCLEX is a computerized adaptive test (CAT) that adjusts in difficulty based on how well the tester performs. NCLEX test takers may not skip questions and may not go back to previous questions. The test gest progressively harder, so regardless of the test takers skill, all takers will notice an increase in difficulty for questions at the end of the test. For more details read How NCLEX works.
How Hard is the NCLEX?
Many find the NCLEX to be the hardest test they've ever taken. Others found their nursing school exams to be much more difficult. In fact, nursing school is so hard to prepare you to pass the NCLEX. The difficulty of the NCLEX depends on how well nursing school prepared you (and you prepared yourself), how well you do with test-taking overall, how many questions you've already answered, and whether you receive a lot of "trial" questions. It's universally agreed that it's a difficult test, but it probably should be considering the great responsibility nurses have. We've found that using a comprehensive NCLEX review program, like Nursing.com Nursing School Academy, throughout nursing school and especially right before taking the NCLEX is the best strategy to pass on the first attempt.
What is an ideal NCLEX study plan?
There isn't one NCLEX study plan that works for everyone. We recommend catering one to your learning style and focusing on the subjects that you have weaknesses in. Nursing.com Academy lets you build study plans that align with your unique needs.
Is ATI harder than NCLEX?
Whether ATI NLCEX questions are harder than the NCLEX is somewhat subjective. Many people take the NCLEX after prepping with ATI, but pass the NCLEX with 75 questions. The "passing rate" on NCLEX is adaptive, but many state that if you pass at least 50-60% of the questions on ATI test banks, then you will pass the NCLEX.
After you've taken the NCLEX it takes a few days for the results to appear online. However, many have had success by attempting to register to take the NCLEX again before these results are ready. If you've passed, it will not let you register. Do this as your own risk, as there is a very real risk it still may allow you to register and you'll be out of that fee! Read more about the Pearson Vue NCLEX trick.
Why do schools force you to take the Kaplan NCLEX review or ATI?
Nursing schools need to maintain certain NCLEX pass rates in order to maintain their accreditation. Forcing students to take an NCLEX prep course improves this rate. The fee is typically bundled into tuition so it is not an additional out of pocket cost. However, they aren't always the best NCLEX review programs, and it's much better to have a solution you can cater to your unique learning style. We recommend Nursing.com Academy for this.
Get Our Best NCLEX Study Tools!
Sign Up and send our best NCLEX study resources right to your inbox!