*articles contain affiliate links*
This post will discuss Nursing.com Academy and whether it's the best NCLEX review program.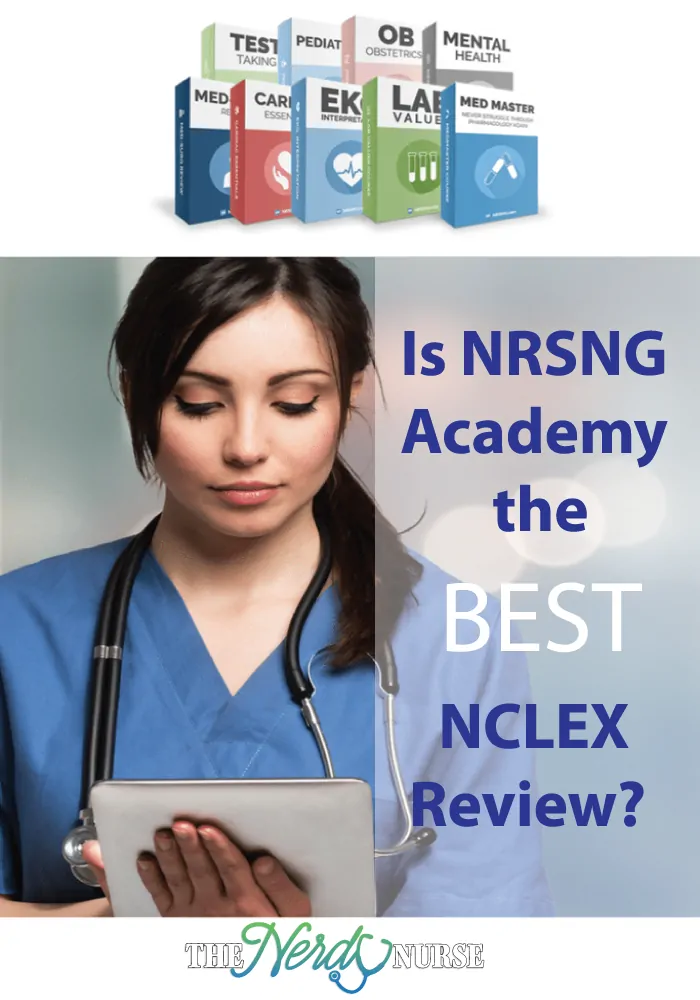 Every nursing student has come to this point of their senior semester where they begin to think beyond the cap and gown of graduation to sitting for their NCLEX. Finding out how to pass the NCLEX is a huge priority. Considering the NCLEX is such a daunting test and requires a lot of preparation, I can imagine what many people's next reasonable question would be: Which is the best NCLEX review to help me pass my boards?
Is Nursing.com Academy the Best NCLEX Review?
There seems to be an endless amount of options when it comes to purchasing a review that will help you get the letters "RN" behind your name. Many of these reviews are great, and subsequently, yield great results, but the work and the studying are tedious, monotonous, and frankly just not a lot of fun. That's why I want to introduce you to an NCLEX review that you actually may get excited for. That may sound ridiculous at first, but take a look at the reasons why it's so good and then you may understand.
My Vote for the Best NCLEX Review
Nursing.com Nursing Student Academy is different than a lot of the other standard NCLEX prep courses. The creator, Jon Haws, is a very experienced registered nurse who has a specific strategy that helps students understand (I mean, truly understand, not just memorize) the content. His strategy centers around a "linchpin" which essentially pulls all the information together to help you comprehend each subject. No other preparatory course embodies this interesting concept, and it's been proven repeatedly to help reduce the amount of rote memorization one has to do in order to pull all the facts together. And let's be honest…memorization never really works. You have to understand the ins and outs of something in order to be able to dissect the correct answer. The NCLEX doesn't just come out and ask you facts, it poses questions so that really only those that comprehend a concept will be able to answer it correctly.
The NCLEX is ALL about critical thinking so even if you know the facts, you won't pass if you don't understand the concepts and know the best solution to any given problem.
Another reason I believe Nursing.com Nursing Student Academy to be the best NCLEX review is that it has a variety of other tools that are useful even after nursing school. Each course (such as psychiatry, cardiology, etc) includes patient stories, cheat sheets, HD video lectures, text outlines, audio and transcripts, knowledge quizzes, and case studies. In addition, Nursing.com Nursing Student Academy comes with multiple sample tests and over 3,500 practice questions on every subject! That is a LOT of practice questions. There are also 500+ flashcards for you to study from as well as an exhaustive image and audio database. Like many people, being able to envision a disease process helps me to more fully understand what it is that I'm studying.
[easy-tweet tweet="If I had to go back and do nursing school all over again, I would use Nursing.com Nursing Student Academy from day 1. "]
Providing Tons of Value – Often for FREE
I also really appreciate that Nursing.com  is constantly giving free tools and resources for nursing and nurses student. From NCLEX questions to cheat sheets, they've got you covered. You won't find more or better free NCLEX study tools anywhere else on the net.
Additional Nursing.com Nursing Student Academy Benefits
I have multiple years of nursing under my belt and I've taken the NCLEX. I know what's needed to pass the test. I also know how much time I wasted attempting to memorize things. So I really do like what I see with this prep course.
Obviously their tutoring style and varied ways of studying help people on so many different levels, but that alone does not make them the best NCLEX review on the market. Their strong teaching philosophies are centered around you passing the NCLEX, so you learn how to actually take the test. I will let you in on a little secret: the NCLEX may not be written in the same way that your college professors wrote their tests. If you go to a great (and difficult) nursing school, they should be. However, it depends on how in tune your professors are with the test. Therefore, the best way to pass the NCLEX is to actually practice the types of questions that they would ask.
Nursing Test Questions
I really appreciate that Nursing.com has a component that teaches you how to dissect and answer nursing test questions and NCLEX test question. This is one skill that I desperately wish I had earlier in nursing school. The nursing school professors kept calling it critical thinking, but what they really meant was NCLEX question strategy. Once I gained this skill, my nursing school tests became much easier and I ultimately didn't find the NCLEX to be too difficult.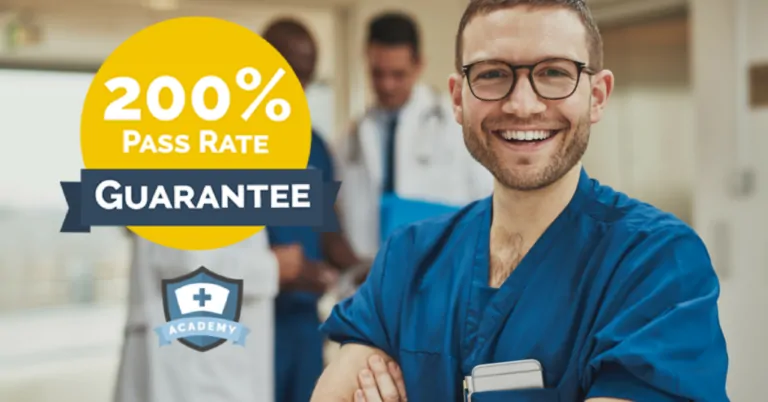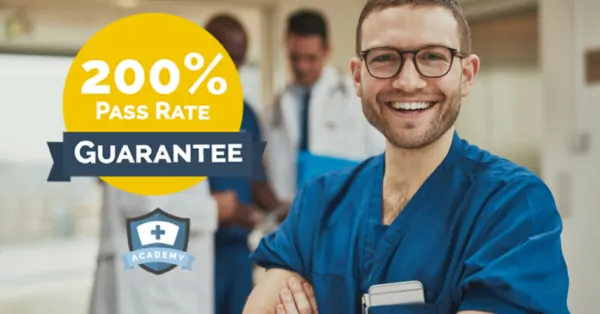 To top it off, Nursing.com Nursing Student Academy is one of the most affordable programs out there. The program is priceless, and you can even get started for free. If you decide you love the content in the free version, you can upgrade to have unlimited access to all their nursing education and resources. We recommend that you start using Nursing.com day 1 of nursing school and continue at least until you pass the NCLEX. But if we're being honest, the content included could benefit you well into your first year of nursing and beyond. What makes this deal even better? If you don't pass the NCLEX after using Nursing.com Nursing Student Academy, they will immediately refund you 200% of what you paid!*
If you're after some support and want to chat with others who are taking the course and prepping for the NCLEX at the same time that you are, then you have your very own Facebook group in where you can find that camaraderie and support. Sometimes just being in a group of people all dealing with the same thing in life helps you to stay strong and carry on. This is especially true in nursing school.
Get Started for $1!
You might have a lot of people telling you which is the best NCLEX review to purchase, how you should study and when you should study. Every NCLEX review program has its benefits unique attributes. I encourage you to explore them all. In the end, only you know what your study style is like, and what program or NCLEX study resources will help you excel. But what I can tell you, if I had to go back and do nursing school all over again, I would use Nursing.com Nursing Student Academy from day 1. 
Nursing.com has such great resources and are so confident in their program they will even allow you to use their services for just $1. That's right: One Dollar! This subscription limits the time you can spend per day reviewing the content, but it's an AWESOME way to see if it's right for you. Since it's literally free, you have nothing to lose. So just get started right now.
Get Nursing.com Nursing Student Academy for $1!
I wish you so much luck in your studies, and I do hope that you find this prep course to be helpful.
For more information on the best NCLEX review, check out:
*Nursing.com will refund to a subscriber 200% (two hundred percent) of the total payments the subscriber has made to Nursing.com for his or her Nursing.com Nursing Student Academy Unlimited Subscription up to a total maximum refund of $500 (five hundred United States Dollars).
Save
Get Our Best NCLEX Study Tools!
Sign Up and send our best NCLEX study resources right to your inbox!