*articles contain affiliate links*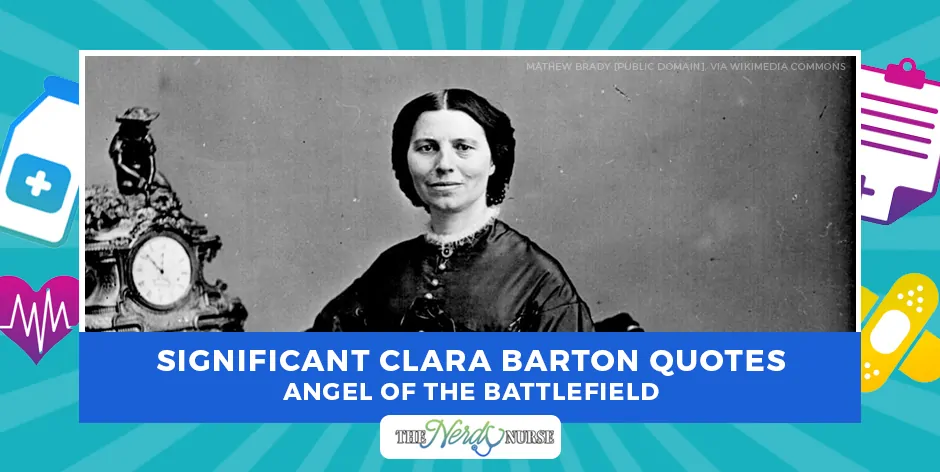 Clara Barton accomplished so much and was filled with a compassion that was contagious. She said many timeless things that have become a source of inspiration for nurses throughout history. Some of her most inspirational quotes follow.
Who Was Clara Barton?
Clara Barton is remembered for founding the American Red Cross. She was a pioneering nurse who received no formal nursing education. She started her adult life as an educator. She was extremely gifted at teaching and was contracted to open the first ever free public school in New Jersey.
After teaching she was the first woman who received a clerkship in the US Patent Office at a salary equal to a man's salary. Her nursing career started when wounded Union soldiers were transported to Washington, DC in April 1861. She went to the train station where they arrived and help take care of 40 wounded men. From there she made it her mission to store and distribute supplies to soldiers.
She became known as the Angel of the Battlefield because she often brought life-saving supplies to field hospitals right on the frontline of battle.
Clara Barton Quotes
You can tell so much about Clara Barton's strength of character from her quotes. I hope these quotes inspire you as much as they inspired me.
Meeting Needs
"You must never so much think as whether you like it or not, whether it is bearable or not; you must never think of anything except the need, and how to meet it."
"I may be compelled to face danger, but never fear it, and while our soldiers can stand and fight, I can stand and feed and nurse them."
Inner Strength
"The surest test of discipline is its absence."
"The door that nobody else will go in at, seems always to swing open widely for me."
Feminism
"I may sometimes be willing to teach for nothing, but if paid at all, I shall never do a man's work for less than a man's pay."
"I have an almost complete disregard of precedent, and a faith in the possibility of something better. It irritates me to be told how things have always been done. I defy the tyranny of precedent. I go for anything new that might improve the past."
Wisdom
"Offering a hand up is not a hand-out."
"People should not say that this or that is not worth learning, giving as their reason that it will not be put to use. They can no more know what information they will need in the future than they will know the weather two hundred years from today."
Humility
"I have never worked for fame or praise, and shall not feel their loss as I otherwise would. I have never for a moment lost sight of the humble life I was born to, its small environments, and the consequently little right I had to expect much of myself, and shall have the less to censure, or upbraid myself with for the failures I must see myself make."
"An institution or reform movement that is not selfish, must originate in the recognition of some evil that is adding to the sum of human suffering, or diminishing the sum of happiness."
Privacy
"Everybody's business is nobody's business, and nobody's business is my business."
"Others are writing my biography, and let it rest as they elect to make it. I have lived my life, well and ill, always less well than I wanted it to be but it is, as it is, and as it has been; so small a thing, to have had so much about it!"
Which of these Clara Barton quotes is your favorite? I admire her determination and lack of accepting the status quo. Please share a few of these quotes (or the entire post) with someone you admire.
See Also:
Who Was Clara Barton?

Clara Barton: Angel of the Battlefield (Graphic Biographies)

Clara Barton: Founder of the American Red Cross (Childhood of Famous Americans)

Download Nurse Bingo Today!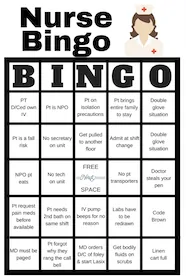 Liven up any shift with a fun game of bingo. See who can fill a row first!
Fill a whole card and lose grip with reality.
Your privacy is protected. We will never spam you.