Affiliate links included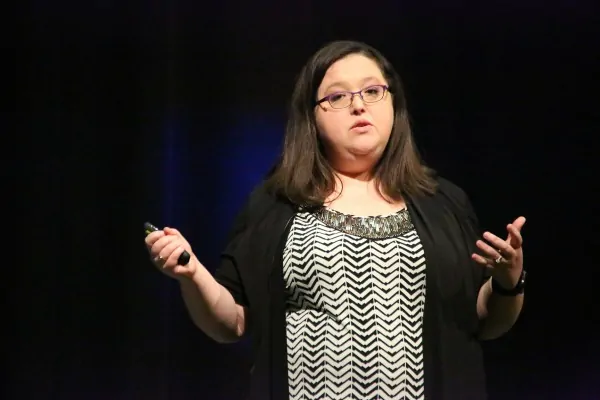 Speaking at Your Event
Finding the right speaker is a challenge. I understand that it can be difficult to locate the right expert, with the right level of passion and skill to present to your audience. As a leading expert in nursing, technology, and social media, I can help your audience get excited about technology and get confident to tackle new and challenging areas of patient care. I pride myself on bringing passion, fun, and a bit of humor to every audience I engage with and would love to speak at your event. Please contact me for rates and additional information.
See Brittney in Action
Brittney Wilson, BSN, RN speaks about the "Impact of Nursing Informatics" at the 2016 HIC Conference in Melbourne, Australia.
Topics
Social Media for Nurses
Non-Traditional Nursing
Blogging for Nurses
Technology for Nurses
Nursing Informatics
Millenial Nurses
Nursing Engagement and Gamification
Testimonials
"Brittney is a natural speaker." – Donna Cardillo, RN -The Inspiration Nurse | Motivational Keynote Speaker | Author | Columnist/Blogger

"Brittney Wilson is able to deliver essential information on technology that is needed by nurses today to be relevant and successful. Brittney does this is through warmth, humor and a thorough command of the knowledge she is conveying. We are looking forward to working with Brittney again for next year's conference!"
– Michelle Podlesni RN, President – National Nurses in Business Association, Author of Unconventional Nurse® Going From Burnout to Bliss!

"Brittney Wilson's presentation "Practical Social Media for Nurses" was a big hit at our 2012 annual nurse forum. She encouraged nurses to use tools to expand their care giver communities, increase their clinical knowledge and share their expertise with online audiences. "Tips on using Social Media responsibly were right on!" – Sharon Collins -Nursing Program Coordinator – MEDITECH

"Brittney Wilson is an amazing professional; her ability to engage an audience is outstanding. Brittney has a knowledge of social media that is unsurpassed, and a sense of humor that is non-stop. It was a joy to present on the same main stage at NNBA." – Sharon Weinstein, MS, RN, CRNI, FACW, FAAN, CSP –  SMW Group LLC

"As a public speaker, Brittney is funny, approachable, and down to earth, while maintaining professional poise and a commitment to clarity." – Keith Carlson, RN, BSN, NC-BC – Author, Speaker, Coach, and Nursing Career Expert
Upcoming Speaking Engagements
OR Excellence 2018 – October 3-5, 2018 – Harbor Beach Marriott Resort & Spa, Ft. Lauderdale, FL
Millenial Nurse Myths and Engagement Strategies
NNBA Conference – October 12 – 14, 2018 – Westgate, Las Vegas, Nevada
A Selection of Past Speaking Events and Appearances
NNBA Conference -September 8 – 10, 2017 – Sirata Beach Resort – St. Pete Beach, Florida
Oregon Nurses Association – February 28th, 2017 – Salem, Oregon
NNBA 2016 – October 14-16, 2016 – Las Vegas, Nevada
HIC 2016 – Keynote – July 25-27, 2016 – Melbourne, Australia
Oregon Nurses Association Annual Convention – April 12-14, 2016 – Seaside, Oregon
SXSW Med Tech – March 12-13, 2016 – Austin, Texas
HIMSS – Las Vegas, Nevada –  2016
Magnet –  Atlanta, Georgia – 2015
Travel Nurse Conference – Las Vegas, Nevada – 2015
National Nurses in Business Association Conference – Las Vegas, Nevada – 2015
Arkansas State University – Fayetteville, Arkansas –  2014
Meditech User Conference – Boston, Massachusetts 2012