This article discusses over 20 recommended nursing shoes for women and narrows down the best shoes for nurses.
The nursing profession is wonderful because there are so many different specialties. However, no matter what specialty you are in, the need for quality nursing shoes is paramount. Without great shoes, and an awesome pair of compression socks, your legs, feet, and back will take a beating and likely leave you with pain. As a nurse and a shoe enthusiast, I've examined all kinds of different nursing shoes and rounded them up so you can find the one that best aligns with your needs.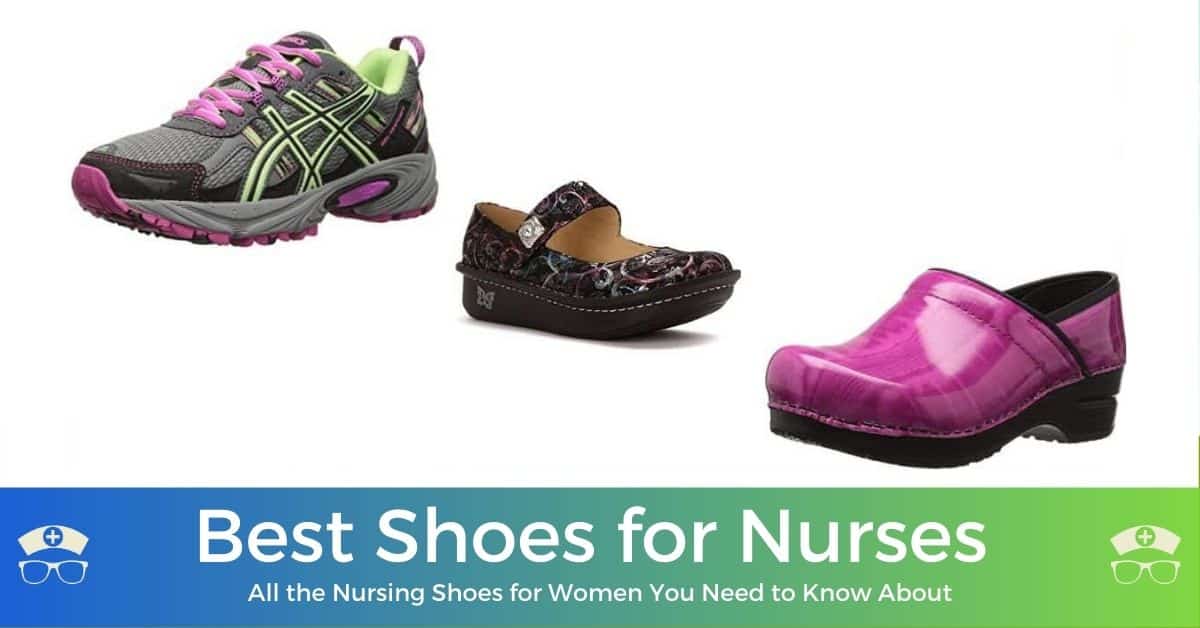 Best Nursing Shoes for Women – Really?
Since nurses are unique, there isn't one shoe that is perfect for everyone. So we've grouped the best ones into categories of clogs, sneakers/tennis shoes, and slip-ons. Your clinical setting, foot anatomy, and your personal style or preference will play into which pair is right for you.
This guide to the best nursing shoes is unique because it's one of the only ones online that is actually written by a registered nurse. When deciding which shoes are right for you, having recommendations from a nurse is important. Our work is different than other industries that are on their feet all day. Work shoes for nurses need to fit different working environments that only a nurse would know about.
You can skip to the section for each type by clicking on the below links:
I've rounded up some of the top nursing shoes for women to save you time and effort searching for that perfect pair. Everyone knows that working as a nurse means spending hours on your feet. Not every nurse takes the best care of their feet, but they all should. Finding the right pair of nursing shoes for women or men can make a big difference in your quality of life. It's not just about whether your feet hurt. Rather it's about promoting quality posture and spinal alignment as well as preventing long-term leg and foot pain. While all of the footwear listed in this post does not address every one of these aspects, several of them do and should be considered when you are looking for a new pair of nursing shoes.
This post is about nursing shoes for women. If you are a man, do not fear! We've written a post to help you find the best nursing shoes for men. However, you may also benefit from the tips and information shared in our buyer's guide.
Benefits of a Quality Pair of Nursing Shoes
A nurse on the floor can spend 12 hours or more a day on their feet. Having uncomfortable shoes that don't fit properly or offer enough support will not only leave you with aching feet but more complex aches and pains in the legs and back. Sometimes this pain and discomfort can translate to long term back and leg problems that are difficult and costly to treat. Fortunately, there is a wide array of nursing shoes, specifically designed to address the unique needs of nurses. We spend a lot of time focusing on finding the most comfortable nursing shoes, but we also ensure that we cover features of the shoe that you may not feel directly, but will impact you in the long term.
Nursing Shoes for Women Buyers Guide
Finding the right nursing shoe requires thinking through many different features and functions. We've written up some of the most important things to consider to find good nursing shoes in our buyer's guide. We'll help you find the nursing shoe that is most comfortable and functional for you. You can find it below the write-up of each pair of nurse shoes just skip to it now.
Best Nursing Clogs
We've outlined some of the best nursing clogs in this comparison table to make it easier to find the one that is right for you. You can click the "Buy from Amazon.com" button to pick it up immediately.
To read more about our top picks in nursing clogs, see our Best Clogs for Nurses post or click "Read More" to read about each shoe in the post.
Best Nursing Sneakers or Tennis Shoes
We've outlined some of the best nursing sneakers in this comparison table to make it easier to find the one that is right for you. You can click "Read More" on any of the items in the table to jump to the section in this article outlining more information about it. Or, you can click the "Buy from Amazon.com" button to pick it up immediately.
It's important to note that note all sneakers are created equal. When looking for the best tennis shoe for nurses you want to make sure that you find one that offers plenty of support. Many tennis shoes just give way and do not provide proper arch support.
Allbirds are the new kid on the block, but they are definitely a great choice. Since they are lightweight and minimalist, many nurses have been asking whether Allbirds are nursing shoes, and we're pleased to report they work great in the clinical setting. Read our full Allbirds review to find out why we think they are a great choice for sustainable nursing shoes.
Sketchers make comfortable nursing shoes in so many styles and patterns. They specialize in walking shoes, which is a perfect fit considering that nurses walk an average of 4 to 5 miles each shift. One great thing about these shoes is that the stretchy material means that nurses with wide feet can generally fit in the standard size. So if you're looking for a nursing shoe for wide feet, this is a great choice. Countless reviews from nurses and others who work on their feet site the fact that they can spend hours on these shoes without their feet hurting after a shift. I've also personally worn a pair around Disney World and my feet felt better at the end of the day than any other shoe I had worn.
The Sketchers Flex Appeal 2.o are one of my favorites nursing shoes on the list. Out of all the Sketchers nursing shoes options, it's my personal favorite. This shoe is simple and lightweight. It has memory foam insoles which are super comfortable. My favorite feature of this shoe is that is breathable and cool. They are so lightweight, you can barely tell you are wearing them. If you ever have issues with your feet getting hot and sweaty, this shoe is a great solution with the jersey knit fabric feeling almost like a thick t-shirt.
Here are a few additional features that really make this set of nursing shoes stand out:
Air Cooled Memory Foam cushioned comfort insole
FlexSole 2.0 lightweight shock absorbing midsole
Super flexible rubber traction outsole
ASICS are a shoe with an almost cult-like following. I've been told that once you try ASICS nursing shoes, you won't be happy with anything else. Their arch support, breathable material, and responsive springy step are just a few of the features that make them one of our favorites tennis shoes for nurses. We like this particular pair of ASICS because of their:
Rugged with a bright mesh overlay (functional, but also super cool looking)
GEL Cushioning System (this makes them super comfy)
Removable foam sock-liner accommodates orthotics (if you need more support or a specific orthodic, this shoe can accommodate)
High-abrasion rubber (they can take a beating and keep on going)
ASICS easily makes our list of the best nursing shoes for women because they are a great shoe for long hours and miles on your feet. I've even worn these shoes to Disney World and walked 14 miles a day.
Hoka running shoes have several features that make them a great fit for nursing shoes. Since they are designed to run on hard surfaces, they fit right in at the hospital where nurses are constantly zipping up and down the hallways to complete their duties. Like many of the shoes on our list, they offer a variety of color combinations, but these shoes have so much more. They are more expensive than most of the others on our list, but they include premium features that most other nursing shoes do no offer. Many have even stated that these are great nursing shoes for plantar fasciitis. Here are a few features that are unique to the Hoka Bondi shoes:
ComfortFrame upper and a padded tongue (making it focus on the comfort of the top of your foot more than any other shoe on the list)
3D Puff Print Frame – Lightweight and offers a secure fit
Ortholite Insole – Provides additional cushioning for arch support and durable comfort
One of the most popular brands in women's shoes for everyday wear is Skechers. Now, the same comfort you find in your favorite pair can be found in this all white or white with a navy trim nursing version known as the Skechers Women's Premium-Premix Slip-On Sneaker. Typically the MSRP of this shoe is valued around $59.95 but often sells for about 17% less on Amazon.com
Offering high comfort and durability Brooks nursing shoes are recommended by many therapists and doctors. They are especially good for people with foot, knee and ankle problems and come with the following beneficial features:
Supportive cushioning
Thick rubber and foam sole
Removable insole in case you want to use orthotics
Low-maintenance
Slip-resistant outsole
The extra soft cushion makes your feet sink in the sneaker and adds additional comfort to it making your working day easier. The only thing you might not like is the lack in style and patterns. However, if you have any strict dress code at your workplace (that doesn't allow patterns) then these nurses shoes would be a great choice, especially since they are some of the best sneakers for arch support.
Best Slip on Nursing Shoes
We've outlined some of the best nursing mules in this comparison table to make it easier to find the one that is right for you. You can click "Read More" on any of the items in the table to jump to the section in this article outlining more information about it. Or, you can click the "Buy from Amazon.com" button to pick it up immediately.
Made from stain-resistant leather these nursing shoes offer high comfort and are very lightweight. The outsole is slip-resistant and offers good stability. Alegria nurse shoes are some of the best around. These shoes too are not only comfortable enough to be worn during your working day but they also come with a variety of beautiful designs and styles. They are extremely easy to slip on and off due to the elastic materials. You can find Alegria Debra slip-on in such patterns as solid black and white or midnight garden, and Aztec tile and aloha. These nursing shoes have a comparatively high rating too: 4.2 among over 280 customers.
Comprised of 100% cotton and durable leather, the WorkWear Peacock Women's Step In offers a lightweight outsole and breathable linings. A more traditional nursing shoe, this style can be found at Amazon.com for approximately 10% less than the MSRP of $48.00.
The Dickies Women's Slip-On Nursing Shoe features a washable leather and a lightweight, slip-resistant outsole. This nursing shoe is available in black or white and is available in both wide and regular sizes. Retailing for $60.00 per pair, you can find this uniquely designed nursing shoe on Amazon.com for about 23% less.
Here is another combination of comfort, fashion, and beautiful design. Alegria Paloma nursing shoes are available in a wide range of colors and patterns and come with such advantageous features as:
Stylish leather upper
Special leather insole with a built-in arch support
Removable factory insole i.e. ability to work with orthotic inserts which means that they are a good choice for those with foot problems
Rocker outsole meant for supporting your posture and gait
Less pressure on the heel
The reviews have shown that Paloma shoes are highly comfortable and don't hurt your feet even after a 12-hour shift. It's not surprising since Alegria nursing shoes are some of the best around.
The only disadvantage that we should mention is the squeaking sound that these shoes are inclined to make. A solution to this can be a silicone lubricant. In any case, you may want to try to avoid patterns that are too elaborate even though nurses' shoes have a reputation for having wild patterns.
A more popularly seen nurse's shoe is the Women's Nurse Mates DOVE Slip On Loafers. Made mostly of leather with a rubber slip-resistant sole, this shoe comes in a variety of colors you can pair with your favorite scrubs. Colors include, but are not limited to, black, metallic navy, pink and all white. The MSRP on the DOVE Slip-On Loafer from Nurse Mates is $70.00. However, you can order yours today from Amazon.com for 20% less.
Another shoe designed with not only comfort in mind, but style as well. The Alegria Women's Professional Slip-On is comprised of leather with a slip-resistant rubber sole and an adjustable Velcro closure featuring button detail. Let's not forget the patented interlocking cork memory foam footbed that molds to your feet and walking pressures to maximize comfort. Available in a variety of colors and patterns, including Black Butterfly Patent, Professional Floral and Black Patina, this Alegria shoe has an MSRP of around $120.00 but can be found on Amazon.com for about 25% less.
From Easy Spirit, these comfort shoes are absolutely perfect for walking and light activity. They're easy to slip on and off, plus their removable sock liners absorb shock, offer arch support, and provide superior comfort all-day, into-the-evening.
Rubber sole

Removable insole

Durable flexible outsole
These shoes are so easy to take on and off, and the sock liner will provide all-day comfort for those days when you are on your feet non stop.
Nursing Shoes Buyers Guide
Why Good Nursing Shoes are So Important
Nurses are the people who need highly supportive and comfortable shoes especially as they spend most of their working day, which normally comprises no less than 12 hours, walking around. Obviously, the need for comfortable footwear becomes crucial. There are a great number of shoes for nurses available on the market that come in a variety of shapes, styles and features thus it becomes a bit complicated to choose the best one that will meet your needs.
To start with, let's answer the question of how nursing shoes or nursing clogs differ from the ordinary ones and are they really worth the purchase? Nursing shoes are surely worth buying because unlike the ordinary shoes they weigh lighter, provide you with high support and will reduce cases of the back pain, shin splints, numbness and other physical aches that you might get if you spend your working day in a pair of low-quality shoes.
Features to Look for in the Best Shoes of Nurses
The job of nurses is very responsible and important and in order for them to be highly productive and not get tired easily much depends on the quality of shoes. Here are some essential factors to help you choose the best shoes for nurses:
Stability: High-quality nursing shoes should provide comfort, support, and stability which will contribute to the decrease in the foot, back and leg pain. Design and material are important for this as well. The best nursing shoes are normally made of leather or rubber. Rubber is the most popular material for nursing shoes as it is comfortable and lightweight. Avoid materials that will create difficulties when cleaning or will add additional weight.
Comfort – When you look for nursing shoes that are the most comfortable, you want to find something that won't hurt your feet, back, or legs. Finding the right balance between support and softness is a must. Don't go for ultra-soft, because while they may be the most comfortable nurse shoe to start the day with, they won't be toe-end it.
Slip Resistance: Spills and liquids are things you won't miss when working in a hospital so make sure your nursing shoes are slip-resistant and have a good grip which will keep you safe during your working day.
Weight: Make sure your nursing shoes are not too heavy and clunky otherwise your productivity and work performance level will decrease. Nurses are constantly on their feet and having a pair of shoes that is lightweight will add comfort and help you avoid getting tired easily.
Shape & Style: There is a great variety of shapes and styles of nursing shoes some of which are meant to fit certain types of feet as well as medical conditions. Some of the most common nursing shoe styles are crocs, clogs, athletic sneakers, and tennis/running shoes. So as to choose the right one we advise you to talk to a podiatrist who will tell you which one to buy based on your foot type. Always choose comfort over cute design!
Maximum Shock Absorption: Make sure the shoes support your feet enough to absorb your movement impacts.
Insoles: Good nursing shoes should come with a curved surface cradling the arch of your foot.
Price: Prices differ depending on the material, design and construction however, do pay a little more for comfort and beneficial features.
Benefits of Nursing Shoes
Here is what benefits you will get if you have a quality pair of nursing shoes:
Pain Reduction: As we have already mentioned good shoes for nurses will reduce the pain in heels, legs and back during your hard-working day and after it.
Posture Support: Comfortable nursing shoes will provide posture support and eliminate low back pain and leg problems.
Arch Support: This is considered the most important feature of nursing shoes. It will add high comfort when walking around all day.
No More Fatigue Issues: Because of the hard job and endless duties nurses might have such health problems as arthritis, muscle cramps, and low back pain. However, with the right shoes, you will avoid all of these.
Speed & Flexibility: Lightweight shoes will contribute to your speed and flexibility at work.
Finding Nursing Shoes Right for You
All the shoes listed above offer a great variety of features, benefits, designs, and patterns to choose from. The look of nursing shoes is important, but function shouldn't be ignored for fashion alone. If you find cute nursing shoes that are not comfortable or supportive, you should reconsider. There are plenty of cute shoes for nurses that won't wreck your feet back. There is no one shoe that is perfect for everyone. That is why we've listed the top choices of nurses here as well as the features and benefits you should consider. The best shoes for nurses is really irrelevant if the shoes aren't a great fit for you.
Here is what we recommend to find your perfect pair of nursing shoes:
Try Them at Home – Buy a pair from each style and wear them around your house for 30 minutes. You can almost always return them. Of course, we never recommend returning shoes that you have worn outside your home. Since we recommend the 2nd pair (see below) you'll likely end up keeping more than you imagined.
Measure Your Arch – Get your arch professionally measured at a store like The Walking Store. Pay attention to the arch support when buying a pair of shoes or consider adding insoles with great arch support.
Have 2 Pairs of Shoes – Have 2 pairs of nursing shoes for each shift. You can start with a harder soled shoe (like a Dansko or Sanita) and switch out to something with a softer sole (like Crocs or Klogs) later in the day.
Get a New Pair – Replace your nursing shoes as often as needed. Shoes and mattresses seem to be things that people never want to replace. I've seen people buy new cars more often than they get a new pair of shoes. You only have one pair of feet. Change out your nursing shoes when they start to wear out. This could be as little as a few months with how much time nurses spend on their feet. $100 pair of shoes today is way better than a $20,000 surgery or life-altering disability later. (P.S. Get some disability insurance too!)
More Great Nurses Shoes Resources
For more information on the Best Shoes for Nurses check out:
What are your thoughts on the best nursing shoes for women? Do you like clogs, sneakers, leather or canvas? Sound off and let us know what you think.