*articles contain affiliate links*
As a nurse, standing all day long on your feet can be highly tiring and stressful. Not only do you have to deal with long hours of shifts, but you also have to be constantly on your feet at the hospital. This is why it is essential to invest in a good pair of sneakers to provide you with the support and comfort you need. But how do you find the best sneakers for nurses?
It seems like a simple question, but the answer is not very simple. Different people have different preferences. Some prefer running shoes while others like tennis shoes or walking shoes. It all depends on your personal preference and what type of activities you do while on your feet.
You don't have to worry now, as a nurse having ten years of experience, I have tried a lot of shoes, and I have compiled a list of the best sneakers for nurses that are both comfortable, stylish, and come with supportive insoles. I want to share my honest reviews so that you can get the best and most supportive sneakers. Let's get started.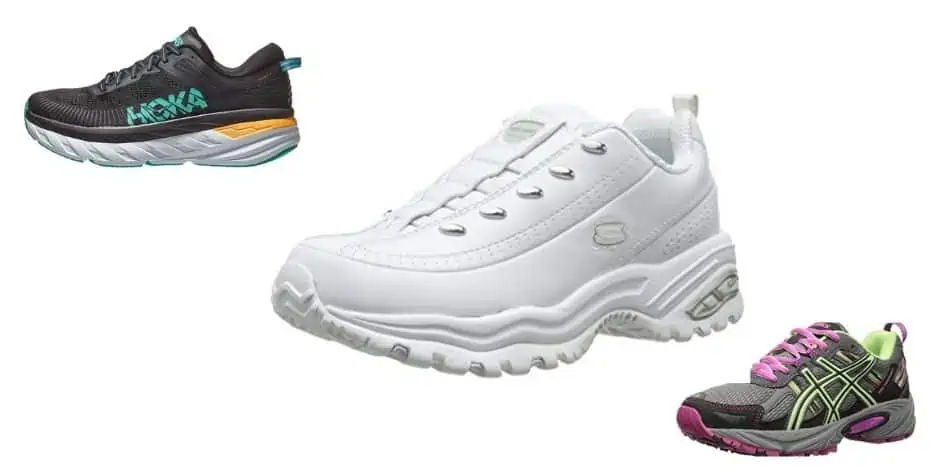 How to Choose the Right Shoe – Buying Guide
You have to keep in mind certain key factors when you are looking for the best sneaker. In this buying guide, we will take a look at some of the essential elements that you need to consider when you are choosing the right shoe for you.
Arch Support and Cushion
The first and most important thing is to ensure that the sneaker you are choosing has good arch support and cushioning. This is especially important if you are going to be on your feet for long periods of time. Nurses have to deal with many different things on a daily basis, and they need shoes that can support their feet through all of it.
Width
In my experience, wider shoes are always more comfortable. This is because they allow your feet to spread out more, which reduces the amount of pressure on your feet. If you are going to be on your feet for long periods of time, then I would definitely recommend getting a wider shoe.
Waterproof
It's always a good idea to get a waterproof shoe, especially if you are going to be working in wet or damp conditions. Nurses have to deal with a lot of different things on a daily basis, and they need shoes that can support their feet through all of it.
Non-Slip
Finally, you have to ensure that the sneaker you are choosing has a non-slip sole. This is especially important if you are going to be working on slippery surfaces. Nurses have to deal with a lot of different things on a daily basis, and they need shoes that can support their feet through all of it.
It's important to note that not all sneakers are created equal. When looking for the best tennis shoe for nurses you want to make sure that you find one that offers plenty of support. Many tennis shoes just give way and do not provide proper arch support.
Best Sneakers for Nurses
We've outlined some of the best nursing sneakers in this comparison table to make it easier to find the one that is right for you. You can click "Read More" on any of the items in the table to jump to the section in this article outlining more information about it. Or, you can click the "Check Price" button to pick it up immediately.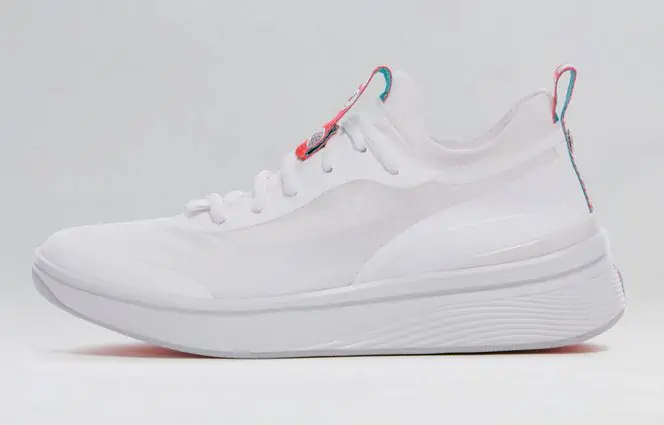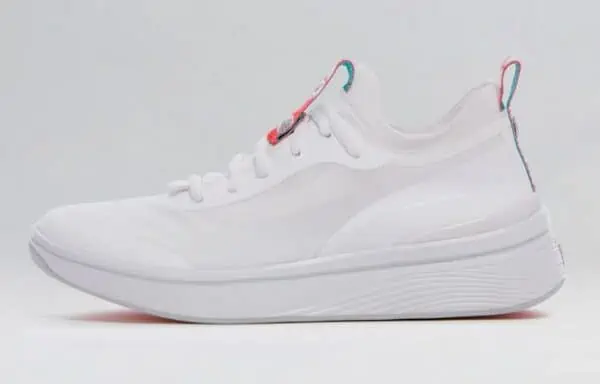 BALA Footwear started out by trying to see what a 12-hour shift for nurses really looked like. The sitting, standing, sprinting, and – the fluids. So they met with hundreds of nurses across the United States and then listened to them. When they thought they had all the answers, they made a shoe and handed it to nurses, and asked more questions.
Twelves are made up of two layers: the KnitFit upper and the ShiftShield outer. KnitFit is a knit, glove-like base layer that fits your individual foot shape and gives it a nice supportive hug. ShiftShield is a fluid-resistant shell that prevents any nasty spillages from seeping through to your foot. Both of those layers attach to molded polyurethane foam soles with high-traction rubber treads (so you won't go slipping and sliding in the hospital corridors).
They are so comfortable and are made to hold up to whatever your 12-hour shift may throw at it. Check out some of these features we love:
Fluid Resistant
Supportive Insole
High Traction, No Squeak Soul
Easy to Clean, Machine Washable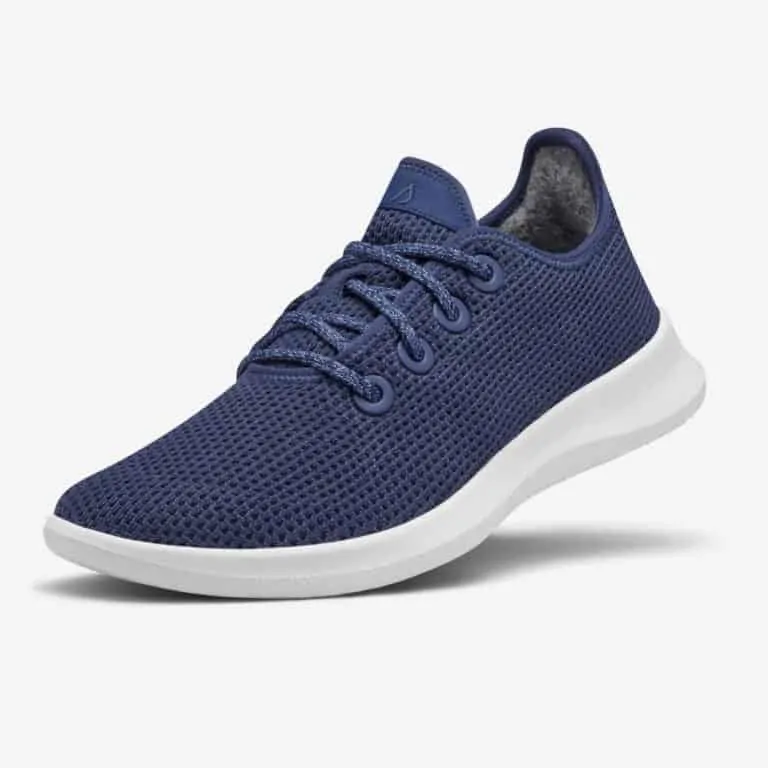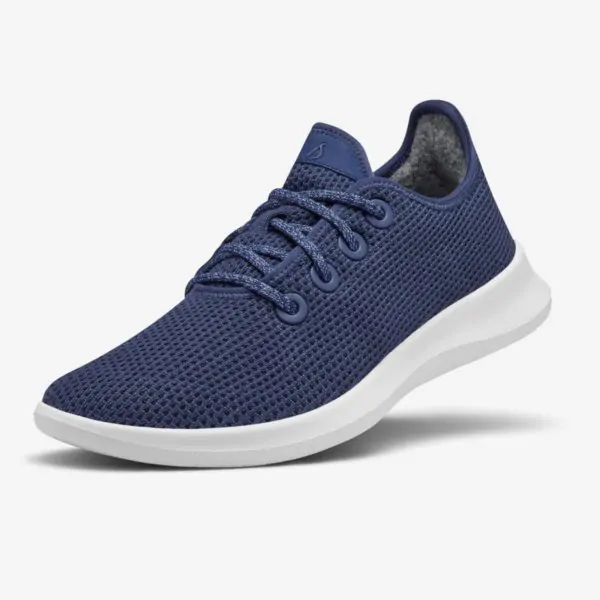 Allbirds are the new kid on the block, but they are definitely a great choice. Since they are lightweight and minimalist, many nurses have been asking whether Allbirds are nursing shoes, and we're pleased to report they work great in the clinical setting. Read our full Allbirds review to find out why we think they are a great choice for sustainable nursing shoes.
Skechers make comfortable nursing shoes in so many styles and patterns. They specialize in walking shoes, which is a perfect fit considering that nurses walk an average of 4 to 5 miles each shift. One great thing about these shoes is that the stretchy material means that nurses with wide feet can generally fit in the standard size. So if you're looking for a nursing shoe for wide feet, this is a great choice. Countless reviews from nurses and others who work on their feet site the fact that they can spend hours on these shoes without their feet hurting after a shift. I've also personally worn a pair around Disney World and my feet felt better at the end of the day than any other shoe I had worn.
The Skechers Flex Appeal 2.0 is one of my favorites nursing shoes on the list. Out of all the Skechers nursing shoe options, it's my personal favorite. This shoe is simple and lightweight. It has memory foam insoles which are super comfortable. My favorite feature of this shoe is that is breathable and cool. They are so lightweight, that you can barely tell you are wearing them. If you ever have issues with your feet getting hot and sweaty, this shoe is a great solution with the jersey knit fabric feeling almost like a thick t-shirt.
Here are a few additional features that really make this set of nursing shoes stand out:
Air Cooled Memory Foam cushioned comfort insole
FlexSole 2.0 lightweight shock absorbing midsole
Super flexible rubber traction outsole
ASICS is a shoe with an almost cult-like following. I've been told that once you try ASICS nursing shoes, you won't be happy with anything else. Their arch support, breathable material, and responsive springy step are just a few of the features that make them one of our favorites tennis shoes for nurses. We like this particular pair of ASICS because of their:
Rugged with a bright mesh overlay (functional, but also super cool looking)
GEL Cushioning System (this makes them super comfy)
Removable foam sock-liner accommodates orthotics (if you need more support or a specific orthodic, this shoe can accommodate)
High-abrasion rubber (they can take a beating and keep on going)
ASICS easily makes our list of the best nursing shoes for women because they are great shoes for long hours and miles on your feet. I've even worn these shoes to Disney World and walked 14 miles a day.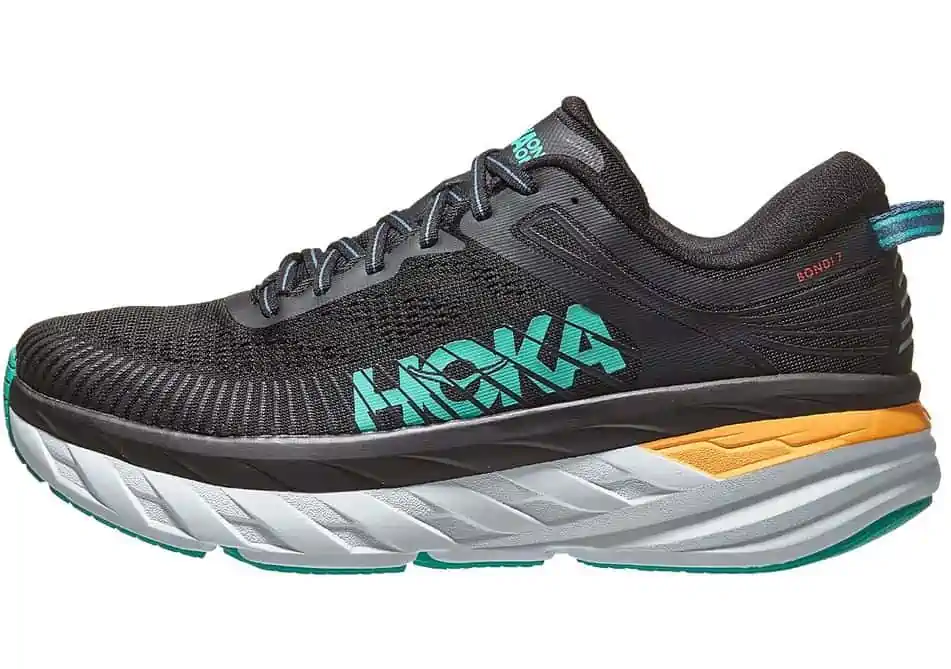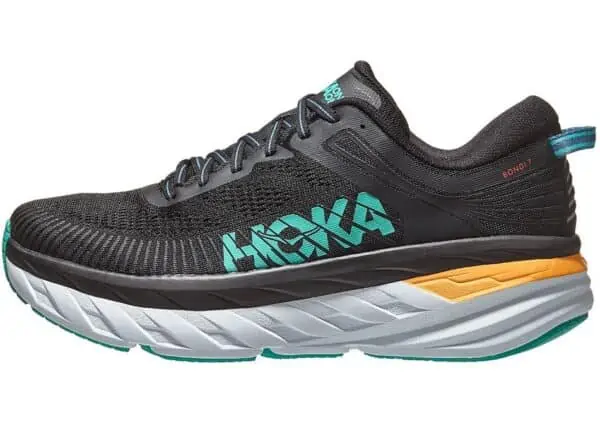 Hoka running shoes have several features that make them a great fit for nursing shoes. Since they are designed to run on hard surfaces, they fit right in at the hospital where nurses are constantly zipping up and down the hallways to complete their duties. Like many of the shoes on our list, they offer a variety of color combinations, but these shoes have so much more. They are more expensive than most of the others on our list, but they include premium features that most other nursing shoes do no offer. Many have even stated that these are great nursing shoes for plantar fasciitis. Here are a few features that are unique to the Hoka Bondi shoes:
ComfortFrame upper and a padded tongue (making it focus on the comfort of the top of your foot more than any other shoe on the list)
3D Puff Print Frame – Lightweight and offers a secure fit
Ortholite Insole – Provides additional cushioning for arch support and durable comfort
One of the most popular brands in women's shoes for everyday wear is Skechers. Now, the same comfort you find in your favorite pair can be found in this all-white or white with a navy trim nursing version known as the Skechers Women's Premium-Premix Slip-On Sneaker. Typically the MSRP of this shoe is valued at around $59.95 but often sells for about 17% less on Amazon.com
Offering high comfort and durability Brooks nursing shoes are recommended by many therapists and doctors. They are especially good for people with foot, knee, and ankle problems and come with the following beneficial features:
Supportive cushioning
Thick rubber and foam sole
Removable insole in case you want to use orthotics
Low-maintenance
Slip-resistant outsole
The extra soft cushion makes your feet sink in the sneaker and adds additional comfort to it making your working day easier. The only thing you might not like is the lack of style and patterns. However, if you have a strict dress code at your workplace (that doesn't allow patterns) then these nurses' shoes would be a great choice, especially since they are some of the best sneakers for arch support.
Best Shoes for Nurses Overall
Cushioned shoes that provide support and comfort are essential for nurses. However, finding durable and quality-made shoes can be a challenge. The Bala Twelves is an excellent nursing shoe for nurses who want a shoe that looks good and provides the support they need.
Why do High-Quality Shoes Matter to Nurses?
When it comes to finding the best shoes for nurses, it is vital to find a comfortable shoe that provides the support you need. Nurses are on their feet all day, so it is important to find a shoe that will not cause pain or discomfort. Only high-quality sneakers can provide the support and comfort that nurses need.
Final Verdict
So now you have the list of shoes for healthcare workers that are best for them. It is essential to find a shoe that is comfortable, stylish and provides the support you need. Happy Shopping.
Download Nurse Bingo Today!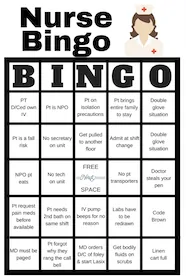 Liven up any shift with a fun game of bingo. See who can fill a row first!
Fill a whole card and lose grip with reality.
Your privacy is protected. We will never spam you.