*articles contain affiliate links*
If you've Google "Are Allbirds for nurses," then you're in the right place. This Allbirds review will focus on whether Allbirds is a practical shoe for healthcare workers, in particular nurses and other clinical professionals. So I guess you could call it an Allbirds nurse review. Since Allbirds are one of the most popular shoes on the market, we figured we'd dive into the merits of this sustainable shoe and tell you all about them.
Why Do Nurses Need Good Shoes?
Twelve hours long hectic working shifts, running from one unit to the other, caring for patients, and acting on doctors' orders – being a nurse is incredibly hectic and tiresome.
Nursing isn't just a job; it's a way of life. The work demands that you be at your peak performance because one small mistake can cost the life of a patient. Yes! The reality is scary, and we know it.
Have you ever thought about what part of your body holds the most stress during your shifts?
Well… other than your brain, of course.
Any guesses?
It's your feet.
And probably your neck and shoulders too! Relax those already!
So, wearing proper footwear during your shifts becomes crucial to provide comfort, support, and help with blood circulation. Compression socks are a must-have, of course, but uncomfortable shoes can also restrict blood flow.
Sustainable Shoes for Nurses
Among the plethora of sustainable shoes available in the market, Allbirds shoes are likely the best choice for nurses and other healthcare workers. We'll dig in and provide more details about Allbirds and why we recommend them.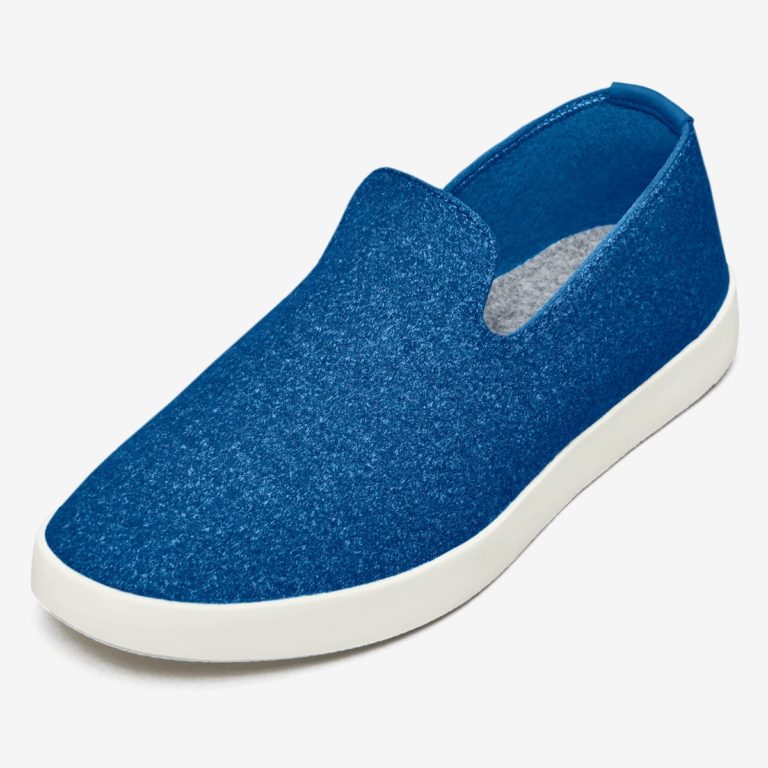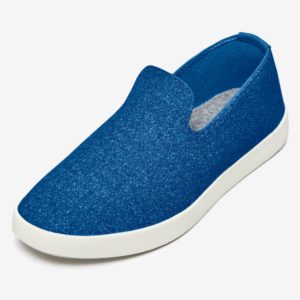 Buy It Now
Allbirds Review
While this site focuses on content for nurses, any product suited well for nurses is generally suited well for any healthcare professionals working in the same setting. So this in addition to being a review on Allbirds for nurses you can also consider this an Allbirds healthcare workers review.
If you want don't want to know the conclusion, I'll just give it to you real quick. Allbirds in healthcare are a great choice.
You might be surprised that Allbirds is a relatively new brand. The company originated in New Zealand, a country famous for the production of the best wool worldwide.
Allbirds debut product line was a pair of woolen runner shoes (Wool Runners) crafted from merino wool and other recycled materials. These shoes were a hit! The wool fabric is breathable, soft, and not at all itchy. Allbirds shoes gained significant popularity among its customers, thanks to the premium quality wool used in the footwear.
Apart from the unique material that Allbirds uses to manufacture its shoes, Allbirds differentiates itself with an attractive price tag and a highly sustainable manufacturing process with direct-to-customer sales and distribution. This has allowed the brand's popularity to increase exponentially very quickly.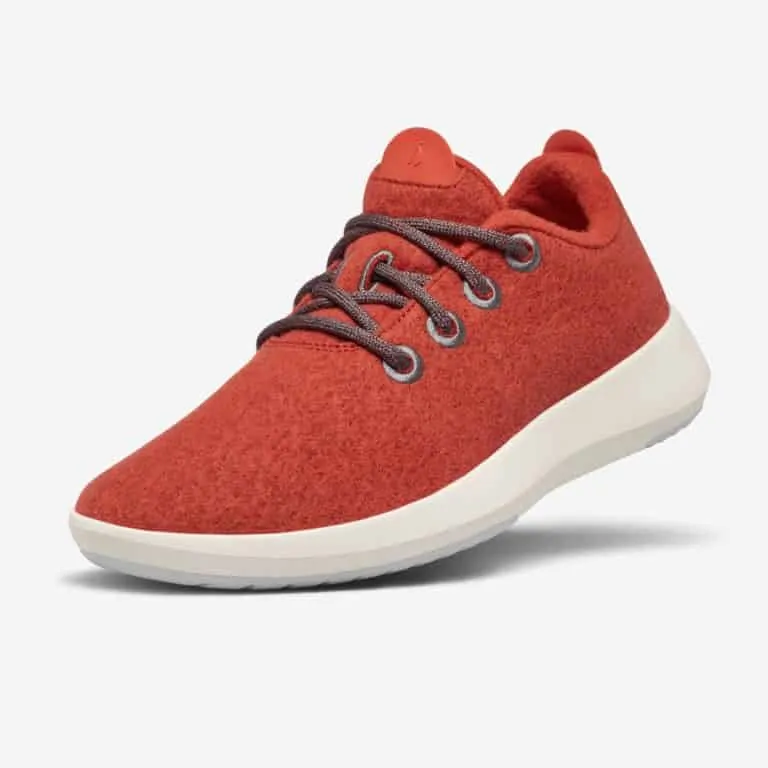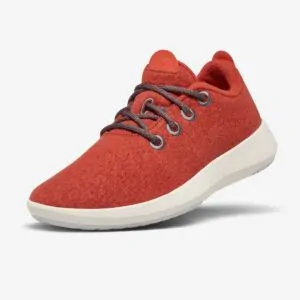 Buy It Now
Is Allbirds the Most Comfortable Shoe in the World?
Allbirds tout having the "most comfortable shoe in the world." They are simple shoes with moderate support and a sole with medium firmness. Is Allbirds the most comfortable shoe we've ever tried? No, at least not for the short term.
But nurses don't need short-term comfort. They need long-term shoes that don't make it feel like your feet will explode after wearing them.
Allbirds definitely win for long-wear comfort. Allbirds hold up to a 12-hour shift without making your feet beg for mercy. So they rank high in the most comfortable shoes for the shift workers category. So Allbirds are for nurses!
Allbirds Sustainability
Allbirds are one of the most recognizable sustainable shoe companies focusing on creating environment-friendly shoes that are 100% eco-friendly. Their soles are made of sugarcane and the laces are from 100 percent post-consumer recycled polyester.
Allbirds is super focused on the carbon footprint of the shoes they produced and even measure their emissions from their raw materials. Among other conservation efforts, they focus on incorporating natural and recycled materials resulting in being completely carbon neutral.
How's that for a sustainable shoe?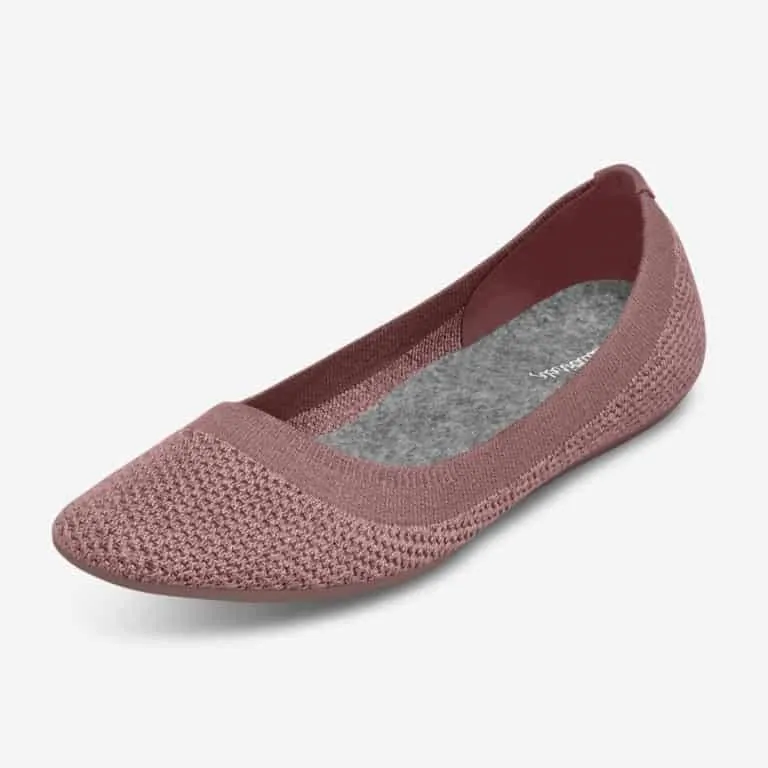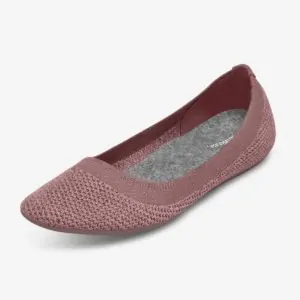 Buy It Now
Are Wool Shoes a Great Option?
One of the unique attributes of Allbirds Wool Runners is that they are made of wool. You don't find many athletic shoes that are made of wool. When most people think of wool, they think of itchy peacoats or formal attire. However, wool actually creates a great walking shoe. The merino wool used in Allbirds is extremely soft, comfortable, and has a great temperature-regulating feature.
What Do Nurses Think of Allbirds?
Nurses rave that Allbirds shoes do not have the look of any high-quality sports shoes, but they were ecstatic with the experience they had while wearing Allbirds shoes.
These sustainable shoes are beloved. In fact, 91 percent of them gave a 5-star rating for their comfort.
How Do Allbirds Fit?
Allbirds fit true to size. For women, the sizes range from 5 to 11, and for men, they are available from 8 to 14. I normally wear a 7 and occasionally a 7.5 for a tighter-fitting shoe. In Allbirds, the 7 fit perfectly. They come in whole sizes only and I would recommend sizing down rather than up if you're consistently in a half-sizer.
The fabric used on the upper portion of the shoes is stretchable, and therefore, they provide a snug fit even for those who have comparatively wider feet.
Should You Wear Allbirds Without Socks?
One of the most interesting things about Allbirds is it's a running shoe that is promoted to be worn without socks. This is particularly true for the wool version. I tried my Allbirds with both with and without socks and found that though my feet were cooler while sockless, I preferred the feel of wearing socks. That being said, I did not try the wool version, which is supposed to be excellent without socks.
My recommendation is to try it and see what you like. There's no wrong way to wear Allbirds.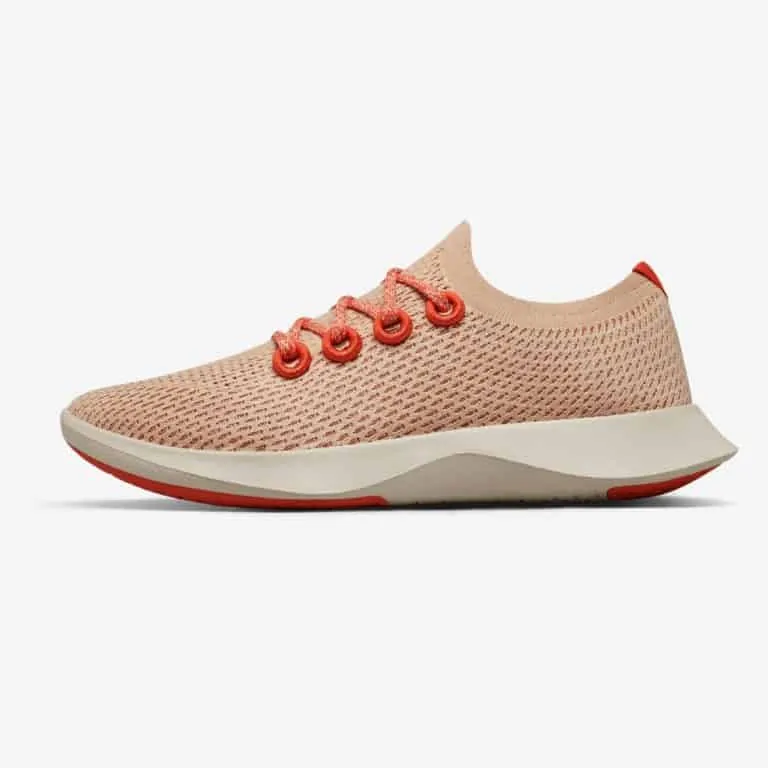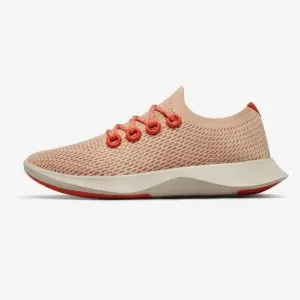 Buy It Now
Allbirds Review: Wool vs. Tree Runners
The two most popular versions of Allbirds are the Wool Runners (their flagship product) and Tree Runners. Either of these is a great affordable sustainable shoe, but let's take a look at the differences.
The feathery lightweight and super comfortable material of the Wool Runners makes them ideal wear for long hours of standing and walking.
Things you should look out for before buying the Allbirds Wool Runners shoes are:
You need to break them in. The snuggly fit of the fabric might feel like it's sticking to your big toe during the initial days. Although after a couple of days of continuous usage, the fabric will stretch exactly to fit in the shape of your feet.
They can sometimes stink. Although these sustainable shoes are made of best-in-class merino wool, which is a breathable material, the Wool Runners can lock in some pungent smell during hot summer days. The relief here is that these shoes are very easy to wash. You just remove the insoles and throw in the washer on a cold setting and then let air dry. Bam – no more stinky shoes. p.s. Wearing socks actually can help prevent this foot funk.
Consider a darker color if you're prone it get your shoes dirty. Allbirds come in a wide spectrum of colors, and you might get tempted to buy the one that looks the cutest. I recommend selecting a shoe that will go with your scrubs and won't show the stains of any bodily fluids that may come into contact with them.
Although wool runners are the flagship product, you can also get their fabulous shoes made out of the fabric of a eucalyptus tree. If you're vegan or don't support the wool industry, these are a great choice. Also, if you're just a little weirded out about wool shoes (like I am), these are a great choice.
Things you should keep in mind before purchasing Allbirds Tree Runners are:
They fit best without socks. The Tree Runners undoubtedly provide a snuggly fit for your feet, but only if you wear them without socks. If you are someone who disgusts with wearing shoes without socks, then you need to reconsider your choice before purchasing an Allbirds shoe.
The soles will likely wear out more quickly than some other shoes. Just based on the build of these shoes, the soles are likely going to wear out faster than shoes with soles of a tougher material. This is the case with any shoe that is super soft and comfy. You sacrifice a bit of longevity in the shoe for a cushy marshmallow feel.
How Environment-friendly Are Allbirds?
Finding genuinely eco-friendly shoes is a rarity in today's market. Luckily, Allbirds is a unique footwear brand that cares for the environment as well as its customers.
Their shoes truly are sustainable.
The Wool Runners are made from merino wool, which is a natural fiber, while the Tree Runners are made from Tencel lyocell, a fiber made from the pulp of eucalyptus trees.
The foam sole of this footwear is made out of sugarcane. The polyester laces of these shoes are made from recycled water bottles. Even the box in which the Allbirds are packed is made out of recycled cardboard
How to Wash Allbirds Shoes?
Although washing the Allbirds nursing shoes is fast and easy, Here are some tips to get the optimal results:
Use a soft brush to remove all the excess dirt and debris from the sole and fabric
Pull the insoles out
Remove the polyester laces
Things for you to keep in mind while washing the shoes:
Keep the shoes inside a linen bag before putting them in the washing machine
Always wash using cold water
Use gentle detergent
Set the washing machine on the delicate cycle
DO NOT PUT ALLBIRDS IN THE DRYER – let them air dry
Pro tip: Avoiding the dryer is important because machine drying Allbirds could cause them to shrink or tear.
Are the Allbirds Nursing Shoes Budget-Friendly?
Allbirds have predictable pricing that starts at $95 with free shipping and a 30-day money-back guarantee. They aren't inexpensive, but they aren't top dollar either. So I'd consider them budget-friendly unless you're on a super-duper strict, Dave Ramsey type of budget.
Nurses have consistently stated that they felt nurses were a good value. Value in nursing shoes is paramount. You don't want to buy the cheapest shoes just because they were cheap. Your feet and back will hate you for that. You want to buy a nursing shoe that has a great quality at the price point that makes sense for you. That's where a good value comes in place.
Final Thoughts on Allbirds Review
If you are still wondering if Allbirds are good for nurses, then our plain and impartial answer would be a big, "Yes!"
I would consider Allbirds nursing shoes, just like any other quality sneakers can be great nursing shoes. I love that Allbirds is minimalistic, lightweight, and has a low carbon footprint.
You might come across other manufacturers in the market that claims to be made from wool and is feather-light, but despite their attractive claims, their products do not stand the hype. Allbirds, on the other hand, have proven time and again the genuineness of their products.
Sure, you won't get the trendiest-looking footwear from Allbirds, but if you are looking for a pair that will protect as well as comfort your feet during your long-hour shifts at the hospital, then Allbirds is the brand that you can count on.
Download Nurse Bingo Today!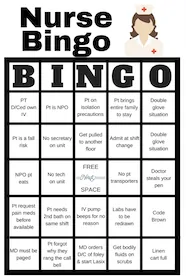 Liven up any shift with a fun game of bingo. See who can fill a row first!
Fill a whole card and lose grip with reality.
Your privacy is protected. We will never spam you.