*articles contain affiliate links*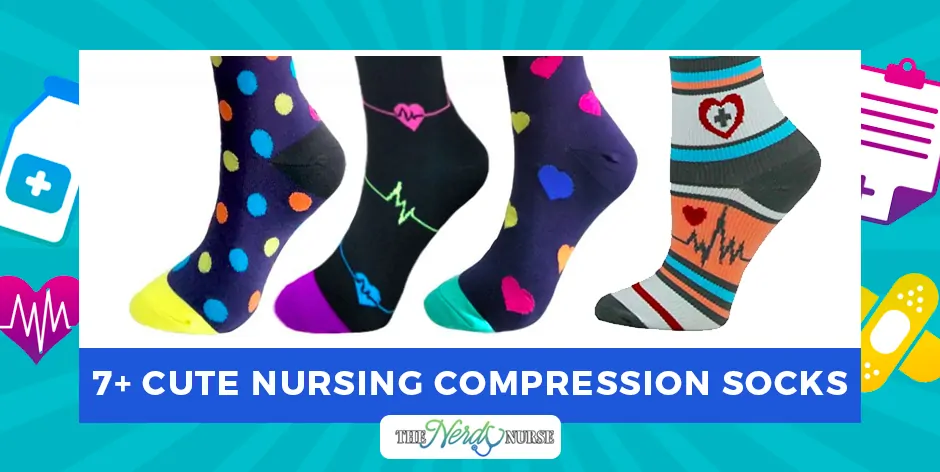 A not-so-glamorous side effect of working 12-hour shifts on your feet as a nurse are swollen ankles. That is why compression socks are amazing! We've already talked about why every nurse should wear compression socks. Now I found more than 7 cute nursing compression socks. I hope you find some that you like too. Don't forget to pin this to your nursing Pinterest board.
7+ Cute Nursing Compression Socks
We've outlined some of the best nursing compression socks in this comparison table to make it easier to find the one that is right for you. You can click "Read More" on any of them in the table to jump to the section in this article outlining more information about it. Or, you can click the "Buy from Amazon.com" or the "Buy Now" button to pick it up immediately.
| Rank | Image | Product | Rating | Price | More | Buy it Now |
| --- | --- | --- | --- | --- | --- | --- |
| 1 | | Think Medical Compression Socks | 4.5 | $ | Read More | |
| 2 | | Artistic Compression Socks | 5 | $$ | Read More | |
| 3 | | SocksLane Compression Socks | 5 | $$ | Read More | |
| 4 | | Black Compression Socks | 4.5 | $-$$ | Read More | |
| 5 | | I Love People Joke Socks | 5 | $$ | Read More | |
| 6 | | Polka Dot & Stripe Socks | 4.5 | $-$$ | Read More | |
| 7 | | Pink & Orange Compression Socks | 5 | $ | Read More | |
| 8 | | Neon Rainbow Socks | 0 | $-$$ | Read More | |
| 9 | | Reflections By Zana Compression Socks | 5 | $ | Read More | |
Are you proud to be a nurse that saves lives? You should be! These Think Medical socks are perfect! I love how they are gender neutral. The medical images on the socks make me smile – so I bet they make others around me smile too!
Think Medical Women's Nurse Print 10-14mmHg Compression Sock (Nurse Healthcare)

One of my favorite Etsy shops is Satire Apparel Socks. These are so vibrant! They make me happy just looking at them. Be proud to be an RN, and let your socks scream it!
They are also gender neutral. The colors are so loud that they can pretty much go with any scrubs you put on top.
Are you looking for comfortable cotton compression socks? Then look no further than SocksLane. Find everything from colorful stripes or dots to bold solid colors. Pick up a pair, or two today!and get 20% off till May 29th!
Cotton Compression Socks for Nurses

Maybe you are more reserved, not attracted to loud or flashy compression socks. I like these black compression socks. They literally go with anything. But they also have a silver zig zag design that adds a little bit of interest on the heel.
These are also graduated compression, giving varied support in all the perfect areas. I bet these become your new favorite socks!
Compression Socks For Women and Men – 20-25mmHg- 4 Pairs BEST Stockings for Running, Athletic, Edema, Diabetic, Varicose Veins, Travel, Pregnancy & Maternity (L/XL, Black, 4 Pairs)

I love people….when they are sedated. Come on, you chuckled! Admit it! Satire Apparel strikes again! Their sense of humor is just perfect.
These are the socks you need when you are having "one of those days."
If you prefer some variety, try out these polka dot and stripes socks. They come in a pack of various patterns, so each night can be a different one. There are tons of fun features with these songs beyond how cute they are. These socks are moisture wicking and have a no-slip cuff.
HLTPRO Graduated Compression Socks for Women & Men 20-30 mmHg – Moderate Compression Stockings For Running, Crossfit, Travel- Suits, Nurse, Maternity Pregnancy, Shin Splints (S/M, New York)

You'll feel the love in these pink and orange socks. The hearts go from the sole to the top. They are super cute! It's a print you won't find many places and sold on Etsy.
I especially love how vibrant the pinks and oranges are against the gray background. They are perfect for dreary days.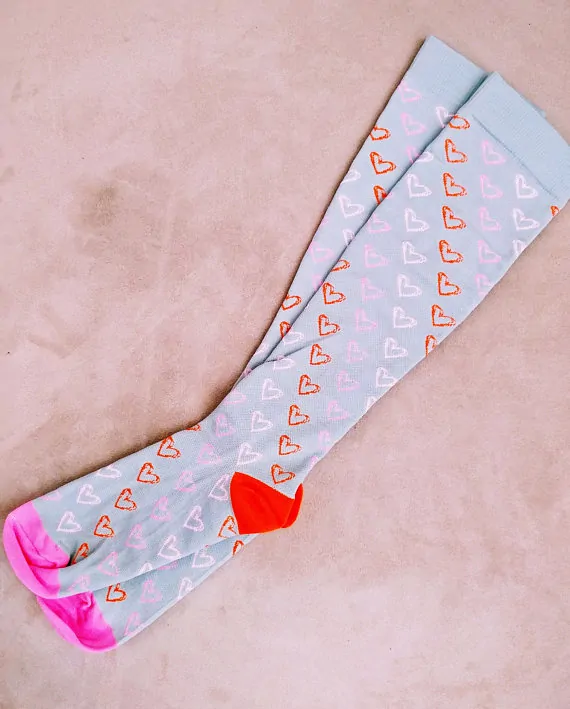 Pink and Orange Compression Socks

These compression socks will take you back to the 80s! The neon stripes are bold and make me wanna do the electric slide!
Take Charge of Your Nursing Career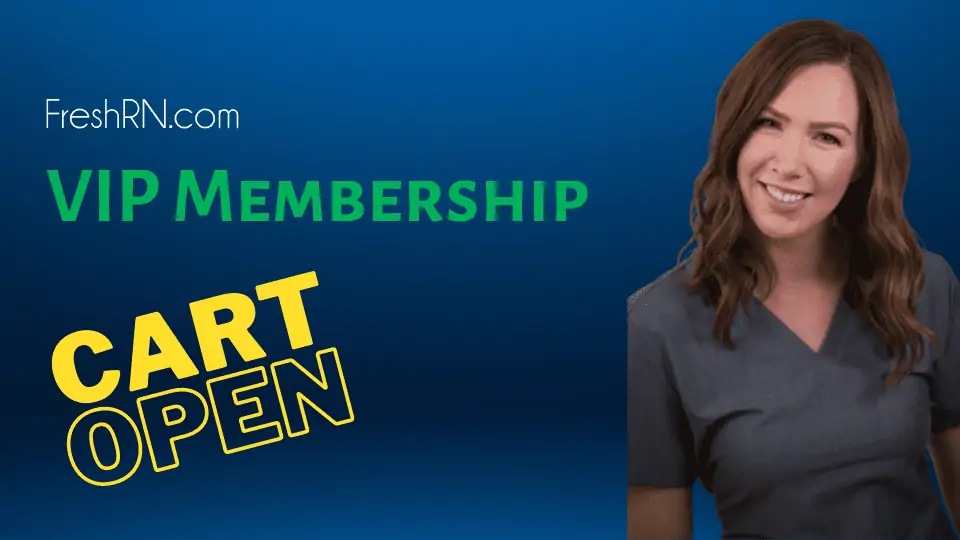 Your first year as a nurse is daunting. You need someone in your corner telling you what your managers really need from you, helping you learn to interact with your preceptor, and really just manage your life. Find all that an more with the FreshRN VIP - Membership.
I'm Ready to Thrive
Bright colors make me smile. Lots of people are raving about them on Amazon. They are super stretchy but work amazing too.
LISH Nurse Compression Socks for Women – Graduated 15-25mmHG Knee High Sport Socks (Stripes, M/L, W's 8-11)

Want to support an amazing Etsy shop? Reflections By Zana has some seriously cute compression socks for sale! These are honestly my favorite. I really like how she used her logo on the socks.
They are definitely one-of-a-kind. They make a statement and will spark conversation whenever you wear them.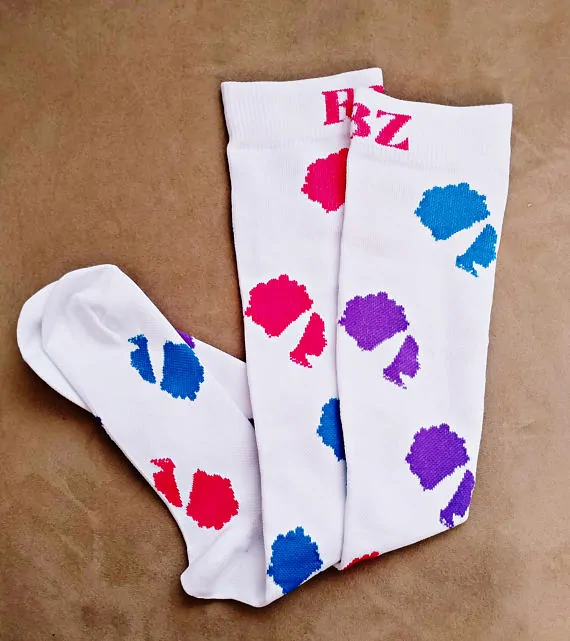 RBZ White Pink Purple Blue Compression Socks

There you have it! More than 7 cute nursing compression socks. Did you see any you like? If you found other cute compression socks online, let me know! I'd love to add them to my list.
Also check out:
A-Swift Compression Socks for Women & Men – Polka Dot Red, Small

CPR Compression Socks for Women Men Nurses Compression Stockings for Woman Graduated Compression Sock 20 30 mmHg Knee High Nursing Travel Comfortable Compression Socks (BnW Striped Med- 2 Pack)

Nurse Mates Women's 12-14 Mmhg Compression Trouser Sock Navy Raspberry Tie Die

Compression Socks (1 pair) for Women & Men by Wave (Sharks, S/M)

Compression Socks for Men & Women 20-30 mmhg Medical Graduated Compression Stockings for Sports Running Nurses Shin Splints Diabetic Flight Travel Pregnancy Varicose Veins (Skull and Crossbones, L/XL)