*articles contain affiliate links*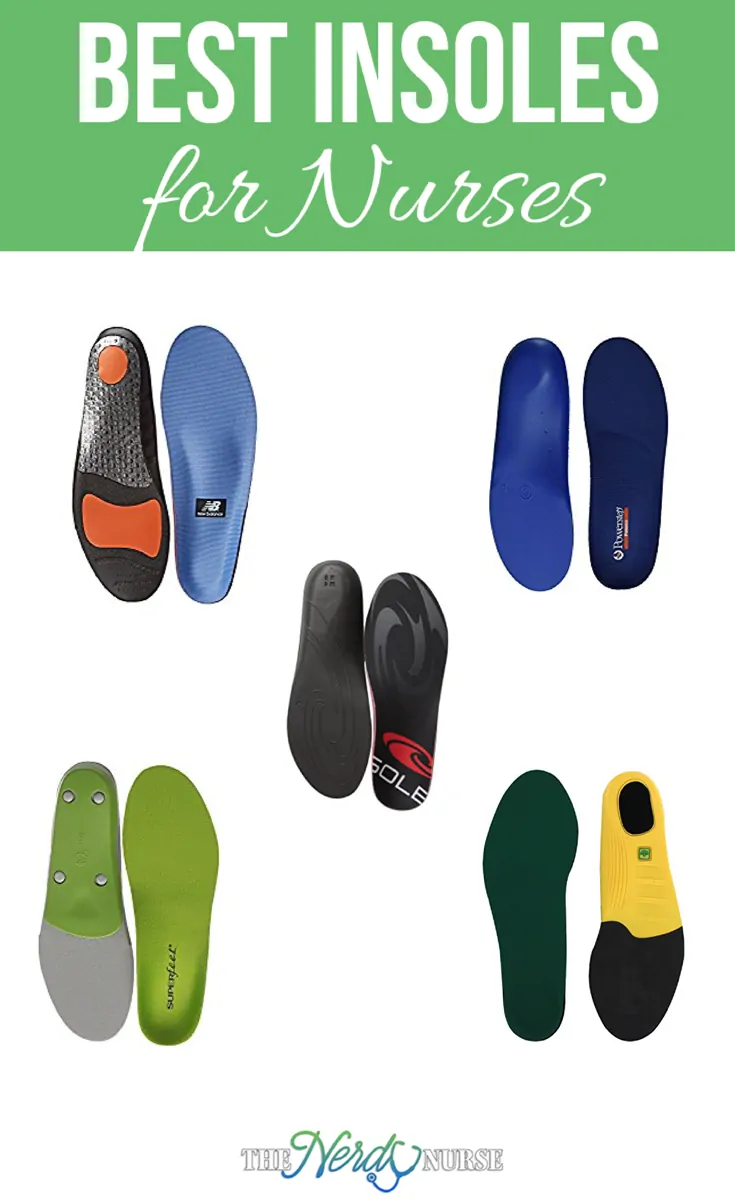 We've talked about the most comfortable nursing shoes, the best shoes for nurses, and even compression socks in an effort to keep your feet feeling comfortable throughout your shift. Every nurse knows you need a great pair of nursing shoes in your nursing bag, but that may not be enough. What if your feet still hurt? Let's talk about the best insoles for nurses.
Having a good pair of insoles can make a world of difference in how your feet feel after a long day of work. The simple act of replacing your shoe insoles with a good pair of premium insoles, can yield increased comfort and even decrease your chance of injury.
Best Insoles for Nurses
A good pair of insoles will provide both cushioning and support. Are your feet always tired and sore? Insoles with cushioning provide greater comfort by helping to absorb the shock from every step you take. Insoles with more support help to improve the alignment and balance of the foot. You can find insoles that offer more cushioning or more support, but most nurses will benefit from an insole that offers both cushioning and support.
So let's take a look at my top picks of the best insoles for nurses that offer both cushioning and support.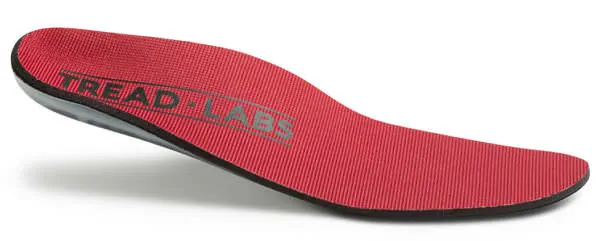 The Stride, by Tread Labs, is one of the more impressive insoles I've seen. What first excited me about these particular insoles was the fact that they are built to last – like forever. Their arch support has a lifetime guarantee and the covers can be replaced. That says a lot about an insole since most just wear out quickly. They are engineered with biomechanics to provide strong arch support. They also have a precise fit with 4 arch heights. They take any shoes to the next level, in terms of support. Since you'll be wearing these a ton, putting miles on them, you'll be relieved to know that they are antimicrobial to keep them fresh. No one wants smelling nursing shoes, after all. Get yours.
Superfeet Green Heritage Insoles,Green,D: 8.5 – 10 US Womens/7.5 – 9 US Mens
The Superfeet Green Heritage Insoles provide both heavy-duty shock absorption and legendary support. These insoles help adapt the flat midsole of your footwear to your foot. The shape helps to stabilize the foot, while the deep, structured heel cup and full-length foam provide support and comfort for every step. As an added bonus, these insoles are vegan and free of latex, nickel sulfate, formaldehyde, and preservatives.
[easy-tweet tweet="A good pair of insoles will provide both cushioning and support. What are the Best Insoles for Nurses?" usehashtags="no" url="https://wp.me/p1mMzJ-3ED"]
Powerstep Pinnacle Orthotics-U, Blue/Blue, Men's 10 – 10.5 / Women's 12 – 12.5
Powerstep PinnaclePowerstep Pinnacle offers a Premium Orthotic Shoe Insole. The Pinnacle full-length orthotic insole, offers the perfect blend of foot control, flexibility and even cushioning. It features an encapsulated design with a firm but flexible support shell, built-in arch support and heel cradle for motion control. The plush cushioning, increases stability and comfort in your favorite work shoes.
New Balance Insoles IMC3210 Motion Control Insole,8.5 US Womens/7 US Mens Color: Multi Size: 8.5 B(M) US Women / 7 D(M) US Men Model: IMC3210 Motion Control-U Accessory
Leave it to New Balance to find the perfect balance between supportive and cushioning insoles. The New Balance Insoles are constructed with flexible arches in mind. The New Balance Ultra Arch Insole features separate heel and forefoot cushioning to address true arch problems. They feature a deep heel cup to cushions the foot naturally; while the contoured shape of the metatarsal pad is designed to redistribute weight and pressure to help give relief from plantar fasciitis, Morton's neuroma and metatarsalgia. The top fabric of the New Balance Insole minimizes friction, prevents blisters and allows the foot to stay cool and dry.
Spenco Polysorb Cross Trainer Athletic Cushioning Arch Support Shoe Insoles, Women's 11-12 / Men's 10-11
The Spenco Polysorb insoles were designed with cushioning and support in mind. This insole offers 4-way stretch fabric with silpure antimicrobial to help prevent blisters while controlling odor. The forefoot pad provides superior cushioning, while the Spencore material absorbs shock and impact to provide intense comfort and cushioning. The lightweight polysorb polyurethane foam provides arch and heel support while the heel-strike pad provides extra cushioning and shock absorption in the heel.
Enjoyed this information about best insoles for nurses?  Check out some of our other great content.
Dycarfell GEL Sports Insoles, Unisex-adult inserts with Best buffer and Shock Absorption, Relieve Foot Pain and Fasciitis (7.5 US-14 US)
Sof Sole Airr Orthotic Full Length Performance Shoe Insoles, Men's Size 13-14
Hydrofeet Dynamic Liquid Massaging Orthotic Insoles – Best Shoe Inserts for Foot Pain Relief Premium Insert Absorbs Shock Relieves Plantar Fasciitis 3 Year Guarantee (L2 (Women 11-12) (Men 9.5-10.5))
Sof Sole Fit Performance Shoe Insole, Neutral Arch, Women's 13-14/Men's 11-12
New Balance Insoles 3810 Ultra Support Shoe Insoles, Orange, Medium/M 11-11.5, W 12.5 D US
ViscoPed S Insoles
Save
Save
Save
Download Nurse Bingo Today!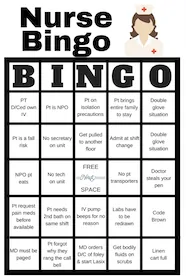 Liven up any shift with a fun game of bingo. See who can fill a row first!
Fill a whole card and lose grip with reality.
Your privacy is protected. We will never spam you.