*articles contain affiliate links*
Do you really need the best nursing shoes to fit your hectic lifestyle? Absolutely.
You can't just wear ordinary athletic shoes when the going gets tough and expect them to perform as well as the best nursing shoes or nursing clogs. The right pair of shoes can improve your comfort, safety and performance multi-fold.
Most importantly, they help you put your best foot forward.
What to look for in the Best Nursing Shoes
Let's start with the soles.
Soles
Outsole
The best nursing shoe starts with a non-slip outsole that is either molded of long-lasting rubber or razor-cut rubber (or a combination of both) to provide high traction and lets the foot tip forward smoothly, even in he most slippery conditions.
In general, outsoles made of relatively softer rubber material are quite useful in their ability to stick to greasy and wet surfaces; however they tend to wear out more quickly than other shoes if you use them elsewhere. To make them more durable, rubber outsoles may be fitted with tall sidewalls or include extra layers wherever friction causes the most wear and tear (such as heels and toes).
Midsole
In many nursing shoes, an EVA midsole is bonded right on top of the outsold to give it some shock absorption. Bear in mind that standing and walking comfort relate directly to how thick this EVA material is. So, if you get to try these shoes on, make sure the thickness isn't too much. Otherwise, there is a good chance that it will leave you feeling out of contact with the floor.
Insole
Some top rated nursing shoes feature softly cushioned insoles for excellent moisture absorption and arch support. Whether or not you occasionally wear these shoes, make sure that the insole is removable and good enough for washing from time to time. Remember a removable insole comes in handy if you like to fit your shoes with prescription orthotics or special comfort insoles for sale over the counter.
Overall, the sole should have a slightly concave design front to back to help with walking without causing slippage. A flat surface, side to side, means better stability and superior traction even when you are negotiating a tight corner swiftly.
Uppers
Uppers, so often ignored by nurses, are a very important factor in choosing the right pair of nursing shoes. Uppers are generally made of pure leather, mesh with pure leather reinforcements, and leather with multiple panels of mesh. While leather puts up strong resistance against abrasion and adds durability, nothing comes close to mesh as far as breathability and drainage are concerned.
Extra Features
Some nursing shoes boast of special ankle collars and tongues with extra padding, making them completely comfortable even when worn for hours together. A reinforced panel covering the lower edge of the heel is a nice feature to have especially if you experience pain due to excessive friction across the heel area. Moreover, it keeps your heels from moving as you walk.
Make sure that the nursing shoe you like is comfortable enough to wear all day, but nicely designed and robustly built to absorb any shocks that you're likely to encounter, and provide extra stability and superior traction even in slippery surfaces. As with shoes in general, the toe box should be roomy enough to allow easy toe-wiggling, and to protect your longest toe from abrasion against the front.
Here are some of the best nursing shoes you can consider buying.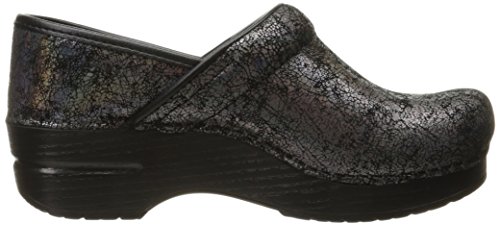 This no-nonsense work clog from Dansko offers durable, supportive protection with great comfort. The leather uppers offer excellent stability while the roomy toe-box keeps your feet comfortable all day. The synthetic sole is sturdy enough for tackling wet hospital floors, with good flex for effortless walking. Bottom line: This professional clog is designed to take you places.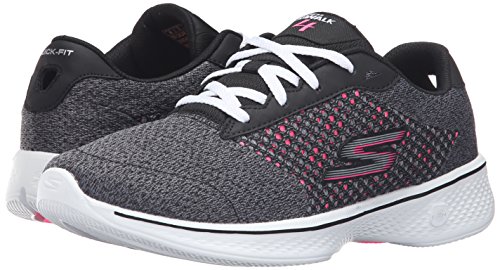 With excellent traction and a lightweight build, these Skechers shoes offer dependable performance at a great price. The rubber outsole gives the shoes excellent grip and the GogaMax high rebound footbed offers remarkable rebound so you can instantly get solid footing on each and every stride. Bottom line: If walking, standing and running are on your itinerary, these shoes will take you there at ease.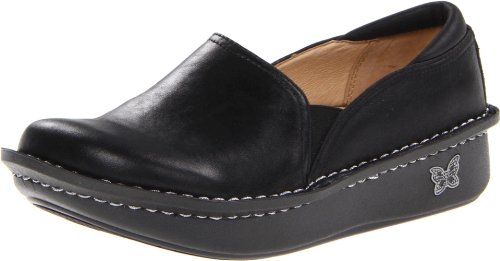 The Algeria Slip-on features leather uppers, a memory foam footbed for extra cushioning, and a grippy synthetic outsole that allows comfortable striding. Because of its great fit, compact size and superior comfort, we peg this shoe as a do-it-all shoe, very close to the best nursing shoes. Bottom line: They're top-notch. You can't go wrong with these shoes.
Ready to Find the best nursing shoes for men?
Without a doubt, our guide on the best shoes for nurses can't be beaten. If you want a great shoe recommended that will fit your personal style and needs, you have to read our comprehensive nursing shoe guide: Best Shoes for Nurses – 20+ Recommended Nursing Shoes for Women 2020
For more information on the best nursing shoes also check out: