*articles contain affiliate links*
If you're looking for the best work shoes for nurses, you should give Calzuro professional clogs a closer look. We've partnered with Calzuro.com to share why these will change your life and solve your hospital shoe problems.
Cleanliness & Comfort From Professional Clogs
Nurses, the first step in self-care is taking care of our feet and lower backs. The shoes we wear matter almost as much as how much sleep we get. You likely already know the value of wearing compression socks and a great pair of nursing shoes. Nurse's shoes need to be comfortable – to power us through those marathon shifts. They also need to be easy to clean and sterilizable.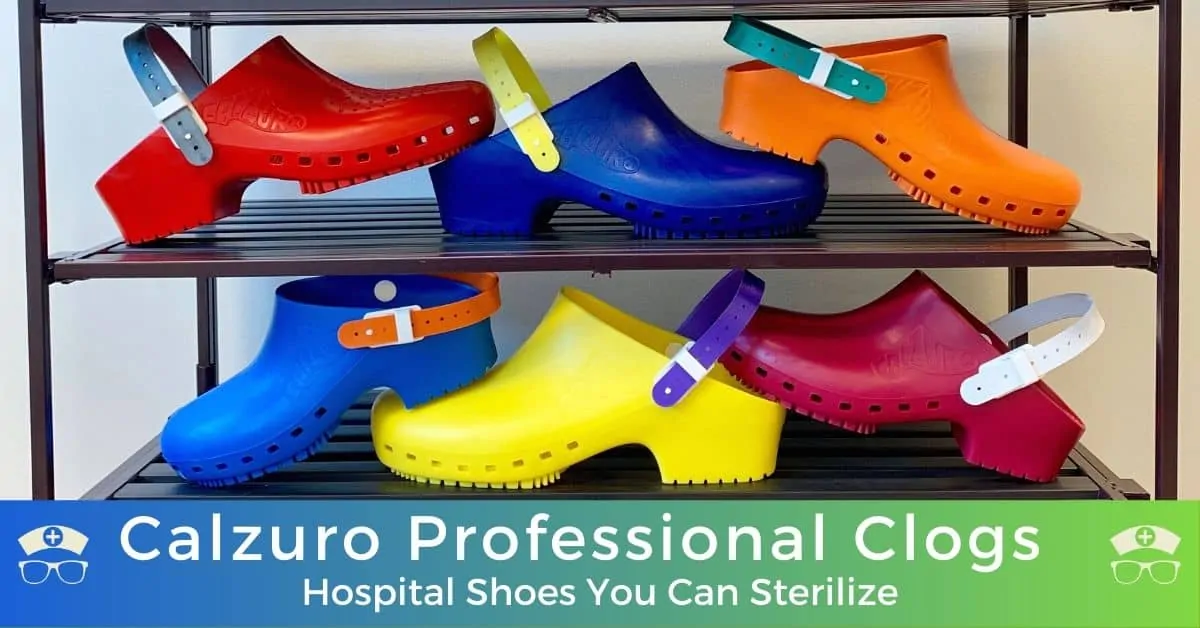 Not all shoes are created equal, especially in the cleanliness department. That's why I was glad to find Calzuro Without Upper Ventilation. Though they are well known in the operating room, Calzuro is more than just for the OR. People from a wide variety of industries wear them – nurses, veterinarians, beauticians and even those in the food industry.
These clogs are perfect for nurses. The Italian manufacturer designed Calzuro Without Upper Ventilation ergonomically for maximum comfort and also to easily clean. One big thing that sets Calzuro Without Upper Ventilation clogs apart from other nursing shoes is their ability to be sterilized in the autoclave. Let's look at how to disinfect shoes (because as nurses, stuff happens) and why they are so comfortable.
Treat your feet. Clean. Repeat.
Let's look at how to wash your shoes. One of my favorite things about Calzuro Without Upper Ventilation shoes is how easy they are to clean.
As nurses, stuff happens. And it happens on our shoes. Just thinking about the different types of bodily fluids and germs we deal with every single shift – and track around on our shoes – can be pretty unnerving. I've lost count of the stories of nurses stepping in or getting a shoe full of urine.
Then they take those shoes home.
Have you ever wondered how to kill bacteria on shoes? Calzuro clogs are designed to be easily cleaned and disinfected. Calzuro.com's mission is to provide easy to clean footwear, made to treat your feet.
According to their website, there are a few ways you can disinfect your shoes – with bleach, wipes, hospital autoclave, and in the washing machine. Calzuro shoes can be cleaned in all of those ways.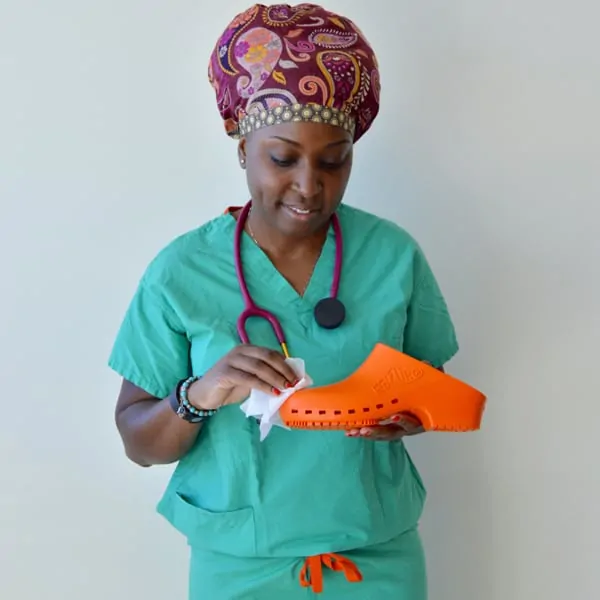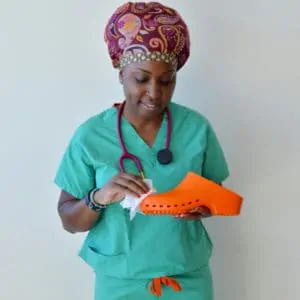 How to Disinfect Shoes with Bleach
Mix 1 tablespoon of bleach in a quart of water.
Then, just dip a clean cloth in this mixture and wipe your shoes down. You can also put this mixture in a spray bottle and spritz it over your shoes. Bleach wipes can be used as well.
How to Wash Shoes in the Washing Machine
Another way to disinfect your nursing shoes is just throwing them directly in the washing machine. Yup! If you have ever wondered, "can you wash shoes in the washer" the answer is yes – especially Calzuro shoes. All Calzuro.com products are machine washable.
To wash them, it is best to do a load of towels and/or jeans with them. Wash on the normal setting. Then, let them air dry when they are done (or dry them with a towel).
Sterilize Shoes with Hospital Autoclave
Calzuro Without Upper Ventilation clogs are autoclave safe. They are safe to be used in the hospital's washer disinfector as well. If you have access to it, use it. You must completely dry shoes prior to the autoclave process.
The Most Comfortable Work Clogs
Now that you know how to clean your work shoes, let's talk about the supreme comfort of these professional clogs. They were ergonomically designed to prevent lower back pain and give you long-lasting comfort.
Calzuro Benefits
Calzuro Without Upper Ventilation are inimitable autoclavable professional clogs designed for maximum comfort and safety.
Colorful and original, these sanitary clogs are designed for those who stand long hours; thanks to an innovative system of energy absorption in the heel region, they facilitate blood microcirculation and reduce the sense of fatigue. Practical and easy to clean, our clogs are latex-free, entirely antistatic, cruelty-free and eco-friendly.
Massaging Beads
These professional clogs have small bumps inside the shoes. These bumps stimulate blood circulation. You can also purchase Comfort Insoles for only $12.99 if you want them, they reduce perspiration. Circulation blood flow still exists with Comfort Insoles.
Open Back Shoes
The Calzuro Without Upper Ventilation are slip-on clogs with open backs. This makes them fit better on people with one foot that is a bit smaller than the other. Slip-on nursing shoes are also super important because you can put them on without any effort and kick them off at the end of the day (my favorite part!).
If you prefer a secure back on your shoes, choose either the Heel Strap accessory or the Calzuro Pro – they have complete backs. Calzuro Pro cannot be autoclaved, but are machine washable.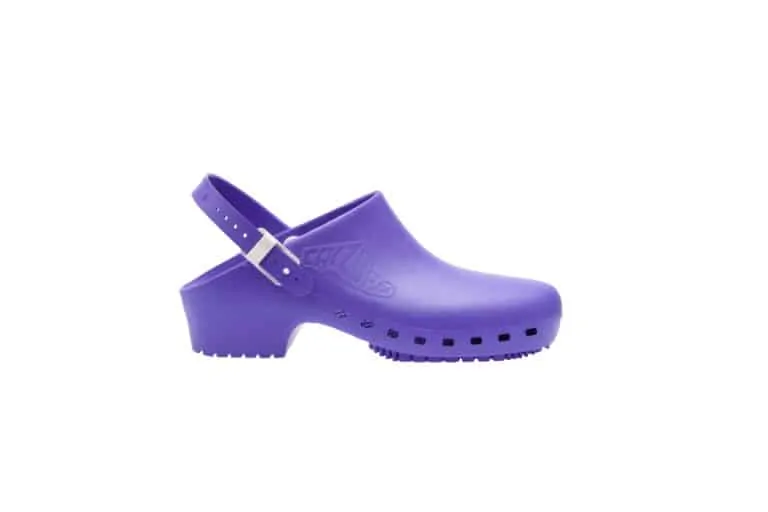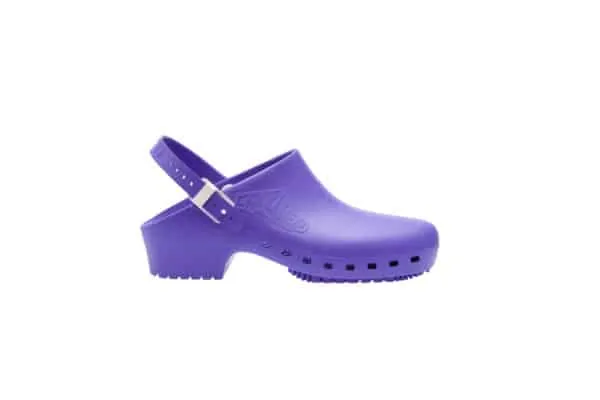 Bonus – Super Cute Too
Not as important – but lots of fun – Calzuro has a variety of colors. You can mix and match with tons of bright colors or choose more neutral tones. Adding a different colored Heel Strap is perfect to coordinate hospital or favorite team colors! EX: Red & Grey, Go Bucks! You do you!
The all-white nursing shoes are classic. White nursing clogs are easy to clean with bleach and match every single outfit.
If you are looking for black clogs for women or Italian clogs for women, Calzuro is a great choice. They are made in Italy. Black is a classic color, looking professional and posh.
Calzuro Professional Clogs
Their FAQ section is super helpful if you have any questions about the sizing (they are Italian sizing, but translate them to USA sizes.) There is also a size chart page to help find your perfect fit in any of the Calzuro brand styles.
Now go check out Calzuro professional clogs and treat your feet, clean, repeat!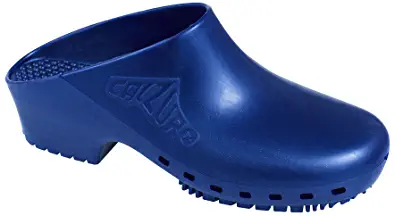 More Nursing Must-Haves
Here are some more must-haves for nurses. I rounded up the best of the best, saving you time.