*articles contain affiliate links*
Did you ever buy a pair of nursing shoes and have them hurt your heels? When you're always running around, picking up commands and following instructions carefully, you just cannot afford to be spending time feeling miserable about your aching feet. We really cannot emphasize how important it really is to stay comfortable all day when you're on your feet. That's precisely why we have put together this piece so you know what to look for when you're in the market for the most comfortable nursing shoes.
How to Find the Most Comfortable Nursing Shoes
Material and Construction
Nursing shoes are made out of different materials and come in different sizes and shapes. The most comfortable nursing shoes out there are designed to meet workplace standards particularly with a closed heel and toe design. High-quality nursing clogs and shoes from brands like Crocs are usually made from exclusive antimicrobial material and are specially designed to reduce fatigue in the heels and the legs. Made of robust materials, they have many striking features such as ventilation holes on the sides and the tops as well as cushioning bumps on the insole.
Support and Fit
When you stand all day long you are going to have to wear a shoe with gentle support that balances the whole foot. If you are looking for comfort, take a hard look at shoes with squishy heels but make sure the sole is not too rigid and solid. In addition, good solid arch support is important—but a soft one that gives, not one made out of tough leather or any similar material. Avoid shoes that have a narrow toe box, those that lack enhanced arch support, or have open backs.
Grip and Shock Absorption
Look for low heeled shoes that have good heel height and offer a firm grip, particularly when you're walking on hard, slippery surfaces. These shoes will make you feel sure-footed even on unsteady terrains thanks to a lightweight yet thick layer of shock-absorbing cushioning that runs right along the entire sole.
Breathability
If sweaty feet cause discomfort to you at the end of a shift every day, it's time to consider breathability. Several nursing clogs are fitted with breathable materials and punched uppers that allow for extra ventilation. These materials breathe well so you can be sure you are blister proof. Stay away from synthetics. Look for shoes that have suede, leather or fabric uppers. As far as insoles are concerned, go for shoes that have leather or suede insoles. Flexible and breathable, they fit the contours of the feet and help prevent blistering and chafing.
Durability
Longevity is certainly nice. Nurses want something beautiful, something individual, that will last. Yes, nurses grow old with their pair of shoes, not bored with them. Considering that you work at least 8 hours a day, any decent nursing shoe, if well maintained, should last for eight to ten months.
Style
Shoes with stocky, cushiony soles with fairly round toes, and heels that hardly ever hit more than two inches don't just suggest style. Many popular shoemakers like Dansko, have started rolling out comfortable nursing shoes with just enough style, so check them out if you don't want to compromise on style.
Head on over to Amazon.com now to browse through a wide range of comfortable nursing shoes in different sizes and shapes. Perhaps you don't fancy run-off-the-mill nursing clogs and shoes. Amazon.com has you covered. With so many shoes to choose from, one can safely say that the days of running around in uncomfortable professional clogs are over.
What about Dansko shoes? Are Dansko Nurses' Shoes the Best?
If you are limited to white nursing shoes or need nursing shoes for men you can still use the list to find the shoes that are perfect for you!
Download Nurse Bingo Today!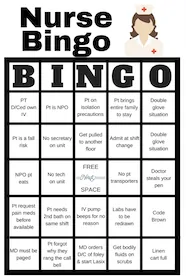 Liven up any shift with a fun game of bingo. See who can fill a row first!
Fill a whole card and lose grip with reality.
Your privacy is protected. We will never spam you.