*articles contain affiliate links*
Because of our training, nurses tend to be very organized at baseline. We like to feel as though we're on top of every single thing under our purview at any given moment. But let's face it, on occasion don't we all need help? We're all busy. Nurse entrepreneurs can be extremely busy, because they often manage a full-time work schedule alongside a side hustle. So it can can be helpful to learn time management and organization strategies to increase your productivity and reduce your stress level.
Productivity Hacks for Nurse Entrepreneurs
I know I'm always on the prowl for the next strategy or hint or tip on how to stay on task or on top of my workload. But for every "Yeah, that might work for me" there's plenty of stuff I find that my only reaction is "seriously?".
Organization Doesn't Have a Magic Bullet
Unfortunately, there's no magic bullet for solving all your organizational woes but a there is one way I've found that comes close. It helps me to manage all the balls in the air, including those that are chosen for you and those you choose for yourself.
In this post, I've compiled several productivity hacks that are effective for nurse entrepreneurs (or really anyone that has a lot of work on their plate).
[easy-tweet tweet="Do the absolute worst thing first because somehow it gives you momentum for the rest of the day!" url="https://wp.me/p1mMzJ-469″]
Kanban for Nurse Entrepreneurs
Kanban, which is Japanese for billboard, is a method of time management developed at Toyota in the late 40's. The two guiding principles are: visualize your work and limit number of "in progress" goals to about 3 on any given day.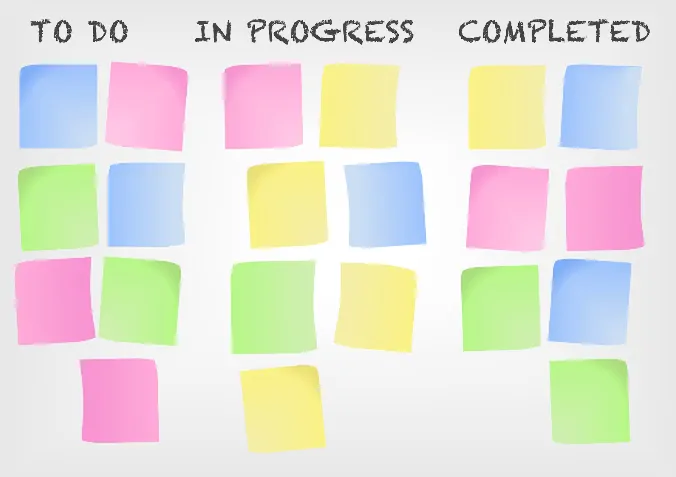 Here is how it works:
Set up a workspace — How you set up your "space" is totally up to you, whether it's a bulletin board, dry erase or even paper (how retro!)
Divide your "space" into three columns — The three categories are: options/doing/done.
Create an inbox — Post all your tasks in the options column and (here's the hard part) choose 3 to move into the doing area.
Choose what to do next — at this point you need to decide, within your own timeframe, do I need to delegate? Do I need more information? Or is this a non-starter?
Then, once you've completed your task, move it to the done section and start again with another task in your options column.
This is a really simplified version and there is software available, but I always found it so satisfying to tick off those neat little boxes. Color coding is great if you want to mix your personal life/ work life or levels of urgency. You can also do it with Post-it Notes. It's all about focus and flow. In fact, studies have shown you get a dopamine kick even saying the word done!
More Organization Strategies
Now, this may or may not be for you and that's fine. Sometimes, for things like organization methods, it's an amalgam of all the things you've learned through reading, experience, or otherwise that you pluck out and make your own. Here are a few other helpful mantras I like to keep in mind while I'm working that may work for you:
Good enough equals great — Don't spin your wheels trying to perfect something that doesn't need to be. Accept imperfection and move on when you can.
Do the worst first — Productivity expert Brian Tracy refers to this principal as "Eat that frog" — simply put if you do the absolute worst thing first because somehow it gives you momentum for the rest of the day.
Use technology, but wisely — Not all technology is created equal so it can be trial and error to pick one or a few that work for you. My suggestions: Evernote to keep track of notes, Todoist to keep track of tasks, and some sort of calendar sync with your email (google calendar, apple calendar, etc.) The Nerdy Nurse uses Gqueues, since it integrates with Google apps and can easily handle delegation.
Allow for unexpected delays — For those of you still on the front line, not always doable, but I always arrive at least 10 to 15 minutes early to acclimate myself so I can start the shift not quite so frazzled.
Eliminate the multi-tasking — or at least keep it to a minimum. Studies have proven that your brain loses focus when switching back and forth from task to task and you end up completing tasks poorly
It's easy to get overwhelmed with too many options in our line of work and you can end up even more disorganized. The goal here is not be "busier", but to enable some semblance of order both in and out of work to focus on being the best caretaker of your patients and yourselves!
Do you have any productivity hacks? Share them in the comments below.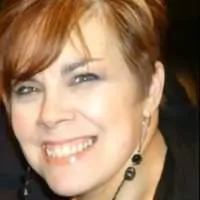 About the Author
Lisa Grover, BSN, RN
My name is Lisa Grover. I am married with 3 grown children, all of whom live local-lucky for me! I went to Salem State for my BSN and currently attend Southern New Hampshire University for my MSN. I am certified in gerontology and currently work at Spaulding in a post-acute setting with medically complex adults. I have been a nurse for thirty years and have always liked to put my thoughts to paper so naturally was drawn to the blogging forum. You can visit my blog at Modern Day Nightingale.
For other information on productivity check out …
Eat That Frog!: 21 Great Ways to Stop Procrastinating and Get More Done in Less Time
The Productivity Project: Accomplishing More by Managing Your Time, Attention, and Energy
Panda Planner – Best Daily Calendar and Gratitude Journal to Increase Productivity, Time Management & Happiness – Hardcover, Non Dated Day – 1 Year Guarantee
Save
Save
Save
Download Nurse Bingo Today!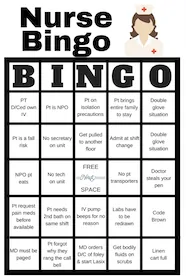 Liven up any shift with a fun game of bingo. See who can fill a row first!
Fill a whole card and lose grip with reality.
Your privacy is protected. We will never spam you.