*articles contain affiliate links*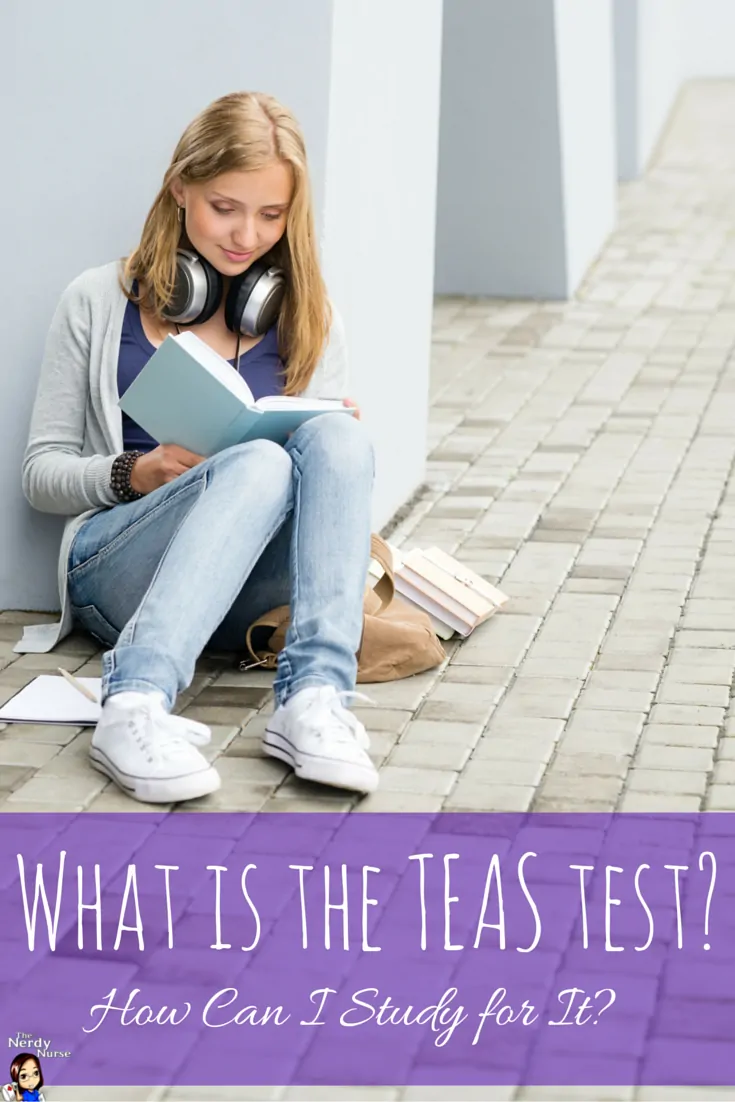 Every year students preparing for nursing school find themselves asking the question "What is the TEAS test?" If all the core classes, applications, and fees aren't enough, many nursing programs add an exam called the TEAS test to the nursing school application process. Since the process of applying to nursing school can be very competitive, having another facet to review a potential nursing student's skills can be helpful. It can also help students who may have a lower GPA to get a more competitive chance in the application process. So what is the TEAS test?
What is the TEAS Test?
The TEAS test is referred to by many names including:
T E A S exam
TEAS test
TEAS V test
TEAS V exam
According to Medtech.edu:
"TEAS, which stands for Test of Essential Academic Skills, is administered through Assessment Technologies Institute (ATI) Nursing Education. The test is a basic aptitude test designed to identify students who would succeed in nursing school and who have the ability to think like a nurse."
The TEAS test (or TEAS exam) is comprised of 4 components including:
Reading (40 questions, 50 minutes)
Math (45 items, 56 minutes)
Science (30 items, 38 minutes)
English and Language Usage (55 items, 65 minutes)
ATI TEAS Secrets Study Guide: TEAS 6 Complete Study Manual, Full-Length Practice Tests, Review Video Tutorials for the Test of Essential Academic Skills, Sixth Edition
What is a Passing Score for the TEAS Test?
There is no passing score for the TEAS test. Instead, each section is given a composite score, and a score is given for content. It is agreed that the reading and math section are the most important. The test can be taken via a computerized version or through the more traditional paper. One advantage of taking it on a computer is that tests are scored immediately and automatically sent to the school where the test was administered. Since the test is not pass-fail, your score is used in conjunction with other components of your nursing school application to determine whether you will be accepted into the nursing program. However, there are often minimum score requirements that may be found on your school's website. For example, Wichita State University requires the following minimum passing scores:
Reading – 69%
Math – 63%
Science – 45%
English – 60%
These minimum passing scores vary by your institution, and you should verify the specifics with your nursing school application coordinator.
Why is the TEAS Exam Hard?
Some people find the TEAS exam to be difficult because they struggle to perform well on standardized tests. Others have difficulty with the breadth of the subject matter. In general, the TEAS test is difficult because nursing school is competitive. The difficulty of the tests allows schools to select students to have the best chances to succeed academically. Nursing school is hard. This test is one of the first steps of the nursing school process, so it's no surprise that it would be one of the many difficult hoops that future nurses will have to jump through to secure their place as healthcare professionals.
How Can I Study for the TEAS Test?
There are many online resources for the TEAS. There are also several great TEAS review books that many find helpful. However, it is really important to focus on the overall strategy of taking the TEAS test as well as practicing sample test questions. Some people find that taking a prep course really helps them. Achieve Test Prep offers a great TEAS exam prep course. When you're preparing to enter nursing school, passing the TEAS exam is one of those items you have to check off. Ensuring that you know the content and are confident to pass the test is critical to success.
TEST Test Review Course
Taking a TEAS test review course like is a great strategy for many. Most people benefit from the auditory and visual components of lectures combined with interactivity. Review books are helpful, but I would often fall asleep trying to study by them alone. Finding a great TEAS test review course is a great strategy to help you learn all the content to pass the test.
Great TEAS Test Prep Books
Getting a great TEAS book for nursing can really help you feel more confident to take the exam. Below you'll find some great TEAS study material and you'll be able to find the best TEAS review book for you.
HavinATI TEAS Secrets Study Guide: TEAS 6 Complete Study Manual, Full-Length Practice Tests, Review Video Tutorials for the Test of Essential Academic Skills, Sixth Edition
ATI TEAS Review Manual: Sixth Edition Revised
Nursing Teas Guide (Quick Study Academic)
ATI TEAS Test Study Guide 2017: ATI TEAS Study Manual with ATI TEAS Practice Tests for the ATI TEAS 6
ATI TEAS Strategies, Practice & Review with 2 Practice Tests: Online + Book (Kaplan Test Prep)
ATI TEAS Study Guide Version 6: TEAS 6 Test Prep and Practice Test Questions for the Test of Essential Academic Skills, Sixth Edition
Nursing School Entrance Exams (Kaplan Test Prep)
ATI TEAS Practice Questions: Two TEAS 6 Practice Tests & Review for the Test of Essential Academic Skills, Sixth Edition
ATI TEAS 6 Essentials Study Guide: TEAS Review Manual and Practice Questions for the ATI TEAS Version 6
Before you start nursing school, you should check out our article on 15 Things Every Nursing Student Should Know. It can save you time, money, and stress!
Download Nurse Bingo Today!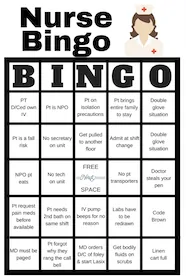 Liven up any shift with a fun game of bingo. See who can fill a row first!
Fill a whole card and lose grip with reality.
Your privacy is protected. We will never spam you.