*articles contain affiliate links*
What does it take to succeed at home care nursing? Let's look closer at this job – what it's like, how much it pays, and how to rock as a home health nurse.
Home care nursing can take a variety of roles and look different depending on whom you are caring. If you enjoy traveling and want to get out of the hospital setting, this might be the perfect job for you.
Home Care Nursing Jobs
First, let's look at home care nursing jobs. What do you do and what is this job like?
There are three main types of home care nursing:
Intermittent Visits
In-home care
Hospice Care
Intermittent visits are shorter and don't require you to stay at the home for very long. This could include wound care or administering medicine to older patients.
In-home care requires longer hours. This is also called staffing. You might spend an entire 8 or 12-hour shift at a patient's home caring for them like you would if they were in the hospital. This typically happens if they are on a ventilator or just want private in-home care for other reasons.
Finally, hospice care is when you give end-of-life care to patients in their homes. This is a specialized service and you'll need specific certifications to do it.
Responsibilities
The responsibilities of home care nurses are much the same as nurses in hospitals. The location is just different. That being said, the location can really affect your job as a nurse. Where a hospital is kept completely sanitized all the time, you can't control the cleanliness of someone's home. Some nurses will have to work around multiple pets and personal clutter.
In addition to taking vital signs and managing the health of the patient, home care nurses also work closely with family members.
You will need excellent communication skills if you want this job. You'll need to be able to educate family members about the patient's care and make recommendations to the physician about the current care plan.
Depending on which type of home care nurse you are, your duties could include:
Wound care
Managing health equipment such as ventilators
Taking and recording vital signs
Assessing bedridden patients for bed sores
Making care plan recommendations
Administering medication
Responding to changes in their health
How Much Do Home Care Nurses Make?
The salary of a home care nurse depends on where you live and how much experience you have. They earn an average of almost $70,000 per year. The amount increases a bit as you gain more experience. Nurses with more experience could earn upwards of $82,000 annually.
How to Become a Home Care Nurse
What kind of education and certifications do you need to become a home care nurse? A hospice nurse requires special certification and training because you are dealing directly with end-of-life situations.
But typical home care nurses only need to have BSN degrees. If you are a registered nurse but don't have a bachelor's degree, you can learn about how to go from RN to BSN. It's easier than you might think.
Once you are a registered nurse with a degree, just start applying for home health jobs. That's really all the requirements you need. It will help if you have experience volunteering at home health care, but it's not required.
You will definitely need a valid driver's license and dependable transportation so you can drive to the homes.
Where to Find Home Care Nursing Jobs
You can easily find jobs on popular job sites like Indeed and LinkedIn. But there are some other places you should look too.
First, check out home health agencies near you. They hire nurses and place them in people's homes. If you are certified as a hospice nurse, check out jobs at local hospice organizations.
Other places that hire home care nurses include:
Retirement communities
Insurance companies
Government agencies
Job Outlook
This is a fast-growing field. As the baby boomer population ages, they are preferring to get their care in the comfort of their own homes. In fact, the Bureau and Labor and Statistics (BLS) states that home health care is projected to grow by 41% by 2026.
This is definitely a job with plenty of opportunities.
What Type of Person Should Be A Home Care Nurse?
There are definitely different types of people that are better suited to work in the home care setting than others.
You need to be flexible. Sometimes, you could be assigned to work with someone and then they decide to move you to work in another location the next week. If you prefer a dependable location you can count on, look for a job in a hospital or other health care facility.
These nurses also need to be able to work in a variety of settings. You can't let pets, clutter, or a chaotic home affect your job and responsibilities. There is no telling what kind of home you will walk into, and you need to be able to give the same level of care to each patient.
Finally, these nurses need to have amazing communication skills. Sure med-surg nurses communicate and educate family members, but it's nothing like the level of interaction you will have when you care for the patient in their home. You'll have to explain medical procedures and what you are doing. Since it's their home, chances are you will be around family members even more than you would in the hospital.
If you have a sympathetic heart and the ability to explain medical jargon in plain language and enjoy traveling to new places for your job, then this is perfect for you.
More Nursing Specialities
Are you still looking at other nursing specialties? Check these out and see if they are a good fit for you next.
Visit Tracker for Home Health Nurses: Systematically Record Details for All Daily Visits

Nurse First Bag – The best Nurse Bag for home health care nurses

Think Clean Car Front Seat Organizer (Black -13.8

Home health Nurse Home health care Nursing Department Nurse T-Shirt

Download Nurse Bingo Today!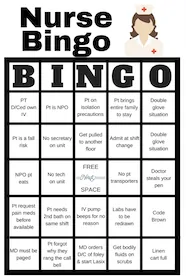 Liven up any shift with a fun game of bingo. See who can fill a row first!
Fill a whole card and lose grip with reality.
Your privacy is protected. We will never spam you.