*articles contain affiliate links*
One of the lesser-known nursing specialties is a dialysis nurse. But it shouldn't be such a well-kept secret, it's a rewarding job that actually pays pretty well.
Dialysis Needs Nurses
One of the parts of the hospital that really needs more nurses is dialysis. It's not one of the more "romantic" specialties (such as labor and delivery) but it can be just as rewarding.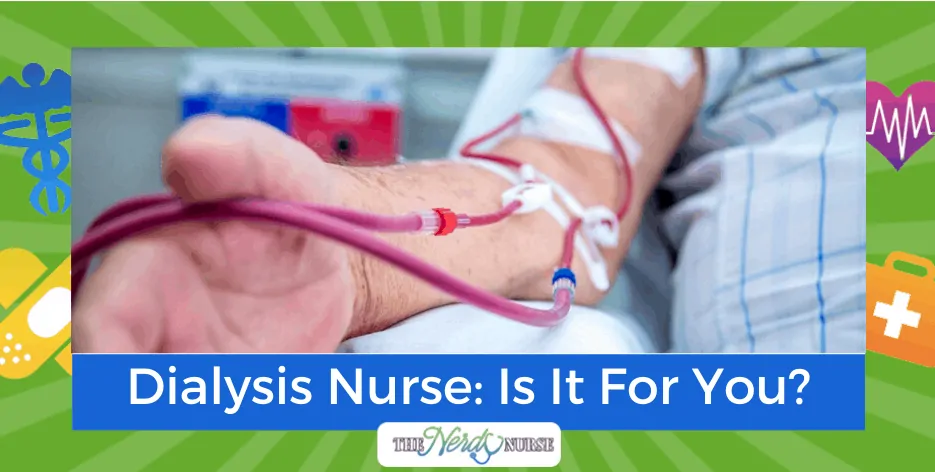 What is Dialysis?
Dialysis is a clinical purification system for blood, in cases where the kidneys can't purify the blood on their own. Dialysis takes over for your kidneys when they aren't able to function enough to maintain the body. It is usually required in end-stage kidney failure, when the kidneys have lost 85-90 percent of their function, commonly occurring in diabetic patients.
What Is A Dialysis Nurse?
Dialysis nurses are titles in the larger specialty of nephrology nursing. They are trained on top of their nursing degrees to have an in-depth knowledge of kidneys and their importance to maintain a healthy individual.
Since there are two types of dialysis, the environment will not always be the same for every dialysis nurse. Hemodialysis cleanses the blood from waste by filtering the blood outside of the body and cycles it back through to the necessary organs.
Peritoneal dialysis is a procedure where a plastic catheter is inserted through surgery into the stomach and the blood is cleansed inside the body by injecting a sterile fluid in through the tubing. Hemodialysis is typically performed in an office setting, while peritoneal dialysis can be performed at the patient's home or at a dialysis center.
Where They Work
A dialysis nurse may practice either at a dialysis center or be routed out to the homes of the patients to assist patients in performing dialysis.
What They Do – Responsibilities
Their main task is to manage the patient's care. Some of the ways this is possible is by:
Checking vitals every hour
Talking with the patients to keep them occupied and to assess their symptoms
Informing patients of what is happening during the procedure and overseeing the procedure to ensure it is done correctly
Teaching patients about their disease and answering questions they may have
Reviewing patients lab work and medications
Administering medications ordered by the patient's doctor
Teach patients how to perform dialysis in the home setting
Evaluating patients reaction to dialysis and informing the doctor of any changes in behavior
Education Requirements
Renal dialysis nurses must obtain their Bachelor of Science in Nursing degree and hold a current Registered Nurse license to specialize in the treatment of patients with kidney failure who need dialysis treatment. After becoming an RN, it is recommended to work with your license for one-two years before beginning to train for any specialty.
After the nurse is established in their career and has had hands-on experience, they can begin training for the certified dialysis nurse exam by getting more experience in the actual renal dialysis department or center.
Nurses are required to obtain 2,000 or more hours in nephrology nursing to qualify for the Nephrology Nursing Certification Commission's certified dialysis nurse exam. Candidates are also required to complete 15 contact hours of continuing education in nephrology nursing after passing their exam, in order to keep it valid.
How Much a They Make
Salary reported for nurses holding Registered Nurse licenses and specializing in a specific field of nursing ranges between $65,000 and $70,000 annually, but nurses with Master's degrees can make more.
Choosing This Career
Dialysis nursing is a very rewarding specialty and is one that is ever-changing. With advances in technology every day, along comes new dialysis procedures and higher demand for nurses with special skills in renal kidney failure. If you are looking for a career path that is gratifying and always contains the ability to continue learning, consider a career path in renal dialysis nursing.
Review of Hemodialysis for Nurses and Dialysis Personnel

Dialysis Nurse Coffee Mug. Dialysis Nurse gift

Dialysis Nurse Blood Filtering Squad Nephrology Gift Tshirt

The Dialysis Handbook for Technicians and Nurses: Pocket Format

Download Nurse Bingo Today!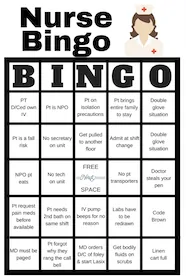 Liven up any shift with a fun game of bingo. See who can fill a row first!
Fill a whole card and lose grip with reality.
Your privacy is protected. We will never spam you.