*articles contain affiliate links*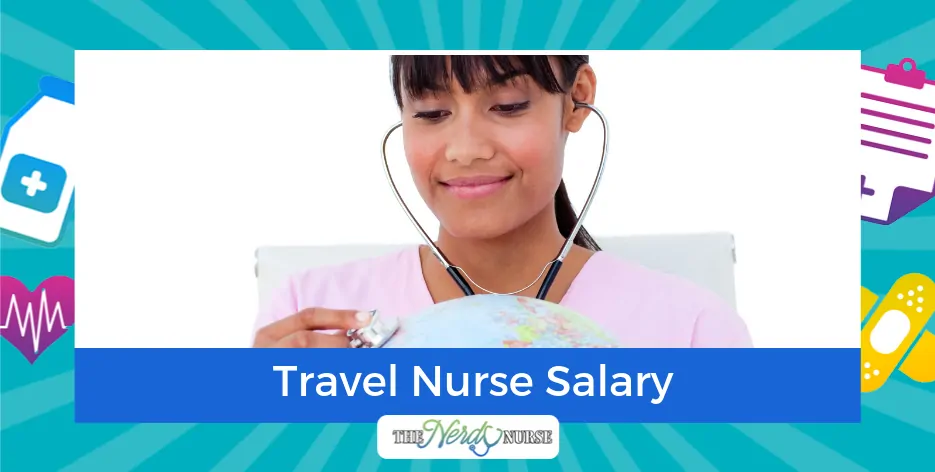 When you are looking for a job as a nurse, a travel nurse salary is looking pretty amazing. How much do they really make and what's the job of a travel nurse really like?
Let's dig into the tempting opportunity a bit.
All About The Travel Nurse Salary
Do you enjoy the excitement of meeting new people and traveling to new places? Then a job as a traveling nurse might be for you. Of course one of the most appealing things about this job is how much you could potentially earn. So let's get right into the travel nurse salary – how much it is and how to get the most of it.
What is a travel nurse?
A travel nurse is a job that requires a nurse to travel to hospitals or other medical facilities that are short-staffed and provide temporary relief.
How long a traveling nurse works at an assignment can vary from job to job. And the types of locations vary too.
A traveling nurse might spend 3 months in a hospital and then get assigned 6 months at a nursing home or urgent care facility.
How Much is a Travel Nurse Salary?
The salary for a traveling nurse depends on the agency that hires you. Nursing.org compiled information from Payscale and the Bureau of Labor Statistics. According to their research, the median hourly wage is $32 per hour, and the mean salary is $61,483.
Some agencies claim a travel nurse can earn as much as $100,000 per year. This is possible – there are states that pay more than others.
Where are traveling nurses paid more?
Just like with other salaries, the higher wages tax-free on the east and west coast. The central United States is where you might typically find the lower tax-free. The highest paying state so far is California, with an average salary of $98,000 a year.
The lowest paying state is South Dakota with an average salary of $54,000 a year.
This data was compiled from Payscale and Bureau of Labor Statistics.
One of the biggest differences is the amount of take-home pay that a travel nurse can earn. Because a large portion of their income often comes in tax-free, they often end up having more on their paycheck than a nurse working at the same facility.
Do travel nurses pay for their own housing?
Typically, the agency that hires a travel nurse will provide a stipend for food and housing. Some will pay for hotels, and some will pay for a short-term apartment. Before you accept a position as a traveling nurse, ask them how much they pay for living expenses.
How Does Travel Nurse Pay Work?
Travel nurses have contracts that include an hourly base rate as well as tax-free stipends for housing, meals, and sometimes travel. This hourly rate may be close to the standard hourly rate of that hospital or it could be higher or lower. This is because different agency structure the payments to the nurses in different ways so that more or less of their pay may your.
Travel Nurse Agencies Split Fees with Nurses
Generally, an agency receives a certain amount for a contract and splits that payment between them and the nurse. This varies by agency, and generally, these numbers aren't revealed. However, a good guesstimate is that an agency will give the nurse about half of what they receive for the contract. It's up to the agency to determine how the pay is divided amongst the taxed base-pay and the tax-free stipends or per diems. Some agencies will also pay travel costs or sing on bonuses.
Tax-Free Travel Nurse Pay
Here's an example of what your pay might look like as a travel nurse. For simplicity, we'll assume this agency is not providing travel costs or a sign on bonus.
Taxed:

Base Hourly Rate: $25

Overtime Hourly Rate: $25/hr

Tax-Free

Weekly Per Diem: $300
Monthly Housing: $1500
An average month has 4.35 weeks in it. Assuming you work 36 hours a week,  you can expect to earn approximately $900 a week in taxable income. You'll also receive approximately $645 in tax free income. So you're total pay will be $1545 for the week. If you factor in a 20% income tax bracket, your take home pay will $720 base pay + $645 tax free making your weekly income $1365. Multiply this by 13 and you can see that you'll earn $20,0085 before tax and $17,745 after tax for this assignment.
Travel Nurse Tax and Hourly Rates
Your take-home pay may go or up down if there is more or less in your hourly rate. So if you take a lower base rate, but get a higher housing and per diem, you may actually end up taking home less money. The agency spends the same amount of money, so they are generally flexible with adjusting and paying you less of an hourly rate. However, travel nurses will warn you to never take less thatn $20 an hour for your base pay as it could potentially send a red flag to the IRS that you are trying to manipulate your pay to get out of taxes.
We recommend speaking with a travel tax professional before committing to your first contract and any time you plan on carrying your base pay too greatly. The last thing you want to do is upset Uncle Sam! That would just take all the fun out of traveling.

What Can a Travel Nurse Earn in a Year?
If a nurse kept this rate for 50 weeks (that's a year with 2 weeks of vacation) they can expect to earn $77,250 before tax and $68,250 after tax. Of course, your mileage may vary. We've used fairly conservative numbers for these estimates. You could end up earning a lot more or less.
Travel Nurse Assignments
How long is a typical Travel nurse assignment?
Travel nurse assignments all vary in length. Some are as short as 8 weeks, and some are as long as 26 weeks. The average is generally around 13 weeks.
Some nurses enjoy their assignment so much they ask to stay there longer than the first agreement. There are rules about how long you can stay on an assignment without upsetting the IRS. So be sure to consult a travel tax professional.
Travel Nurse Housing and Transporation
One of the biggest concerns that nurses have when entering the travel nurse market is housing and transportation. If you suffer from travel anxiety, this will likely be one of the most stressful parts of travel nursing. A travel nurse agency will provide tax-free stipends to pay for the duplicate living expenses you occur. Many travel nurses are very savvy with this income and may even have a tiny home or RV that they bring with them on assignments. So they can save a large portion of their housing reimbursement.
You can find housing as a travel nurse in a variety of places. An excellent place to start is Airbnb, VRBO, efficiency apartments/long term hotels or one of the travel nurse groups on Facebook. I've heard of travel professionals also finding accommodations via craigslist or calling apartment complexes and asking for short-term rentals. I'd personally be a little wary of the craigslist option, but the short-term apartment rental has panned out for many nurses. Expect to pay a bit higher of a monthly rate and bring all your own furniture. But really, what more do you need other than a bomb air mattress and a few pots and pans?
How to Become a Travel Nurse

Who should apply as a travel nurse?
Due to the frequent change of locations and varied hours (some places could require up to 60 hours of work each week), anyone with a lot of free time should apply.
If you require stability, this might not be the best choice. However, if you have an adventurous spirit and love trying new things and experiencing new places, then this might be a fantastic job for you.
How long do you have to go to school to be a traveling nurse?
You don't need any extra schooling to be a traveling nurse. You just need to be a registered nurse (R.N.). I have a thorough guide for how to become a nurse that will help you through every step. Typically, nursing school is a 4-year bachelor's degree program.
How do you become a traveling nurse?
After you are a registered nurse, all you have to do to become a traveling nurse is apply to a reputable agency.
Here are some of the best-rated agencies.
If you have a recommendation for a travel nurse agency, we'd love to hear about it in the comments.
If the ultimate travel nurse job sounds like your cup of tea check out what does a cruise ship nurse do.
How to Become a Nurse – Resources
Becoming a nurse is one of the most rewarding careers. You really do make a difference in people's lives. If you are interested in making this your career, I have some helpful articles I've written.
Highway Hypodermics: Travel Nursing 2019

A Newbies Guide To Travel Nursing

The Traveling Nurse: What you need to know and what others are scared to tell you

Download Nurse Bingo Today!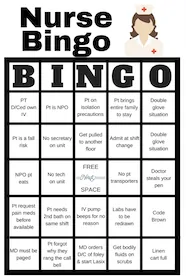 Liven up any shift with a fun game of bingo. See who can fill a row first!
Fill a whole card and lose grip with reality.
Your privacy is protected. We will never spam you.