*articles contain affiliate links*
You want a career helping people and really love fast-paced jobs, so what're the differences between nurses and paramedics? Read on and see how different – and similar – they are and how to choose which to do.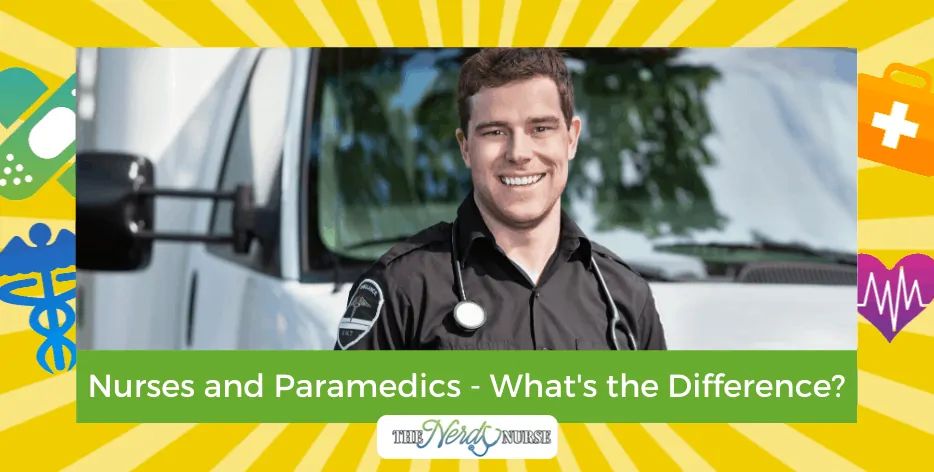 Nurses and Paramedics: Similarities and Differences
There are actually quite a few things that both people do that's pretty similar. Let's look closely at what paramedics do, what nurses do, and how to choose which path you should take.
How Nurses and Paramedics are Alike
Obviously, they both help people. That's almost too obvious to tell you.
Both ER/ED nurses and paramedics are on the front battle lines when it comes to emergency care. If patients come into the hospital themselves, the nurse will be the first to assess and treat the patients, just like when paramedics arrive on a scene.
Both paramedics and nurses assess and treat life-threatening issues in an every-minute-counts situation.
And that's about where the similarities end.
Differences Between Paramedics and Nurses
There are a lot more differences between them.
Emergency nurses typically receive their patients by a handoff from the paramedic that brought them to the hospital. Paramedics will brief the nurses and doctors about the patient's condition and what they have done to treat it so far. That's when nurses will take over in lieu of paramedics, in a hospital setting instead of an ambulance.
Another important difference in the two careers is the actual responsibilities of each. Paramedics are called to provide emergency care in a field setting, with a minimal amount of supplies and time. They are trained differently because of this aspect, and won't contain all of the same knowledge as a nurse.
Nurses are tasked with the follow-up care of patients, unlike paramedics are. Once a patient is handed off to the hospital, paramedics move onto the next crisis whereas nurses keep their current patients while handling incoming and outgoing ones as well.
Education Required To Be a Paramedic
While four-year programs do exist for paramedics, they are usually not necessary to begin practicing as one. Paramedics are trained in emergency response tactics as well as basic and advanced life support for adults and infants. In addition to trauma support, paramedics will learn a basic understanding of human anatomy and physiology.
There are courses that are less than a year, as well as courses that can take up to four years. If the end goal is to work in a hospital setting, or you'd like to switch between the two, it's best to take the four-year degree route and obtain the most amount of education on the subjects as possible.
Nursing Schooling
Practicing as a nurse takes more time and schooling than a paramedic. Nurses are required to take several different science courses before they are even allowed to apply for the nursing program at the college they are attending. Typically, a nurse will take two years of prerequisites before applying for the nursing program and continuing for another two years before graduating with a registered nurse license.
That being said, there are two-year programs that will allow you to practice as a nurse while finishing up your nursing school, and there are also LPN programs.
LPN's are Licensed Practical Nurses and are basically the nursing equivalent to paramedics. They are taught how to keep patients comfortable and provide basic nursing care. In some cases, they are able to administer medications as well. LPN's are typically more often found in nursing home settings, or in hospice care situations.
Where RN's are taught the skills to care for patients, they are also taught the thinking skills to educate patients about their illness and provide them with the medication to treat or cure their symptoms. RN's are more often found in settings where they work under a doctor, like hospitals and primary care offices.
Nurses and Paramedics: Which Should You Choose?
While paramedics and nurses offer very similar skill sets, the main differences between the two are the job descriptions and the amount of school it takes to obtain the licenses. If you are looking for a fast-paced environment, with in-depth emergency response training, a career as a paramedic will suit you well.
However, if you are more interested in having a broad range of environments to choose from, all with different paces, a career in nursing is a better option.
More Nursing Career Resources
Here are more articles with even more career paths you can choose in nursing.