*articles contain affiliate links*
What is Nursing Informatics? And is this job right for you? Learn how to get a job in Nursing Informatics and everything else you ever wanted to know about this new field.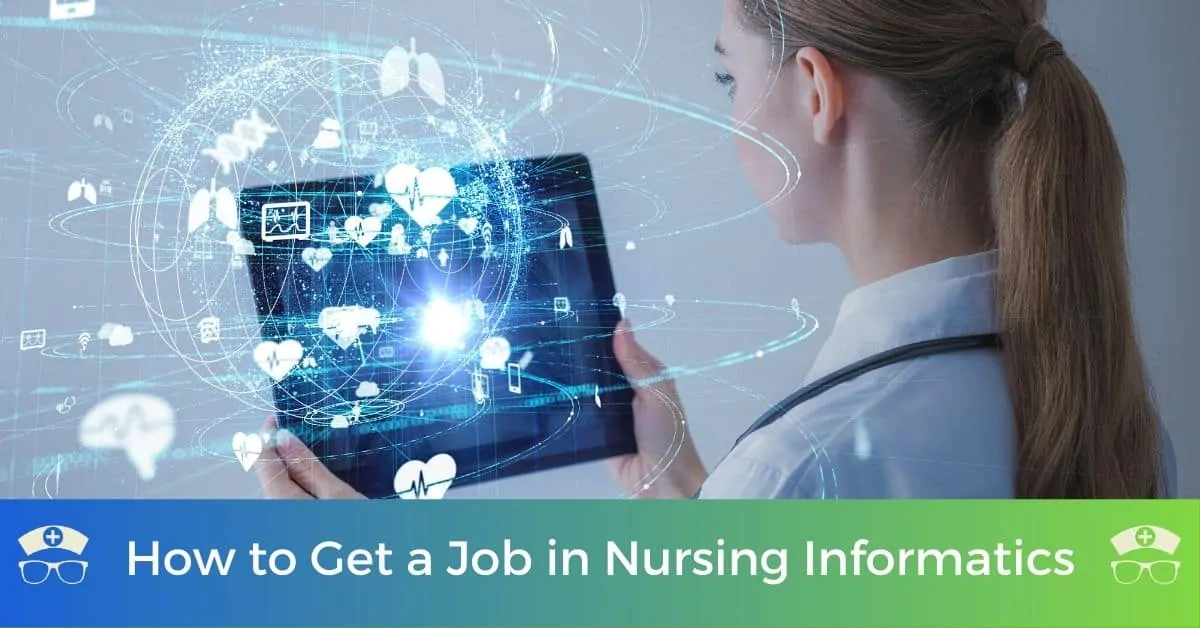 How To Get A Job in Nursing Informatics
This is a really perfect time to go for a job in nursing informatics. It's still a relatively new field. I hope this guide helps you learn more about it and how to get this job – if it is what you really want.
Why was the Nursing Informatics job created?
This job was literally created by an act of Congress. Not kidding!
The United States Congress passed a bill that required all healthcare providers to switch from paper medical records to electronic ones by 2014. The benefits of this change are many. It provides fast and accurate access to patients' information for medical professionals treating them. It also makes the interaction between the providers and insurance companies easier. The billing and payment process is easier and more accurate as well. The information is easier to store and secure when everything is done properly.
Digital medical records require information systems and people to keep those systems updated, secure and running smoothly. So, the role of Informatics Nursing was created! It makes sense. Medical professionals simply cannot properly care for patients with systems that do not run smoothly. Patient information must be kept secure to comply with Federal law.
A person who understands medical topics and patient care who are trained in the tech world and understands information systems is needed to fill this role. They are called Nursing Informatics Specialists.
What Nursing Informatics Specialists Do
Nursing Informatics Specialists combine health science, computer science, and information technology skills with the goal of helping healthcare providers store, retrieve, and analyze the large amount of data that surround patient care.
The simplification of recording patient information also improves accuracy and provides easier analysis. They also ensure the legal requirements for the security and privacy of patient information are met. This requires extensive education and experience but comes with a nice compensation.
Basically, they handle all the health data like medical records and test results. Here's a list of more things a Nursing Informatics Specialist does:
Design, test, and put into place new or modified information solutions
Consult with nurses on how to set up healthcare software and hardware
Analyze information systems data to improve nursing services and reduce errors
Act as a translator between nurses and system engineers, analysts, or designers
Create strategies and policies to introduce, evaluate, or modify healthcare technology
Develope ways to better ensure patient data security and confidentiality
How much does Nursing Informatics pay?
The mean salary of a Nursing Informatics Specialist was $93,000 in 2014. The average salary was $109,000. This can vary greatly depending on location, however. With an expected need of around 70,000 people in the field in the near future, this is an excellent field to consider for anyone into nursing with a tech-loving side.
Nursing Informatics Career Path
So what are the steps to becoming a Nursing Informatics Specialist? This is not a field that can be filled at an entry level. Nurses who enter this field today usually have a few years on the job experience combined with an education in nursing and some computer science. Nurses are often desired over those with just technical skills and education.
It is much easier to teach a nurse the technical aspects of the job than to teach a tech person how the healthcare system works.
Education
The best education to pursue for this career is either a Master of Science in Nursing (MSN) degree with a specialty in Informatics or a Master of Science in Health Informatics. For people already working, both of these degrees are available online from many respected universities.
Network With Others
While gaining the education and subsequent work experience, start forming a professional network so you hear about opportunities that arise. Sometimes knowing the proper people is a huge boost to landing the job you want.
If you have a passion for both technology and nursing, then a job in Nursing Informatics might be perfect for you. If you don't already have one, go for a Master of Science in Nursing and start working towards this job.
How is Nursing Informatics different from traditional nursing?
Nursing informatics differs from traditional nursing because it doesn't interact with patients.
Traditional nurses use technology to work face to face with patients. But Nursing Informatics Specialists work behind the scenes. They are in charge of the systems that the traditional nurses use.
Both types of nurses have the goal of achieving healthy outcomes for the patients. But the Nursing Informatics Specialist creates and manages the technology systems that the traditional nurses and other healthcare workers use.
What personal traits will help you in your job as a Nursing Informatics Specialist?
To be a Nursing Informatics Specialist, you need to enjoy problem-solving and working with technology. Here are some other traits that you'll need to have:
Attention to detail
Think analytically
Possess excellent communication skills
Quick learner
Think of creative solutions
Organized
Self-motivated
Able to multitask
Enjoy working independently
Nursing Informatics is a career that can be extremely rewarding for the right person. If all of this sounds like something you'd enjoy, you should go for it. The need for more Nursing Informatics Specialists is definitely growing.
Become a Certified Informatics Nurse
Nursing informatics has quickly become one of the most exciting and competitive careers. If you have considered earning ANCC Informatics Nursing Certification, a certification prep course is an absolute must.
The NICER (Nursing Informatics Certification Exam Review (NICER) Program prepares nurses to pass the nursing informatics certification exam. It was created by Dr. Tiffany Kelley PhD MBA RN (an informatics nurse of over 17 years) and includes:
Over 8 hours of video training
3 practice tests with 325 questions
2 textbooks (included in the price of the course!) – Scope and Standards of Nursing Informatics Practice & Electronic Health Records for Quality Nursing & Health Care
All the steps information to prepare, register, and apply for the exam
Start the NICER Program Now
More Articles about Nursing Careers
Here are even more articles that will help you find new careers with nursing.