*articles contain affiliate links*
Guest Blogger: Carlie Schneider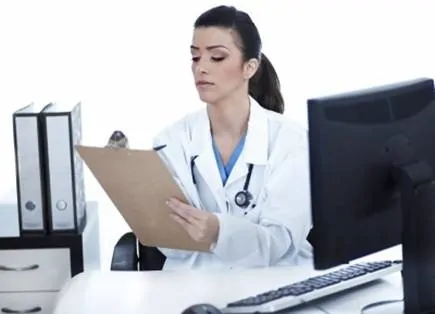 As a registered nurse, you may have career aspirations that surpass what your RN or BSN degree has prepared you for. You may be aware that the demand for nursing professionals with advanced skills continues to increase nationwide. The U.S. Department of Labor recently reported that demand for MSN (Master of Science in Nursing) degreed professionals in medically underserved areas is at an all-time high.
How to Earn Your MSN Degree
Requirements can vary from program to program, but generally the path an RN BSN graduate takes to earn their MSN degree is straightforward. Once you earn your RN or BSN degree, you need to take either the MAT or GRE test, depending on your specific MSN program requirements. Some programs require one or two years of clinical experience. Most MSN programs can be completed in two years for full-time students. Both online and on-campus MSN programs are available.
The Five Careers
Nursing informatics, case management, nursing education, nursing management and infection control and prevention present challenging opportunities to MSN graduates.
Nursing Informatics. As a nursing informatics specialist, you study and manage health information systems. Researchers, administrators and clinical nursing professionals can find exciting challenges in this evolving field. Many RN to MSN onlinegraduates work for hospitals or health agencies. Others work in the government or public health sector. In 1992, nursing informatics was recognized as a profession by the American Nurses Association. As of 2011, the Healthcare Information and Management Systems Society reported that the average salary nationwide is over $98,000.
Nursing Case Management. Nursing case managers work with patients and health care staff to improve patient outcomes, adapt the latest technology and identify the best practices. Demand for MSN-degreed nursing case management professionals is increasing because of rising health care costs and ongoing health care systems revisions. Indeed.com reports that nursing case managers earn $74,000 annually, as of 2012.
Nursing Education. Nurse educators are needed in every sector of health care. Many nurse educators become professors or return to school for their doctorate at some point. As a nurse educator, you work to develop effective programs to educate healthcare professionals as well as the public. In the classroom you analyze the effectiveness of nurse education programs, and implement any innovations to technology and learning processes. You may also administer or revise accreditation guidelines. As of 2012, Explore Health Careers reported that the average nurse educator salary is just under $72,000.
Nursing Management. Nursing management puts you in the role to lead, train and guide nursing professionals. In this role you collaborate with leaders in other departments, incorporate the latest technology and knowledge, and polish your leadership skills. Nursing management allows you access to executive-level job positions. Indeed.com reports that as of 2012, the average nurse manager salary is $85,000.
Infection Control and Prevention. Following 9/11, various aspects of infection control and prevention have taken the spotlight, from preventing biological warfare to improving patient care. Career epidemiologists, and infection control and prevention nursing professionals are employed by both the government and private sectors. As an infection control and prevention specialist, you study how diseases arise and spread. You can equally focus on control and prevention as a generalist, or you can specialize in one disease or population. Nurse Groups reports that as of 2012, the average salary for an infection control nurse is $75,000.
A Bright and Rewarding Future
Each of these specialized fields targets your skills and expertise towards a certain population. Because professionals in all five roles are in demand, you must evaluate your ultimate career goals before selecting a track post-MSN. If you prefer to work with patients, you will likely enjoy working in nursing education, case management or infection control and prevention. If you aspire to management or administration roles, nursing management and nursing informatics may be a better fit. The more you know about why you chose nursing as a profession, the better equipped you will be to choose a specialization.
About the Author: Carlie Schneider is earning her MSN degree at the moment. She has been an RN for the past several years.