*articles contain affiliate links*

With the implementation of meaningful use in healthcare, and the requirement of EHR for physicians by 2015, there is expected to be creation of 50,000 new jobs in healthcare informatics. This is welcome news to a struggling economy, and very welcome news to nurses who wish to get their nerd on. After searching through various educational resources, linkedin, job listings, and other opportunities I stumbled upon HITECH and the various grants and opportunities that have been created.
HITECH is offering 6 month programs at various community and technical colleges throughout the country, which provide people with a IT or healthcare background with an opportunity for certification in 6 roles in EMR healthcare informatics. You can find out more Facts about Health IT Workforce Development Program, which made aid many of your nurses and clinicians to bridge the gap between technology and healthcare.
The Office of the National Coordinator for Health Information Technology is involved in a 375 billion dollar grant which has created many HITECH Programs
From the US Department of Health and Human Services :
Competency Examination for Individuals Completing Non-Degree Training Program: A grant program to provide $6 million in grants to an institution of higher education (or consortia thereof) to support the development and initial administration of a set of health IT competency examinations. This is one component of the Health IT Workforce Program.
About the Workforce Development Program
ONC has awarded $116 million in funding for the following Health IT Workforce Development Program activities:

Community College Consortia to Educate Health Information Technology Professionals: Five regional groups of 82 community colleges in all 50 states have $68 million in grants to develop or improve non-degree health IT training programs that can be completed in six months or less. The funded community colleges will help train more than 10,500 new health IT professionals by 2012. The programs are designed for professionals with an IT or health care background and focus on training students for the following professional roles:

Practice workflow and information management redesign specialists
Clinician/practitioner consultants
Implementation support specialists
Implementation managers
Technical/software support
Trainers
There are grants available for students wishing to pursue degrees. Specifically, I have seen that Duke university is offering full scholarships to 2 students for their nursing informatics program. It is apparently very competitive and the deadline of August 1st is fast approaching. I'm not quit ready to dive into my Master's yet, so I will leave this opportunity to those who are willing to make the plunge.
If you'd like information about Duke University's Nursing Informatics MSN scholarship, which includes full cost of tuition ($16,000), a $15,000, and $2,000 to cover health insurance, visit Duke University's School of Nursing Financial Aid section.
Duke is not alone in these scholarship opportunities, and a little bit of Googlng or browsing the Health IT Department of Health & Human Services website may provide you with schools that may better fit your geographic needs. But it should be noted that the majority of these programs are offered completely online, with the ability to complete your clinical requirements in your area.
More Facts about Health IT Workforce Development Program:
Program of Assistance for University-Based Training: Nine grants totaling $32 million have been awarded to colleges and universities to quickly establish or expand health IT training programs for health IT professional roles requiring training at the university level. The six professional roles include:

Clinician or public health leader
Health information management and exchange specialist
Health information privacy and security specialist
Research and development scientist
Programmers and software engineer
Health IT sub-specialist

Over the course of the grant, these programs will help more than 1,500 people receive certificates of advanced study or master's degrees in health IT. All of the certificate programs can be completed in one year or less, and all of the master's degree programs can be completed in two years or less.
Community College Consortia to Educate Health IT Professionals – A listing of all the schools included in the 6 month certification programs. There are 5 region (A,B,C,D,& E) which have different schools to meet the needs of the people in the area.
For the Southeast
In region D (The southeast) there are 20 community and technical colleges participating.
The courses are completely online, and the costs vary by school. I STRONGLY recommend you check the pricing and class schedules for every school in your region. I found the prices in mine varies greatly from $700 (reimbursed to you at the end of a successfully coarse completion) to $25 non-refundable fee that covered the entirety of the program (including any related text and materials). In addition, some schools only offered classes every 6 months, while others were starting as often as every 2 weeks. The grants are intended to make these programs FREE, but many schools are requiring students to pay fees up front while later being reimbursed.
I've personally spent months researching my program and finally found the one that made the most sense. To those in the Southeast, I'm doing you a big favor here, when I tell you to check out Chattanooga State Community College.
While Pitt Community College offered the easiest to navigate website, with the most concise information about the region D HITECH programs, I found Chattanooga State Community college to be a better fit. Their class schedule and their fees were the MOST accommodating .
What I'm Doing
I choose the 6 month certification program in Clinician/practitioner consultant, which includes a free voucher to take the $299 certification exam. This certification is mean for individuals with significant and verifiable healthcare backgrounds.
My class official starts Monday, but I have already poked around at the lectures, discussions, and schedule. Although it does appear that it will be a fairly intense 6 months, I am confident that this will give me a strong informatics base to add to my clinical background. Nursing Informatics here I come.
Questions About HITECH programs?
Feel free to comment below and I will attempt to answer any questions or concerns about the HITECH workforce role development program that I am involved in. The governments website is nothing short of a challenge to navigate, so I complete understand if you feel overwhelmed by it.
Download Nurse Bingo Today!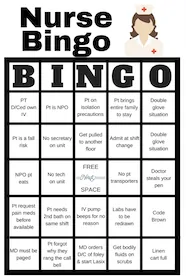 Liven up any shift with a fun game of bingo. See who can fill a row first!
Fill a whole card and lose grip with reality.
Your privacy is protected. We will never spam you.