*articles contain affiliate links*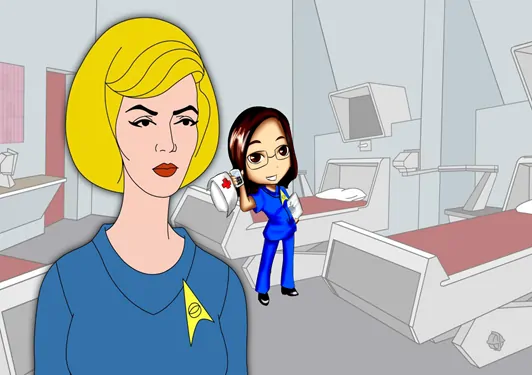 It's official. I'm a Star Trek Nurse with the professional title of Clinical Informatics Specialist. Or well, at least that's what my husband calls nursing informatics: "Star Trek Nursing." Apparently my husband has the fantastical images in his mind of me working in hyperspace and using my hands to manipulate robotics and hologram interfaces to clone people and repair vital organs instantly. I'm not positive on this, but I think I would first have to be an astronaut and have traveled through deep space before I could even apply for a job aboard the Enterprise, but then again I'm not an avid watcher of Star Trek so I'm not aware of the required credentials and experience for their nursing department. There's probably a Wikipedia on that somewhere, but I just don't have it in me to spend too much time Googling that one tonight. Yea… I don't think he gets it. But I don't mind. I believe that means he thinks that it's cool, so I'm all for it.
So What is a Clinical Informatics Specialist Then?
Basically I'm going to work with the EMR software that hospitals use in order to provide and document care on patients. Specifically. the hospital I am working for uses Meditech, which I am already accustomed to and familiar with, and I will be working to build the user interfaces, change and customize it as needed, and implement any upgrades and changes. I will also be helping the hospital move forward with meaningful use. I guess technically I will be a software analyst, but there is more than goes into the role than just that. There are tons of names for nurse informacists and an even more varied set of job roles that they encompass. It's actually one of the great things about the informatics field: you have many options to pursue and several paths that can get you involved with technology and healthcare.
Hands on and Project Management
I will also be working directly with clinicians to improve the system by getting feedback from them and training them to use the software. I hope that the role requires more of this hands on work with the healthcare providers in the future, but I know that initially I will be doing a lot of learning of the build and change processes. I will also be doing a lot of "project management." That's one of those fancy buzz words that means I will be responsible for making sure projects get done. I dig that. I like being involved in the bigger picture. Up till now the only project management I've done is organizing the med room, and I took that task on myself, and apparently not everyone was thrilled with my initiative to organize the chaos. You just can't please everyone.
Want to Be a Nerdy Nurse Too?
I often get emails from nurses looking to get into informatics, and honestly would not have been the best person to ask about this previously. I have worked in bedside care for the past 3 years, and my extend of nerdom on the floor ends at reveling over the latest and greatest iPhone apps with my peers, helping with med recs, and chiming in with a tip or trick I know about the EMR system. Honestly most nurses I work with could care less about tech, although I have convinced a few of them to purchase an iPad and other various electronics (all of which they have been thrilled with!).
But I will give you a few tips in order to make the transition here and will update this blog with many more in the future. It has been a fairly long road, so one little section in one tiny blog post won't quite cover it. This best thing I can tell you to do is to get one LinkedIn. Join the nursing informatics groups, the EMR groups, HIT, HIMSS, and the other various healthcare informatics groups. These may all sound foreign to you (they were to me, not too long ago!) but you will eventually start to get a feel for the differences in the scopes of practice. Read through the discussions. Find out what parts of informatics interest you and then start chiming in the discussions. Share what you know and ask what you want to know. Be appropriate, professional, and considerate.
Start at Home
Check into your information systems department (may go by other names) where you currently work. Do they have a nurse informacists? Do they have clinical applications specialist? Do they have any nurses that work with IT? My previous had one nurse in the IT department… and I'm convinced she'd have to die in order for me to get anywhere near a position in informatics there. In fact the times I asked her about it, she acted like I was going to take her out, right then and there, because I was gunning for her job. I have since learned that in some hospitals the jobs in informatics and administration are coveted and hard to get, and often hard to keep, so her awkwardness towards me makes more sense. It also didn't help that I worked for a corporate, for-profit hospital, and creating a new role was like an act of 3 congresses that were involved in WWIII – slow, tedious, and often not-fruitful.
If you find that your current place of employment offers little in the way of growth then branch out to other locations near by. Look through all the job listings and don't discount that Systems Analyst role. It drove me insane to look for jobs in informatics because there were so many different names they went by. Search ALL the job listings and if it sounds remotely technical click on it and read the description to see if it's up your all.
You May Have to Move or Commute
Take a deep breath, slowly in and out. Resign to the fact that you may have to move or commute. I have always worked within 5 miles of my jobs, since I was 15 years-old. The concept of commuting was foreign to me and one I hadn't even remotely considered until I was approached about potentially being an online community manager for a company in Atlanta. It was only then that I started to seriously think about the fact that I would have to get away from the small town and branch out a little in order to achieve an success. Once I finally came to terms with the possibility of having to relocate or commute, things started to fall in line with the nursing informatics job hunt. The rest just took time, and research and was far less harder than having to convince myself of anything. Trust me when I say that the battle was already won when I decided that for the right opportunity I would moved. Magically those opportunities started to appear… and you know what, many of them didn't even require me to move!
More on Nursing Informatics Career Tips
More to com on the job change, commute, resources and information to help get you to an informatics role if you so choose. So stay tuned to the blog. I will also be reviewing some awesome 3M silicon tape, and The Hand Stand for iPad in the near future. So go ahead, subscribe via email for updates. Or else you'll be sad if you miss this stuff, and it may break my nerdy little heart.
More posts about Nursing Informatics on This blog:
Download Nurse Bingo Today!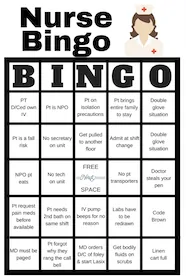 Liven up any shift with a fun game of bingo. See who can fill a row first!
Fill a whole card and lose grip with reality.
Your privacy is protected. We will never spam you.