*articles contain affiliate links*
I have had the privilege to work on a floor with an organized med room. However, It appears that ours has been the only one in the entire hospital that stays organized. Stock gets low occasionally, but usually things we need are close at hand and someone will typically step up and replace things as needed. No one is designated or has a responsibility to manage the med room, or its supplies, but we do it out of respect for each other and honestly because it makes our jobs and lives easier.
However, on the other floors, the med rooms are far from organized. Sure you may find a random flush, or syringe lying around, but that alcohol wipe you are desperately searching for will be nowhere to be found. Its frustrating and a huge waste of time to hunt 3 different locations for the needed supplies to do your job. So, when given the opportunity, time, and nurses who aren't offended by it, I organize med rooms. Occasionally I get someone complain with the whole "this is how it's always been" rant, I'm just so fond of, but usually the nurses are excited and happy to now have the tools they need at their fingertips.
This is just one small thing I try to take personally responsibility for in my workplace. I want to help myself and other performs their jobs more easily and an organized med room can cut steps out of the process, save time, and frustration. To me, it's a win-win.
The funniest thing about this, is that there are some nurses who actually seem to be upset when I am helpful. I hear the "well who does she think she is. Who is she trying to impress" snickers and sneers often enough, and really, as spiteful as it may be, it just inspires me to continue. Kill-them with kindness, my momma always told me. I though she was a nut at the time, but really, this drives people up the way when you continue to be courteous even in light of foul treatment.
What does your med room look like? Who maintains and stocks your supplies? Do you ever change things? Does anyone notice?
-on a side note, I really wish I would have taken a before picture because it was a train wreck. NONE of these supplies were in there, and nearly every bin was filled with thermometer probes. Im for real. – this is the box of them. What on earth would be the reason to have so many in one department? I mean I have never even seen one in mine. Weird… just weird.
– Posted using BlogPress from my iPad
Download Nurse Bingo Today!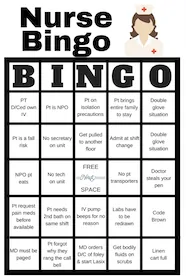 Liven up any shift with a fun game of bingo. See who can fill a row first!
Fill a whole card and lose grip with reality.
Your privacy is protected. We will never spam you.