*articles contain affiliate links*
Have you ever considered renting to traveling nurses? Perhaps you have a guest bedroom or a garage apartment sitting unused? It could be a great place for a travel nurse to call home for 13 weeks. With the economy in the dumps, it's easy to dream about pocketing some extra cash. Renting to traveling nurses on AirBNB or another platform is a great side hustle for nurses (and everyone else) that is pretty easy to get into, and is mutually beneficial. Plus, nurses are awesome house guests!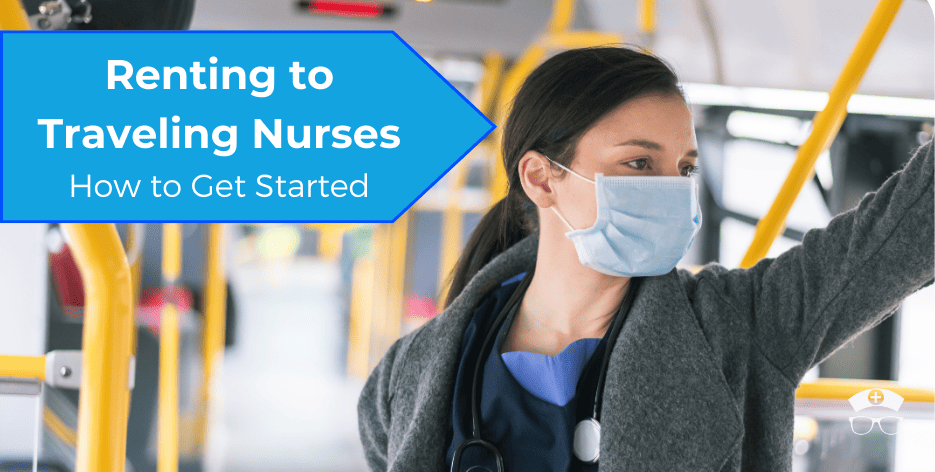 What is a Travel Nurse?
Travel nurses are registered nurses (RNs) from various clinical backgrounds who work for independent staffing agencies. They are assigned to different care areas temporarily to fill in short-term employment gaps. Travel nursing increases in popularity when the nursing field faces a nationwide shortage​. The recent healthcare crisis generated a big need for travel nurses when hospitals had extra funding from the government to pay them.
Benefits of Renting to Travel Nurses
Collecting rental income from traveling nurses is a great way to generate passive income without committing to long-term lease terms. Traveling nurses typically need furnished accommodations for their short-term assignments, ranging from a few weeks to several months. As such, property owners and landlords can charge higher rental rates for these fully furnished, utility-included rentals​. The short term nature is also great in case you decide hosting a travel nurse is not for you.
If you already own rental properties, providing corporate housing is a great way to diversify and bolster your income stream.
Housing Stipend to Cover Housing Costs
Travel nurse agencies provide a travel nursing stipend that allows a nurse to book the accommodations they desire. This stipend is private and they are not obligated to tell you how much it was or give you all of it. The amount they get and spend is completely up to the traveling healthcare professional.
Attractive Amenities in Rentals for Travel Nurses
Potential renters have many options and you'll want to make sure your property is attractive to the renter population.
Pet-friendly travel nurse rentals: Many nurses will travel with their furry friends and will be happy to pay a pet fee to bring their pup along if you can provide a pet-friendly unit.
Blackout Curtains: Attract professionals working night shifts by providing a sound machine, privacy, quiet, and the ability to sleep in the dark whether it's day or night.
Storage: Nurses that travel will have many of their personal belongings with them and will likely need a good amount of space
Flexible Leases: Sometimes travel contracts can be canceled and offering a provision to end the contract early (for a reasonable fee) is very attractive.
Laundry Facilities: On-site or in-room laundry is super desirable because it will save your guest time and money
Limiting Additional Costs or Fees: Don't nickel and dime travelers. Increase your overall rate and bake things in instead of charging extra for things like parking, pool access, and so on.
Travel Nurse Housing
Travel nurses seek different types of accommodations depending on their needs and experience. I'll outline the types of housing options for temporary renters:
Furnished Housing
Travel nurses typically need temporary housing for travel assignments. They will look for fully furnished properties, as they move frequently and cannot bring large items like furniture with them. Landlords offering a completely furnished unit, including kitchenware, bedding, and other essentials, will have a competitive edge in this market.
Camper or RV Lots
Some nurses make a career out of traveling. Many will opt to purchase their own camper or RV and take their home with them. In this case, they'll be looking for a spot to park and hook up to utilities. If you own a camp group, RV lot, or even just an extra space where you can park an RV, this is another great option as well.
Agency-Provided Housing
Some travel nurse companies will do the leg work of booking housing for the nurse. So your property could be a travel nurse housing option that you market explicitly to travel nursing agencies.
Long-term Rentals
Sometimes a nurse will plan to be at an assignment for 6 months. Typically, this is the point where property owners look at signing a long term lease. This will be much more rare for nurses that travel, since they are typically filling a short term need. Some contract nurses or other medical professionals looking for corporate housing may be more inclined to rent long term.
Short-term Rentals
The key feature of travel nurse rentals is their short-term nature. Assignments are typically 13 weeks, with some crisis assignments being as short as a few days. Rental agreements for travel nurses typically last three months, offering more flexibility than traditional rentals with 12-month leases. This flexibility allows landlords to adjust rental rates or even decide to live in or sell the property once the lease expires.
Finding Potential Travel Nurse Renters
There are many popular rental listing sites that can help you find potential travel nurse renters. These include Furnished Finder, VRBO, and most notably, Airbnb. Becoming a host on these platforms can open up your property to a network of traveling nurses looking for housing.
Becoming an AIRBNB Host
AirBNB is a great option to offer housing for nurses. You can rent a single room or an entire house. One of the reasons I like AirBNB is because becoming an Airbnb host is a straightforward process. All you have to do is hop on over to AirBNB, register or log into your account, list your property, and wait for bookings to come in. Airbnb is a popular choice for travel nurses because of its user-friendly platform and extensive network of properties. There are also no fees to get started and they only earn money when you get a booking.
I've hosted many guests via AirBNB. If you decide to become an AirBNB host, I'd be happy to give you pointers or answer questions.
Hosting on Furnished Finder
Furnished Finder is another platform where you can list your property for travel healthcare professionals. It is a website specifically designed for travel nurses and other traveling healthcare professionals looking for furnished rentals. This option for travel nurses does have an upfront fee to list your property. At the time of publishing this article, the listing fee starts at $99 a year and goes up based on property type.
VRBO for Travel Nurses
Vacation Rental By Owner (VRBO) is another platform you might consider. Although it's typically used for vacation rentals, it also serves as a platform for finding short-term housing for travel nurses. It's another option that does not charge an upfront fee.
Travel Nursing Agencies and Medical Centers
Some travel nursing companies and local medical centers will have their own housing. This may be a patient room at the hospital or a nearby hotel. These options are often tried by less experienced travel nurses, because it seems like less headache. But most experienced travel nurses prefer to find their own accommodations (with awesome potential hosts like you!)
Business Tips for Potential Landlords and Hosts
When you decide to host a traveling professional, you'll want to get familiar with the business side of things.
Some business items to consider:
tax savings strategies (like the Augusta rule)
bookkeeping
rental agreements
insurance
background checks
digital tools for property owners
Rental Agreement & Fees
Nurses know that if you didn't document it, it wasn't done. Get everything in writing.
If you're hosting on AirBNB, you'll add this to the house rules or within the listing. Any items not covered there should be discussed and agreed upon via the in-app chat, so there is a paper trail.
When renting to travel nurses, it's important to create a rental agreement that outlines the terms and conditions of the rental. It's crucial to have a detailed rental agreement that protects both parties. It should outline the terms and conditions of the lease, including the duration, rental rate, and any applicable fees. This is not required for AirBNB, but some will go the extra step to get this signed so everyone is on the same page.
This agreement should protect both parties and align everyone on the expectations and rules. Be clear about expectations for privacy, noise, cleaning, pets, and so on in your rental agreement. If you plan to charge fees for broken rules (such as unauthorized pets or not cleaning properly), you'll need to outline this in the agreement.
Booking Fees and Security Deposits
Booking fees and security deposits are common with short-term rentals. The booking fee is usually a percentage of the total rent, while the security deposit covers any potential damages to the property. AirBNB and VRBO both collect booking fees after a guest has paid. The security deposit is something you will have to collect separately and return to the traveler after they have vacated the property in good condition.
Become Familiar with Landlord Laws and Tenants' Rights
Many people find short term rentals (less than 30 days) attractive because in most states, renters will not have tenant's rights until 30 days. Most travel nurse assignments are a minimum of 8 weeks, so it would pass that 30 day threshold. This is one example of a law to be familiar with. You'll also want to check with your insurance to see if you'll need to add on any extra coverage.
Get Started on AirBNB Today!
As I stated above, I like AirBNB as a great option to get started because there are no upfront fees, it's super simple, and it's wildly popular. It's a great option for attracting traveling professionals seeking corporate housing and healthcare staffing companies.
Download Nurse Bingo Today!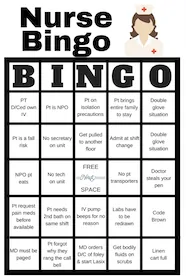 Liven up any shift with a fun game of bingo. See who can fill a row first!
Fill a whole card and lose grip with reality.
Your privacy is protected. We will never spam you.