*articles contain affiliate links*
Working as a full-time nurse will definitely pay the bills. But what if you need a little extra money? All of these side jobs ideas will use your skills as a nurse to give you that extra money you want.
Look through this list of side jobs for nurses and find one that works for you.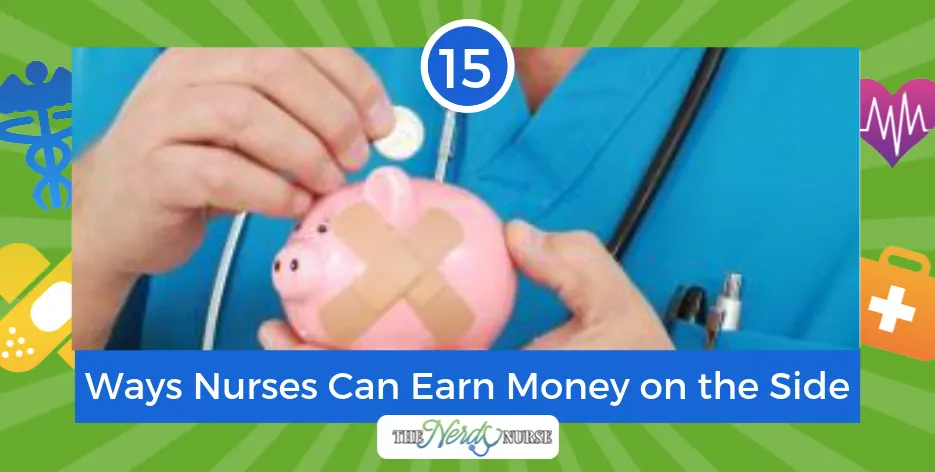 15 Side Jobs for Nurses – Find the Best One
What is a side hustle? You know those surprise bills that come up that you didn't plan for? Or maybe you just really want to take a trip somewhere and need a little extra cash. Nurse side hustles or side jobs can give you that extra financial security you want.
But a side job can also give you a way to earn extra cash doing something that you love. It can be your creative outlet. A way for a hobby to not cost you money.
Browse this list and find the job that sounds like the most fun. You already work for a living, make your side job something fun, something that gives you joy.
1. Nurse Blogger or Influencer
After you put in the time and effort to set up a blog, it can earn you a bit of money. But the key here is, it really does take time to set up and create readers that will follow. I wrote how to become a nurse blogger before. Once your blog begins to receive regular page views, you can set up Google Adsense or another ad network and earn a little extra cash.
Another option is to become an "influencer" but this will also take a lot of time. You'll have to invest energy into creating followers and engaging on social media. If your job wears you out, being an influencer might not be the best option. But if you enjoy photography and building relationships online, you should consider it.
If you are already blogging or considering starting, I would like to invite you to attend a live training session at the National Nurses in Business Association (NNBA) conference this fall. During a 5-hour pre-conference workshop Kati Kleber from FreshRN and myself will dive into all the tools you need to identify your purpose and brand, start and grow a blog, leverage social media, create and market quality content, and discuss some practical considerations as well.:
Business basics of blogging
How to create and market quality content
How to build a community who trusts you
Branding and consistency
Time management, prioritization, and delegation
Monetization
I hope that you will join us in Las Vegas from September 27th-29th for the NNBA Pre-Conference "Nurse Blogging 101: Growing a Profitable Business and Community." Take a minute to look at become a member of the NNBA.
2. Nurse Tutoring
If you live near a local college that offers any kind of nursing degrees, consider offering your services as a tutor. It's the perfect nurse side hustle. You'll earn a little bit of cash and help someone going through exactly what you already went through.
You can charge a fee per semester or charge per hour. That is totally up to you. A fantastic way to get the word out about your services is to talk to the nursing professors and let them know how students can reach you.
3. Health Coach
Another fun way to earn a little extra money on the side is as a health coach. You can read my complete guide to becoming a health coach for all the details.
Basically, you work directly with clients one-on-one to improve their health. Health coaches offer nutrition guidance and fitness inspiration. The goal is to help them improve their overall health.
You'll earn a fee from each client. You can charge per hour or offer a subscription.
4. Legal Nurse Consultant
Do you know any lawyers? If you do, you could offer your expertise as a consultant on any cases they might be working on.
A legal nurse consultant will share health care knowledge with lawyers on cases like:
malpractice suits
insurance fraud cases
toxic torts
personal injury
worker's compensation
You'll get paid per case that you help with.
5. Substitute School Teacher
Additionally, if you love working with kids you might consider working as a substitute teacher as a side job for nurses. Check with your local state and/or county for minimum requirements. Most places only require that you have a bachelor's degree.
You have the option of turning down any calls you receive, so this is a job that can work within your schedule.
6. Retail Sales
Working part-time in a retail sales setting could be a fun and different way to earn a little extra money too. Depending on the season, it could either be low stress or as busy as a hospital. So keep that in mind. But if you really enjoy clothes and working with people, this might be a fun option to consider.
7. Birth Doula
A birth doula is there with the mother through the entire labor, supporting her and helping her have the birth experience she wants. This might be a difficult option if you work full time since you can't really plan the mother's labor in advance.
But this can be a really rewarding way to spend a day or two off. There is nothing quite like the miracle of childbirth!
8. Travel Agent
On the flip side, you can work as a travel agent around your busy work schedule. Travel agents earn a commission on all the sales they make.
As a nurse, you already have organizational skills and the ability to plan and prioritize. You can do this for people as you create their dream vacations. And you can do all this without a dedicated office. All you need is a laptop and knowledge about the travel industry.
This article explains the details of how to become a travel agent – it's pretty simple.
9. Home Health Educator
Additionally, consider the option of freelancing as a home health educator. Charge people a fee for helping them learn how to set up and use their equipment at home.
This can include things like CPAP machines, making a home wheelchair friendly, or how to care for bedridden family members.
10. Camp Nurse
Another popular side job for nurses is working as a camp nurse. The most popular time for camps is obviously the summer. But there are also educational trips that happen in between semesters and during the school year.
This will take a little extra planning since camps tend to be more than a few days long.
11. Airbnb Hosting
If you have a finished basement or part of your home that no one is using, consider renting it out via Airbnb. This will supplement your income with very little overhead. While the money won't be reliable, it's nice to have that little extra money.
12. Dog walking/watching
Of course, you can also get away from working with people and instead work with pets! Earn some cash as a dog walker or pet watcher. This could be therapeutic. There are lots of apps you can use to advertise your services. Or, you can just talk to people you know and tell them you'd love to be considered.
13. Sell Art on Etsy
Art is another form of self-care and therapy that can earn you some money. Set up an Etsy shop and sell your creations. You can do all kinds of things on there. Here are some ideas to get you started:
Create handmade cards
Sew blankets
Paint original artwork
Screenprint t-shirts
Create original vinyl-decorated items (like mugs)
Create and sell planner accessories like stickers
14. Virtual Assistant
If you love to write, you could offer your services as a virtual assistant to professional bloggers. Some will hire for article writing, others for help with social media posts or content calendar creation.
Invest in learning about search engine optimization to make your skills more marketable.
15. Maternal Care / Babysitting
Finally, you can offer services as a maternal care assistant or even part-time childcare. Some nurses will work directly with new moms to help them learn how to breastfeed at home and how to care for their newborn. This is almost like a part-time nanny.
Your skills as a nurse will also make you a popular choice for childcare work. Offer to watch children when the parents need a night off.
Keep Side Jobs for Nurses Low-Stress
No matter which job you choose, keep it low-stress. Your job as a nurse demands so much mental and emotional strength. You should keep any extra time you put forth to require less, not more. Some jobs could even be a bit of therapy too.
Consider Transitioing to a Remote Nurse Job
Did you know there are many nursing jobs that will let you work from home? Check out our article on work from home nursing jobs and Best Remote Nursing Jobs in the United States to find out if you can transition to a lower-stress job that will give you more time to work on your side hustle.
More Nursing Help
Here are some more ways to save money and earn extra money too!
100 Side Hustles: Unexpected Ideas for Making Extra Money Without Quitting Your Day Job

Side Hustle: From Idea to Income in 27 Days

The Side Hustle: How to Turn Your Spare Time into $1000 a Month or More: Completely Updated for 2019

Freelance to Freedom: The Roadmap for Creating a Side Business to Achieve Financial, Time and Life Freedom

The Ultimate Side Hustle Book: 450 Moneymaking Ideas for the Gig Economy

Download Nurse Bingo Today!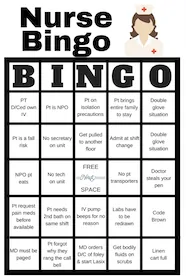 Liven up any shift with a fun game of bingo. See who can fill a row first!
Fill a whole card and lose grip with reality.
Your privacy is protected. We will never spam you.