*articles contain affiliate links*
This article shares work from home nursing jobs, many of which make great side hustles for nurses.
Are there really any work from home nursing jobs?
Working from home can really be a Godsend. Working in the convenient setting of your home, the ability to take breaks when you want to, no senior executive breathing down your neck to get the job done, the freedom to work the hours you want and all the while be there for your family when they really need you. Working from home is indeed an ideal situation. But is working from home possible in all professions, especially healthcare?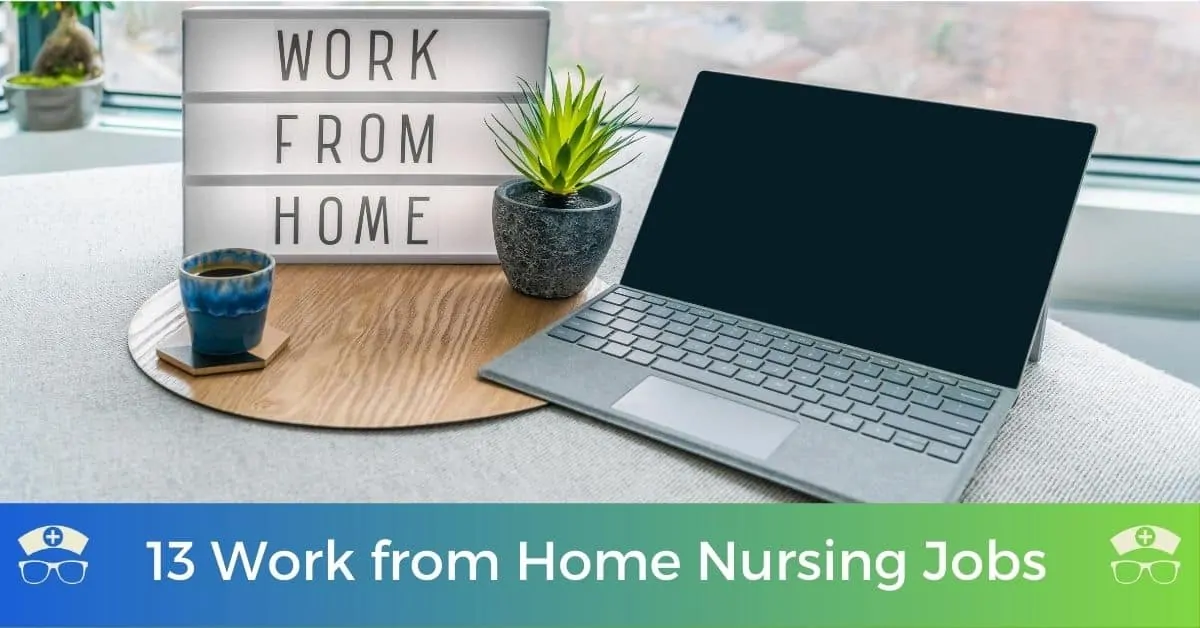 With today's technological advances and fast internet, many industries are making a switch from in-house personnel to employees who work from home. Yes – there are actually a lot of work from home RN jobs to choose from too! Many of these are even great side hustles for nurses. While the first thing that comes to mind with nursing is often person to person direct care, there are a surprising number of ways to use your training and skills while working from home.
What about work from home nursing jobs?
The common perception is that working from home is only possible with certain professions such as creatively-oriented jobs, education, or certain commerce-related jobs such as sales and marketing. However, many healthcare professions are quickly catching up with the "work from home" trend, thereby increasing the career scope of the field. Nursing is one such profession where today working from home is possible! Traditionally perceived to be a job that requires a physical presence, nurses today have a variety of employment options that enable them to work from home.
Potential Work from Home Nurse Jobs
Whether you're looking to earn extra income or need to carry your work with you while traveling, working from home is a viable option. What are the different jobs nurses can do while working remotely? Let's take a look at some of the possible options:
Nurse Health Coach
Many people become nurses because they want to help others. They see themselves providing resources and services that allow people to maintain optimal health. Unfortunately, working as a nurse in a traditional setting is often more sick care than healthcare. You spend your days providing medication and treating symptoms rather than being able to get to the root the patients issue: their overall health and wellness. If this frustrates you, then you may be a great candidate for health coaching.
Health coaches focus on improving a patient's health and wellness through a combination of diet and lifestyle change. Research has confirmed that the guidance of a health coach improves patient outcomes. It's a great way to use your healthcare literacy and nursing education to help people improve their health so they can leader richer and more fulfilling lives. Find out how to become a health coach.
Nurse Advocate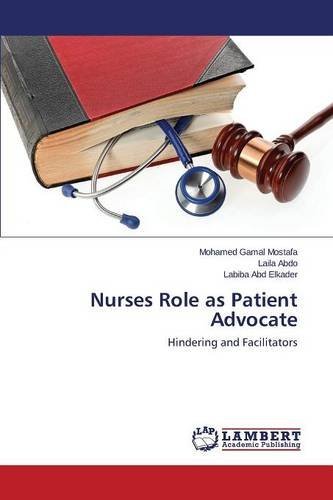 Also known as mental health care advocates, nurse clinicians, senior Registered Nurse (RN) care advocate or clinical nurse advocate, nurse advocates help patients understand all the details associated with care, such as available treatment options, insurance issues and education on their illness. Such nurses also guide patients with bill payment in a manner that helps them avoid debt, which would generally be handled by an advocate otherwise. This is particularly helpful to patients who can't afford third-party advocates during treatment. As nurses are already familiar with the healthcare system and providing moral support to patients during treatment, this makes them well-suited to being health care advocates.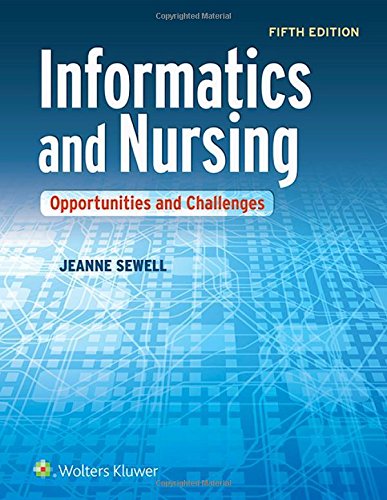 Nursing Informatics
With the growth of nursing informatics, the demand for nurses with a dual specialization in computer science and nursing is growing at a very fast pace. In fact, the Bureau of Labor Statistics projects a 15% increase in demand for information technicians in nursing by the year 2024. Since this is a relatively new and high tech industry, nursing informatics are some of the highest-paid nurses. Project management, technical implementations and support, and analytics are a large portion of the work for an informatics nurse. These nurses often work in IT departments building workflows and screens as part of the EHR. They work as translators between IT and nursing. Technology is used to maintain patients' records and data, and this technology requires constant upgrades, customization, and development. All of this requires an informaticists touch, who also go by the job titles of nursing informatics specialist, clinical informatics nurse, clinical analyst, and many more. Find out how to get into nursing informatics.
Telephone Triage
Another way a nurse can work from home is to work telephone triage. A huge percentage of calls to medical facilities are from people who want an answer to a simple question. For example, they may want to know if they should make an appointment or continue with at-home treatments. They will often ask to speak to a doctor, even when it is unnecessary.
Busy medical facilities and doctors will often use nurses to run triage by telephone. This allows highly qualified nurses to speak with patients, assess their symptoms and recommend the best course of action. If more action is necessary, the caller can be transferred to whatever medical facility they need to contact. These calls can be made remotely to a person's home providing a work at home job that calls on the skills and experience of an RN. Telephone triage jobs are sometimes called Care Advisor RNs.
Remote Nurse Case Managers
Case management can also be done remotely. Also known as field case managers, case manager nurses or clinical nurse case managers, nursing case managers help determine the best care plan for patients, including making appointments with doctors and scheduling important surgeries. Work from home nursing case managers spends time discussing patients' health issues and coordinating with care providers over the phone or the internet.
A case manager oversees a patient's care plan making sure that they receive the appropriate care, resources, and referrals so that they have can a successful outcome. The most common area for this is disability claims. A huge part of this job is collaborating with physicians, employers and insurance companies to help facilitate communication and ensure compliance among all the parties involved. Ultimately, your goal is to help coordinate treatment and funding so that recovery goals can be met in a way that satisfies everyone involved in the process.
Nurse Coders
Often working in conjunction with home care, nurse coders are needed to properly key patient billing forms for processing by Medicare. While in many other settings of the hospital being a nurse is not a requirement, the home care setting is very nuanced in billing and requires in-depth knowledge of the clinical care provided to patients in the home care setting. These nurses select appropriate diagnosis and work with the nurse providing direct patient care to outline the patient's plan of care and related charges.
Freelance Nurse Writer
If you enjoy writing, this online, and low stress nursing job might be perfect. Medical writing is a specific field that requires an understanding of unique terminology and procedures along with strong writing skills.
Current advances in the medical field are often distributed in the form of journals that are distributed to medical professionals and press releases that are distributed to the general public. Nursing writers are the people who write these things. Nursing writers also write content for test prep courses, instructional manuals, and other training materials for nurses.
A freelance nursing writer can also be a part of the online presence for a medical website, facility, or drug company. Almost every business relies on website content and online news stories to connect with potential customers and promote their goods and services today. All of these need excellent writers to produce quality content.
You can get work on sites like Upwork or Fiverr, but we recommend that you start a nursing blog to build your portfolio, grow your influence, and allow you to charge much higher rates.
Nurse Blogger – Nurse Blog Owner
Though writing may not be the first option to strike your mind as a nurse, blogging and content writing related to nursing is growing in demand. Due to the growing scope of the profession, many sites look for nurses with actual experience to provide insight on a variety of topics such as available career options, career advice and tips, and explanation of various terms related to nursing. However, easy as it may seem, nurse writers and bloggers are required to post useful content which is clear, focused, and provides value to the reader. You will need good grammar and punctuation as well as an inspiration to write. This profession doesn't pay a lot in the initial stages, but can end up being a great earning option if your writing and marketing are successful!
We think all nurses should blog.
Learn to Blog
If blogging has sparked your interest consider picking up a copy of The Nurse's Guide to Blogging or stepping over to our guide on how to start a nursing blog in 3 easy steps. You can also dive right in by taking the Nurse Blogging 101 online course.
Nurse Educator, Professor, or Faculty Member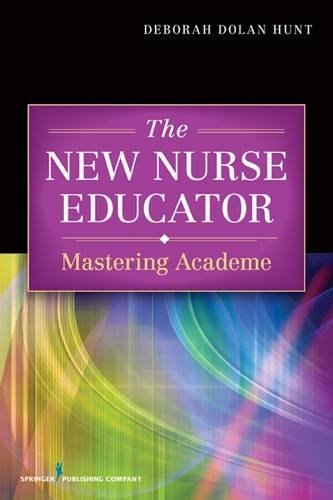 With the advent of technology, it is possible to earn a degree by just studying online. In addition, online courses are numerous, and even better, recognized as worthy qualifications by various employers. Such courses not only require students but also experienced qualified faculty. Nurses who hold at least a master's degree can work from home as professors or faculty members for online courses offered by various nursing colleges such as Excelsior College and the Western Governors University. Such nurses will be required to evaluate the academic submissions of students of such courses as well as plan curriculum and lead discussions. Without a master's degree, you can also participate in the world on online education by developing CE courses or creating your own nursing education site like my friend Jon at nursing.com.
Clinical Research Associate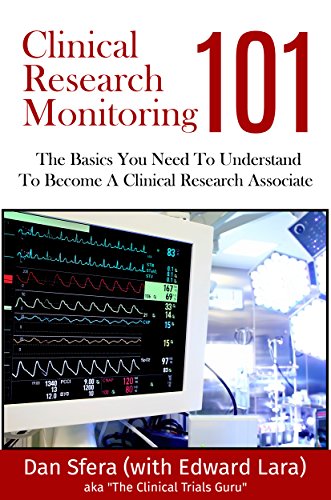 Clinical research associates help manage all the aspects of research studies, such as monitoring the study, drawing up a budget for the study and reporting the progress and findings of the study. This position requires qualified nurses with a nursing degree and ideally, experience as a research associate or research coordinator.
Independent Nurse Recruiter
As a nurse, you already have a big network of potential candidates for jobs. By becoming an independent nurse recruiter you can earn for referring your friends and colleagues to new nursing opportunities. An easy way to get started to join Relode as an agent and search available jobs. Then simply send a special link to anyone in your network that might be a good fit. If they land the job you could earn a few thousand dollars – and they'll be happy in a new opportunity. Win-Win!
Jump Start Your Nurse Recruiter Side Hustle with our Free 5 Day Email Course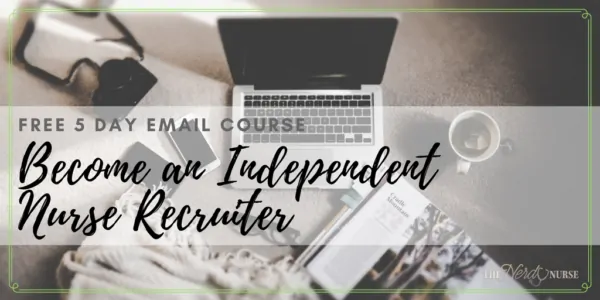 We've rounded up some great resources on being a nurse recruiter.
Legal Nurse Consultant
Legal nurse consulting is the analysis and evaluation of facts and testimony surrounding injuries. They give informed opinions related to the delivery of nursing and other healthcare services related to an injury based on a combination of education and experience. They often provide opinions about the nature and cause of injuries.
Legal Nurse Consultants can also be involved with regulatory compliance, product liability, and risk management for companies. Legal nurse consultants work as their own independent contractors from the comfort of their home.
Board certification is available to legal nurse consultants through the Legal Nurse Consultant Certified (LNCC) program. Similar to clinical nursing certification, LNCC certification demonstrates that the RN has met experience and education requirements and has passed the certification examination. The LNCC program is accredited by and meets the rigorous standards of the Accreditation Board for Specialty Nursing Certification (ABSNC), an accrediting body for specialty nursing certification programs. Find out more about how to become a legal nurse consultant.
Want to learn more about becoming a legal nursing consultant? Check out:
Insurance Claims Processor
Insurance companies need people to examine or investigate claims to decide whether or not certain procedures are covered. They also work to decide how much money the insurance company is required to pay for each claim. A nursing background provides the knowledge and experience required to make informed decisions that meet the best interests the patient, medical provider, and the insurance company.
These are a few of the most popular career paths right now. If you need flexibility, working remote from home can be a fantastic choice. Your RN license can still help you earn an income, even if you work from home.
Find Legitimate Work from Home Nurse Jobs
I have heard of many nurses and others being scammed when trying to find a remote nurse job. Although there are many available, there are also people that will try to rip you off. If you're having trouble finding legitimate work from home nursing jobs, consider using a service that screens and verifies remote jobs. FlexJobs comes with a small, flat monthly fee –not a percentage– and in return, they'll vet all of the job opportunities they supply.
Other Work from Home Nursing Job Options
As already mentioned, nursing is a profession that's only growing positively in scope and demand. There are numerous other online nursing jobs options available, such as nurse consultants, site managers, patient trainers, remote quality improvement nurse, medical transcription, and insurance company nurses. Hourly rates can vary but are typically comparable to what a nurse would earn on the floor.
A World of Potential!
Working from home is a trend that has quickly caught on, and how! Because of all the advances in technology, it is now possible to work from home in almost any profession, and it is turning out to be a pretty lucrative option for many savvy nurses. Nursing, in particular, is growing in scope and demand, with the Bureau of Labor Statistics forecasts a 26% increase in the demand for registered nurses by 2020. This demand has opened up many doors and avenues in terms of career paths for nurses, instead of restricting them only to the traditional roles they play in healthcare, a field that is always evolving.
Whether you're looking for a way to earn extra income or you're someone who's a homebody yet want to continue to use your nursing knowledge and experience by starting your own business, working from home is definitely a great option that you should consider!
u003cstrongu003eAre there actually remote nursing jobs from home?u003c/strongu003e
Yes! There are many remote nursing jobs such as case management, legal nurse consultants, healthcare writers, nurse consultants, and so much more.
u003cstrongu003eWhere do I find work from home nursing jobs?u003c/strongu003e
Finding legitimate work from home nursing jobs can be a challenge, but there are plenty available. Referrals and word of mouth are the best source, but you can also use a service like u003ca rel=u0022noopeneru0022 href=u0022https://flexjobsrocks.go2cloud.org/aff_c?offer_id=1u0026amp;aff_id=1827u0022 target=u0022_blanku0022u003eFlexJobsu003c/au003e that screens job listings to ensure they are legitimate work from home jobs for nurses.
What are the best nursing jobs from home?
Best is a subjective term. The best nursing job from home is going to be one that allows you to use your unique skill set and knowledge and provide the most impact and financial benefits. For example, if you have provided testimony as an expert witness, you might be interested in legal nurse consulting. If you have a lot of experience managing patients long term and don't mind paperwork, you could be great at case management.
What jobs can a nurse do from home?
Nurses can do these jobs from home: case management, utilization review, health coaching, telephone triage, legal nurse consulting, nurse blogging, health writing, nurse recruiting, medical coding and billing, and so much more!
How much do work from home nurses make?
The salary for work from home nurses varies by the type of job they do. Some careers such as nursing informatics and nurse consultants can be very high paying. Nurse case management and telephone triage are lower-paying, but many nurses find the decreased stress from leaving the bedside is worth earning less month.
How can I work from home as an RN?
You can work from home as an RN by finding a reputable work from home nursing job. There are many different options for nurses with a variety of skills, knowledge, and experience.
UNconventional Nurse: Going from Burnout to Bliss!
RNTERPRISE!: Take your nursing knowledge and EMERGE with an entrepreneurial passion in 90 days
Self-Employed RN 101: Earn respect, independence, and a higher income
Work At Home Jobs For Nurses: And Other Healthcare Professionals (How to make a million in Nursing)
50+ Business Ideas For The Entrepreneurial Nurse
How to Make a Million in Nursing: The First Five Steps
Save
Save
Save