*articles contain affiliate links*
When I first started blogging I did so anonymously. Even after I came out of the nursing blog closest I was fearful to tell my coworkers about my blog. There is a lot of risk involved when you write about your work especially if someone already wants to put a bullseye on you.
With so many healthcare providers on the fence about social media and the risks of liabilities associated with having an online presence, I wanted to take a some times to highlight some of the reasons why I don't run up to every nurse I work with and tel them "You just have to read my nursing blog!". In addition to the fact that most of them have never read a blog, much less a career-centered one, it's just a job to many of them and they are not interested in what I do at home. However, I think an important part of being a nurse is advocating not only for our patients but for each other as healthcare professionals.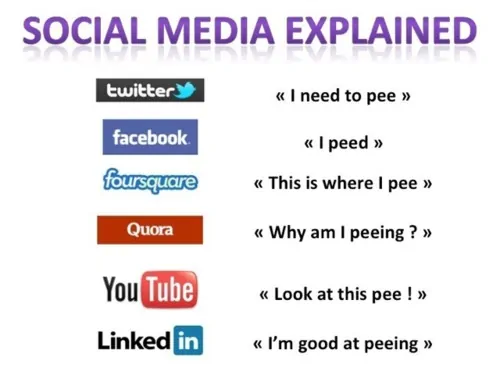 I write a nursing blog for many reasons, but there are some reasons why I don't attempt to shove it in the face of everyone I know.
1.They Are Tired of Hearing me Talk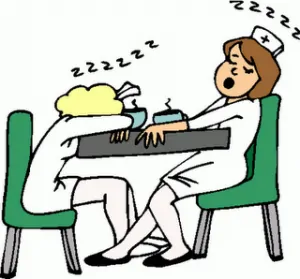 Because one of the main reasons I blog is because my I have so much to say and not enough people to say it to. I am pretty sure that most of them have already had their fill of my ramblings about how healthcare "should be" or my desire to improve things. I've been told on more than one occasion that I think and talk too much. So I'm sure that really they would have interest to get more of these words, play into my potential narcissism or learn anymore of my great philosophical revelations.
2. Avoiding Making Us All What We May Become When We Make Assumptions
Because if you give people an inch, inevitably they are going to take a mile. I can write a thousand disclosures, obscure a million details, and honestly pull stories straight out of thin air and someone would make the assumption that I was writing specifically about them and then they would potentially invest their personal time to "get me back". It's happened before, and this was when they thought I made a statement about LPNs that they didn't appreciate. This was an assumption, and not the truth, and had no physical documentation to back up their crazy fantasies about my apparent (according to them) disdain for LPNs and they made my life a living-hell for 2 years.
3. Patient Confidentiality and HIPAA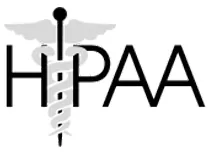 Because I don't want someone coming on here and making an idiot of themselves and saying something like "Oh I remember that, it was Mr. So-and-So…." and giving more details and potential patient identifiers that could get us both in trouble. I love the women I work with, and they are incredibly talented, smart, and caring people, but they just aren't nearly the nerds I am and I don't think they are up on the social media healthcare etiquette that it's taken me years to acquire. And honestly I'm still fuzzy on most of it.
4. Punish the Victim & Ignore the Issue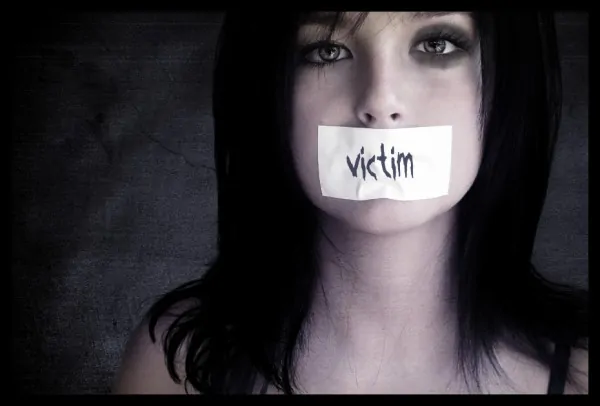 Because occasionally I do make complaints about the place I work. It's human nature to have the need to vent, and while overall I am happy with the job that I do, and where I d so it, there are the instances where I do feel undervalued and frustrated. I talk about that here sometimes and I am pretty sure that TPTB could spin it into some legal mumbo-jumbo about me making negative remarks about the organization. Im sure there is a policy somewhere (though I couldn't tell you were because of the lack of organization and accessibility of said policies) that would say this is inappropriate, I'm not allowed to have an opinion, and that somehow my patient care could be effected. Perhaps I think too much, but this is a serious potential, considering that when I was the victim of lateral violence I was written up and told to get better clinical judgement skills. It seems to work that way with them, rather than acknowledge and correct a problem or concern of an employee, it's just easier to punish them into silence.
5. Need Some Sunshine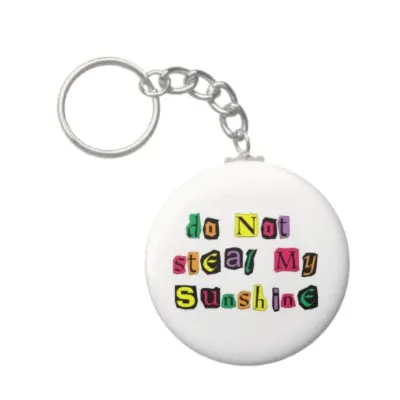 I need to be able to express myself in a realm that is not met with so many 'buts' or 'butts' for that matter. As much as I do love most of the men and women that I work with, there are a few nay-sayers/parade rainers/negative Nancys that seem to have no other desire in life than to bring others down, especially those of us with visions and goals. Any time I get excited about something new, innovative, or potential change for the better they always have to step in and steal my sunshine. I need a bit of brightness every now and then. I make a personal effort to avoid going outside literally, so I need to increase my vitamin D absorption at least figuratively on occasion. I need my sunshine sometimes.
6. Big Fish in a Small Pond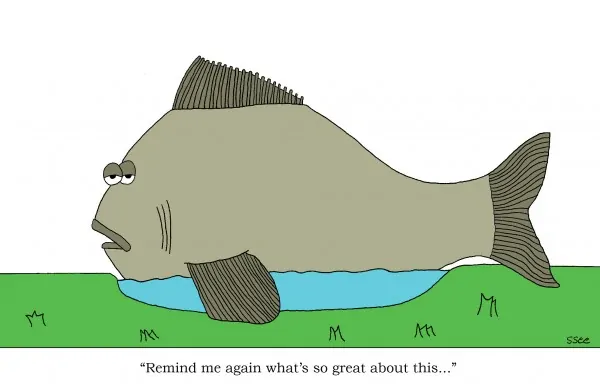 I'm different than most people I know around here. If I wasn't such a chicken, I'd probably live in a big city somewhere. When I travel to the west coast I tend to fit in better despite the sometimes thick southern accent. This town is all I have ever know. I have honestly never considered going anywhere else. I was never one of those angst-filled teens that longed to just "get out of this town." I never felt limited by my environment when I was younger. I made the most of my surroundings and did my best. But that becomes more difficult as an adult when you have feel you have a calling to be in a certain place in healthcare and technology that simply isn't available or is a closely guarded boys' club in your current location. I'm a loyalist. I would love to stay at the company I am at forever, but unfortunately I don't think they want me, my ideas, or my spoon in the pot stirring things up. I think I'm just too much for them. Too much old money and politics to satisfy to let the forward thinkers, innovators, and young minds in on things. It's much more important to participate in nepotism and grooming who you want to excel and be in positions of power, rather than letting those that want to lead rise to the top.
7. Fuzzy Social Media Policies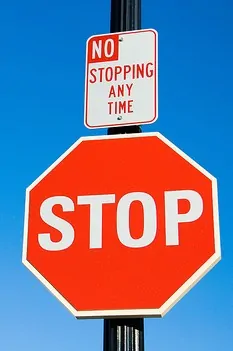 The healthcare social media policies of my employer are fuzzy, to say the least. While I am fairly sure I am following them, I honestly am not 100%. Even though I do not mention my employers name in anyway, shape, or form here or in any other of my online participation, I somehow think they they may hold me responsible to their brand above my own. What I mean by this is I think the policies and written in a way that is forcing me to be an employee 24 hours a day, 7 days a week, and only compensating me for 36 of those 168 hours every week. I make no claims of affiliation with their views, values, or opinions on my personal time, but I'm always cautious and wonder, in the back of my mind, if they would try to make the case that I am obligated to them on my own personal time and therefore any of my writings here reflect on that. If that every came to pass as an obstical, I'd be expecting reimbursement for the last 3 years 132 hours of overtime I was apparently putting in and not being compensated for, since I'm a constant employee and have no right to an opinion that is my own. I would never intentionally write anything that I thought might make a patient lose confidence in the care I provide or that the healthcare facility I work for provides.
Take Charge of Your Nursing Career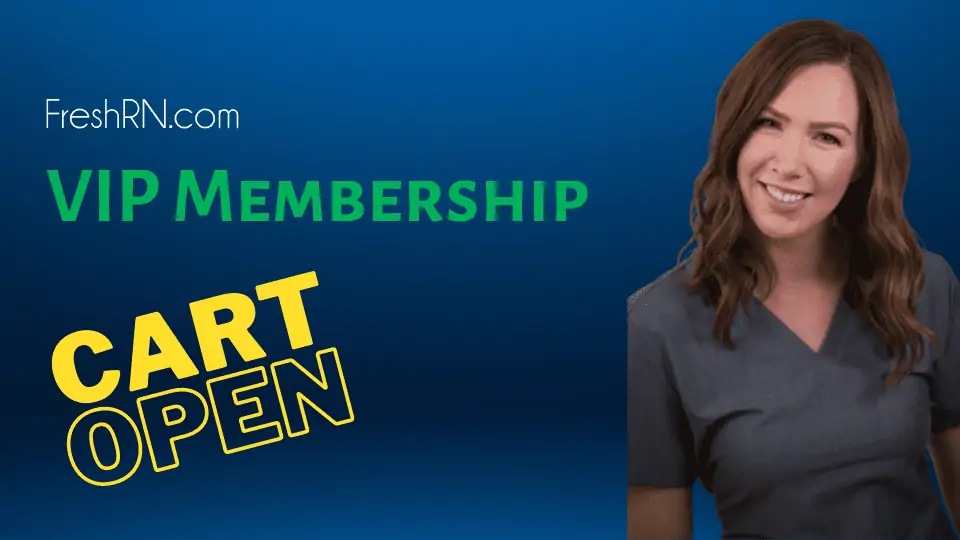 Your first year as a nurse is daunting. You need someone in your corner telling you what your managers really need from you, helping you learn to interact with your preceptor, and really just manage your life. Find all that an more with the FreshRN VIP - Membership.
I'm Ready to Thrive
8. Need for Like-Minded Connections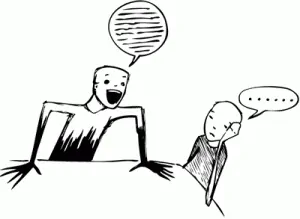 I need to bounce my ideas off people who want to hear them. I need to write in a place that others seek me out to find. I need to feel valued for my words based upon their merit, insight, and contributions to something bigger than just me. I talk a lot. Sometimes Probably too much. But still, my words have value and everything I say is a combination of thought, self-evaluation, and the desire to do the right thing. Many people are content with their current environment and have no desire for me to be all up in their kool-aid without fully being aware of the flavor. What I mean by this is that people have their own lives, worries, fears, concerns, goals, and desires, and me expressing mine is just not something they have the desire to endure or time to focus on. They just aren't concerned with my goals to make things better. They have tunnel vision. They want to practice bedside care forever and that's the only desire they have as professional nurses. I respect and admire them greatly for that. They are exceptional at what they do and I would never wish to force my lofty aspirations and dreams on them. But I'm not like them. I'm different. I need more. And I need a place where people will not feel like I am being judgemental or condescending when I talk about my dreams and goals. They are not reflection on anyone elses idea of happiness. They are my own. If there are others that share the same goals, I want, heck I NEED, to connect with them. This blog helps me do that.
9. Some People I Work With Do Know About it
There are a few people I have told about my blog. They get me. This is mostly because they are a lot like me. They are dry, yet caring. They are forward thinking yet understanding of the need to follow the current standards and make change through the proper channels. They laugh at my silly jokes, talk me down when I'm getting worked up, and support me in my profession. They have spoke up for me when others looked down at the floor and allowed me to be treated poorly and made to me to feel worthless and stupid. They are good people who I feel support me and like me for who I am, what I stand for and what I want do. M., J., and S. – Even though I'm sure you never read this, I have mentioned it you in passing, and if you happen to find yourself stumbling upon it one day, please know I trust and respect you dearly and I know you would never skew my words to your benefit. You're great friends and passionate healthcare providers. I'm proud to know you and I trust you.
10. To Do The Right Thing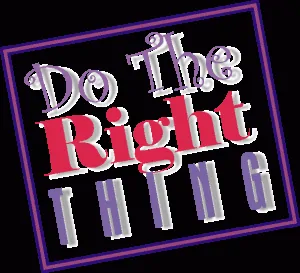 I know that I have the ability to do great things in healthcare. I know that my scope of practice has to potential to lend itself to more than just 4 or 5 patients for 12 hours a night. I know that I can and will help nurses to provide the best care for their patients and in turn care for hundreds and thousands of patient over the course of my career. If I were to ignore this spark inside me, I would be ignoring my purpose. I would be preventing others from benefiting from the good I can do for them. And ignoring this passion inside me would be the wrong thing.
I want to do the right thing. I want my passion to lead me on my journey without the limitations that others try to force on me.
That's why I don't talk about my blog at work.
Download Nurse Bingo Today!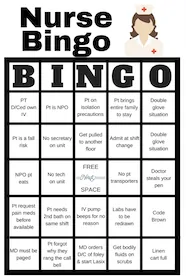 Liven up any shift with a fun game of bingo. See who can fill a row first!
Fill a whole card and lose grip with reality.
Your privacy is protected. We will never spam you.