*articles contain affiliate links*
For many continuing education for nurses is a requirement to keep their license current. But the value and importance of continuing education isn't always clearly defined. In this article, we'll answer the question what is continuing education, provide different examples, and explain why it is important for nurses.
Adults that work full time or part are all aware of the problems surrounding the topic of job security. Most professionals understand that they may work for several employers throughout their careers. Changes in jobs may be due to what is happening within the company. Some companies are downsizing to save on their costs and sending their labor overseas. Technology is steadily removing the need for some types of workers. As these jobs gradually phase out or move workers still have to find a way to stay gainfully employed.
What is Continuing Education?
According to Wikipedia:
Continuing education is an all-encompassing term within a broad list of post-secondary learning activities and programs. The term is used mainly in the United States and Canada.

Recognized forms of post-secondary learning activities within the domain include:

degree credit courses by non-traditional students
non-degree career training
workforce training
formal personal enrichment courses (both on-campus and online).

General continuing education is similar to adult education, at least in being intended for adult learners, especially those beyond traditional undergraduate college or university age.
Formal education is an important aspect of staying gainfully employed. However, pursuing a degree in a subject that corresponds with a personal passion can also lead to lucrative opportunities later in life. Many professions, including nursing, have an evolving body of knowledge that it's important to stay current on.
Examples of Continuing Education
Formal Education from On-Campus Schools or Online Universities
Formal education is important to nurses. There is a lot of value in obtaining a BSN degree at minimum for a registered nurse. However, there is also a great benefit to obtaining an MSN as it opens the door for many more career opportunities.
Traditional on campus universities offer several different degree programs. A campus class provides direct interactions with instructors and classmates. Some students thrive in environments that have hands-on approach.
Students that find it challenging to make it on campus during the week may enjoy participating in online classes. Universities that offer online classes allow students the luxury to study when they have time. Always pay special attention to the syllabus of internet base classes. The due dates for assignments are usually inflexible. Taking time to work on assignments and study each day is essential for success.
Education can help to build self-confidence and continue personal development. Learning is a continuous process that does not have to end after one or more degrees or certifications are earned. Education should be perused regardless of need, as a way to prepare for opportunities in the future.
Stand-Alone Courses Providing Continuing Education Credits
The nursing body of knowledge constantly changes. Nurses must be diligent in staying up to date with current best practice. Continuing education makes this possible with much less time commitment than formal education/college. In order to ensure that the knowledge is accurate and valuable, continuing education can be submitted for credits. This is referred to as continuing education credits (CEUs). Nurses can keep track of these credits and provide the record of their completion to their employer or state boards. Depending on the state you live in, these credits may be required to practice nursing.
Not being able to afford university tuition is no excuse for not expanding personal knowledge. There are several free and affordable online resources for continuing education. For example, there there are free CEUs for nurses that can be pursued by anyone online. Exploring these free classes is the best way to know what subjects are the most intriguing.
Affordable programs like verbal advantage help to increase vocabulary and comprehension skills. This type of learning is ongoing and over time helps polish several professional areas. It is possible to receive a world-class education with free resources online and taking advantage of online and public libraries.

Why is Continuing Education Important for Nurses?
It's been said that the most dangerous nurse is the one that knows everything. The second you step out of nursing school your knowledge begins to degrade. As nurses we have to keep our saws sharpened by getting good rest, eating healthy, and expanding our knowledge. In order to provide the best possible care to our patients, we must know what the current standard of care is. Continuing education makes it possible to constantly add to your nursing toolbox.
Now that you know the answer to "what is continuing education" and why it's so important to nurses, what are you going to do about it?
Get Unlimited Access to Nurse CEUs for $20
CheapNursingCEUs.com has an amazing deal for nursing CEUs! For just $19.99, you can get unlimited CEUs for a year. Or for $149.99, you can get unlimited CEUs for life! It's the best value I've found on CEUS, so search no further and sign up now.
Download Nurse Bingo Today!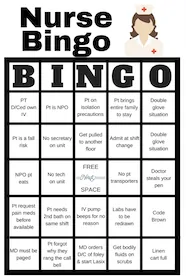 Liven up any shift with a fun game of bingo. See who can fill a row first!
Fill a whole card and lose grip with reality.
Your privacy is protected. We will never spam you.