Guest Blogger: Ronald Behr
Nurse Managers retain, recruit and manage nurses. They are also responsible for creating a work environment that allows nurses to function optimally. Nurse managers have the most challenging and important role in hospitals, according to Patricia Folcarelli, RN, MA, a member of the board for the Institute of Nursing Healthcare Leadership (INHL). Folcarelli states, "They're acting as the CEO for the [nursing] unit. They take care of all the needs that a typical business would have, including staffing, budget, and the demands of the organization, while at the same time being mindful of the patient's reactions."
A nurse manager is an incredibly demanding job and only certain nurses will be able to fit the bill. If you are currently pursuing a degree in nursing, you may be wondering how you can take your career to the next level. What makes an ideal nurse manager? It's a combination of ideal personality characteristics and proper education requirements.
What Characteristics Should a Nurse Manager Possess?
An ideal nurse manager possesses a number of characteristics that allows him or her to be a vital component of a nursing unit. According to Michele Langevin, RN, MSN, and director of nursing at Bayshor Community Hospital, the ideal nurse will possess the following characteristics:
· Self-awareness and self-assessment – Having an innate desire to be the best you can possibly be is ideal for a nurse manager. A nurse manager must be able to accurately examine his or her performance and make adjustments when necessary. A nurse manager's performance can be evaluated by staff turnover and informally asking nurses how they think the nurse manager is doing.
· Communication skills – A nurse manager must be able to communicate effectively with physicians, hospital administration, patients and nurses. Nurse managers must be able to listen effectively and clearly convey their messages. Kathy Quan, RN, BSN, PHN and author of The Everything New Nurse Book, says it is helpful to disseminate new information in a group setting so that everyone is informed at the same time. This cuts down on rumors and nurses believing that the rules are changing because of them.
· Leadership skills – All of the above characteristics are aspects of being a great leader. A nurse manager that is familiar with his or her employees will help foster an ideal work environment for the nursing unit. Being able to relate to the struggles and difficulties that come with nursing will allow a nurse manager to effectively supervise the nursing staff. Quan states that a good nurse manager allows others to do their job and helps and supports them as necessary, however they are careful not to micromanage.
These three characteristics make up the core of an ideal nurse manager. Other characteristics include patience, flexibility, good judgment and excellent decision-making skills.
What Are the Education Requirements for an Ideal Nurse Manager?
A nurse manager must have proper medical and managerial training. Nursing experience is also required. If your goal is to become a nurse manager, expect to spend some time being a nurse. As such, the education requirements for a nurse manager begin with becoming a nurse.
To become a registered nurse (RN) you will need to attend an RN program from a school that is accredited by the National League for Nursing Accrediting Commission. You may also pursue one of the many RN to BSN online programs that are being offered by many online schools. Online nursing programs will still require clinic hours. However, you will be able to 'attend class' online whenever it is convenient for you.
Once you are a registered nurse, pursuing a master's degree will further enhance your career opportunities as a nursing manager. Sharon Haskins RN, BSN, BC and Heather Zeveney, RN, BSN, are both nursing managers who also work at Bayshore Community Hospital. They both pursued a master's program in the field of nursing and management to prepare for management roles. There are many masters' programs that will prepare you to be a nurse manager, such as a Master's in Public Administration or Master's in Business Administration.
Are You an Ideal Nurse Manager?
If you possess the core characteristics that create an ideal nurse manager, you may be a perfect candidate to pursue this position. It may be time to pursue the education requirements if you are able to work well in a high paced environment, act as an intermediary between nurses and upper management and genuinely care about patients.
This article was provided by Ronald Behr, a freelance writer and full time student who is currently in pursuit of his Master's in business administration. Ronald expects to graduate next fall.
Consideration has been given for the review and publication of this post.
Download Nurse Bingo Today!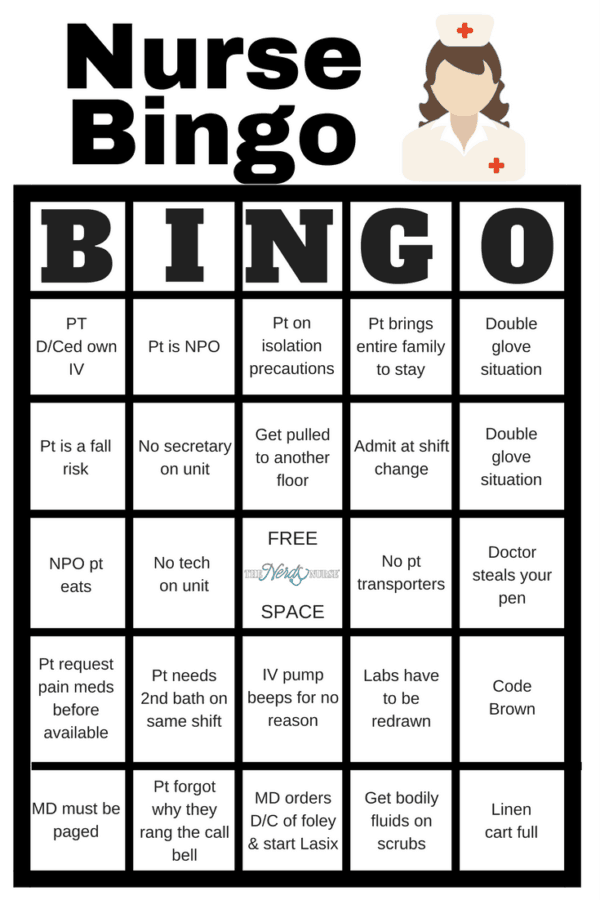 Liven up any shift with a fun game of bingo. See who can fill a row first!
Fill a whole card and lose grip with reality.