*articles contain affiliate links*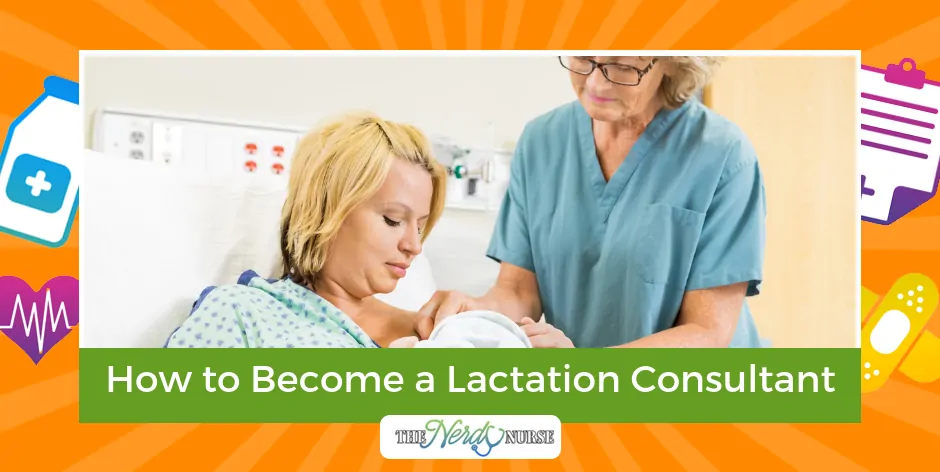 Lactation consultants are in demand right now. With more and more hospitals looking for health care providers who are trained to recognize, prevent, and solve breastfeeding problems, it's a specialty you shouldn't really miss.
How to Become a Lactation Consultant
Like most nursing specialties, you'll need to undergo training, complete courses, and be certified before you can become a lactation consultant.
Now, if you're feeling overwhelmed just by hearing those requirements, don't fret. Here's a step-by-step guide on how to become a lactation consultant.
The Three Pathways to Becoming a Lactation Consultant
Your educational experience matters a lot when it comes to choosing the correct pathway for you. Each pathway has its own set of educational requirements you'll need to fulfill before you can move on to the next stage.
In general, you must complete the following:
Clinical Hours

Health Sciences Education

Lactation-Specific Education
You can take and complete your Health Sciences Education at any point. Your clinical hours and lactation-specific education, on the other hand, must be completed 5 years before your application.
Here's the breakdown of the pathways:
Pathway 1
For: Those who are already working with breastfeeding mothers and families
To become a lactation consultant through Pathway 1, you'll need to complete 14 different health science courses. You'll also need to complete a minimum of 1,000 hours of clinical practice relating to lactation 5 years prior to applying for the certification exam. You can earn your experience either through volunteer or paid work.
You will also need to have at least 90 hours of lactation specific education 5 years before you apply for your certification exam
Pathway 2
For: Those who attend academic programs
For Pathway 2, you'll just need to provide proof that you already have completed 14 health science courses and 90 hours of education on human breastfeeding. It also requires a minimum of 300 hours of clinical practice where you'll be directly supervised.
Pathway 3
For: Those who need a mentor to supervise their clinical hours
Through Pathway 3, you will only be allowed to move on to the next requirement after proving that you have completed 14 health science courses and 90 hours of lactation schooling. Apart from that, you will also need to complete 500 hours of clinical practice.
As mentioned, you can complete these requirements 5 years before you apply for your exam application.
Now, you don't really need to become registered or licensed before you can practice as a lactation consultant. However, if you want to attract more clients and employers, being an IBCLC can really help.
It'll show that you have the right skills and experience to get the job done. It'll also reduce your patients' doubt and wrong impressions about you.
How Long Does It Take to Become A Lactation Consultant
In general, it can take years before you become a lactation consultant.
That will depend on your educational background and experience.
Take it this way:
If you are already working as a healthcare professional, there's a good chance that you already possess the basic requirements for the test. If you aren't, you can get and complete a certificate program at a college.
Take note that the IBLCE or the International Board of Lactation Consultant Examiners don't have a specific school or program they give their seal of approval to. There are, however, a lot of institutions that meet all the pathways' requirements which means you won't have a hard time choosing.
Just make sure to do your research first and really understand what you'll be signing up for. Know their courses, requirements, and quality of lessons and guidance they can give you.
What Happens When You Become A Lactation Consultant
You don't become a "real" lactation consultant right after submitting your requirements and passing the test. Of course, you will also need to put your skills and knowledge into practice.
If you prefer working alone and being self-employed, you can build a private practice and rely on referrals to gain popularity and become successful. You can offer your services to your local community and start building connections within the area.
In case you prefer to work in a lactation clinic or the hospital, keep in mind that additional requirements may be required. Most hospitals, for example, prefer lactation consultants who are nurses, too.
To advance your career, you can undergo more training and education which can qualify you for managerial and leadership positions.
In Conclusion
Becoming a lactation consultant isn't that hard. With the right requirements and by following the ideas above, you'll be a few steps closer to your dream.
Take note that the process requires commitment and discipline. Mothers and newborn babies need all the help they can get and that's exactly where a lactation consultant play a crucial role.
See also: