*articles contain affiliate links*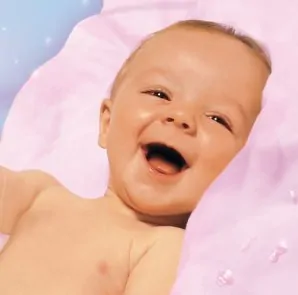 After a baby is born, the real work begins. I have some vital tips for new dads that everyone needs to know!
After my best friend gave birth to her first baby, I braved the 405 to her home in North Hollywood to pay the little one a visit and give her some much-needed adult conversation. She was eager to show off her son's ten perfect fingers and toes, and I let him practice his grasping reflex against my (clean, TDAP-vaccinated) hands.
And then she started talking. "I could just throttle him," she said. Of course, as you can probably guess, she wasn't talking about the newest member of her family. She was talking about her husband.
Like many women, my friend found herself in the position of full-time infant caretaker while her husband quickly returned to a job that did not offer paternity leave. And, like many women, my friend did not feel like her husband "properly understood" the stress she was under, nor the difficulty she was having recovering from her complicated birth.
Tips For New Dads
As she and I chatted, I took a few notes. Consider these our tips for new dads everywhere:
1. It takes women a full month to recover after birth.
Sometimes called the "tenth month of pregnancy," the first month after birth is often both painful and exhausting for the new mother. Her organs are slowly shifting back into place as her body works overtime to produce milk.
Many other cultures provide support for new mothers during this key time — the French, for example, send at-home nurses to help new mothers care for babies, while Indian, Chinese, and Mexican customs all require mothers to rest for the first month after birth while others take care of basic home care.
Read the brilliant Daily Beast article "Why are America's Postpartum Practices So Rough on New Mothers?" to understand why so many mothers spend the first month after pregnancy exhausted and miserable, and why simply doing a load of dishes now and then isn't enough.
2. No, you don't have to give a "push present." But do give something.
Los Angeles is ridiculously competitive, and a few of the women in our social circle received diamond pendants, Mommy-and-me birthstone necklaces, or spa gift certificates after the birth of their first child. (We've heard rumors that some women in LA get new cars and tummy-tuck surgery.)
"I wasn't exactly waiting for it," my friend said, "but it was there, you know. In that moment when the baby was getting cleaned up and it was just the two of us together. That's when he's supposed to pull out the little box."
Can't afford a little box? If nothing else, make sure you have a florist that can deliver flowers anywhere your wife may be (office, home, hospital, sisters, anywhere…) bookmarked on your browser. A small gift after the birth experience will help Mom know that you're both in this together.
3. Infants require 168 hours of care per week.
"He plays with the baby for 45 minutes while I make dinner," my friend said, "and he acts like he's doing me a favor."
Here's the hard truth, dads: new babies require 168 hours of care per week. That means that even dads who think they're highly involved are only doing a fraction of the job. Do you take the baby for an hour every night? Congrats! You've taken 8 hours of primary childcare and left Mom with 160.
Yes, there are a lot of reasons why women often become their baby's de facto primary caregivers. (Breastfeeding is one; economic decisions are usually the other.) But even in a house in which both parents return to work and the baby goes to daycare, your child still needs 168 hours of care. When the daycare calls, who answers? Who keeps track of the doctor's appointments? Chances are, it's Mom.
As Louis C.K. famously said: Be a dad. Don't be Mom's assistant. Figure out how you can contribute 84 hours of care per week, not 8. There's nothing else that'll get you closer to a happy family.
So there you have it: my tips for new dads. Basically, show your wife you love her by empathizing with how much work she does and try to give her as much help (and appreciation) as possible.
Helpful Articles
If these tips for new dads were helpful, you'll love these!
Download Nurse Bingo Today!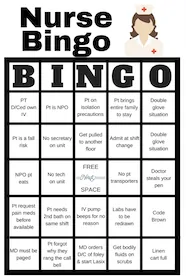 Liven up any shift with a fun game of bingo. See who can fill a row first!
Fill a whole card and lose grip with reality.
Your privacy is protected. We will never spam you.