*articles contain affiliate links*
So — how much does an RN make? The simple answer is it varies by location, but we'll dig into that as well as stigmas around nursing and pay in the following article. We have already talked about the highest paid nurses. So now let's talk about salary.
Nursing is one of the most selfless and giving professions in existence. Unfortunately, there is often a stigma associating monetary gains in a profession that centers around care and selflessness. However, if we are honest, nursing is morally, mentally and emotionally satisfying, but that alone isn't going to pay the bills. They don't accept emotional satisfaction at Wells Fargo. Sally Mae isn't going to accept your morals as a payment for your nursing degree loan.
Just like every other profession, nurses also have to consider pay when looking for work. Location, specialty, years of experience, and several other factors all impact the registered nurse salary. So when you ask "How much does an RN make?" the answer is a bit more complex than you might imagine. Hopefully, this article can shed some light on what registered nurses are, how to become a registered nurse, and how much registered nurses can earn.
Registered Nurse Salary – How Much Does an RN Make?
Before we can effectively answer how much an RN makes, we have to look at exactly what an RN does and how different salaries are figured.
What is an RN?
Wikipedia defines a registered nurse as "a nurse who has graduated from a nursing program and met the requirements outlined by a country, state, province or similar licensing body in order to obtain a nursing license. An RN's scope of practice is determined by legislation, and is regulated by a professional body or council". In the United States of America, this means any nurse who holds a nursing diploma or Associate Degree in Nursing (ADN), has passed the National Council Licensure Examination for Registered Nurses (NCLEX-RN) held by the National Council of State Boards of Nursing (NCSBN) and has met all the other licensing requirements mandated by the board of nursing of the nurse's graduating state.
Scope of Practice and Duties of an RN
Registered nurses have a wide scope of practice, such as:
Health promotion and maintenance
Management of care
Psycho-social integrity
Safety and infection control
Physiological adaptations
Thus, a registered nurse may have the following duties:
Helping patients prepare for treatments or examinations
Performing and assessing diagnostic tests
Collaborating with healthcare professionals
Recording patients' medical history
Administering medicine and treatment to patients
Monitoring and operating medical equipment
Educating patients on post-treatment care
Now that we've understood what exactly entails being a registered nurse, let's look at how registered nurses are categorized for salaries.
How are RN Salaries Determined?
The payment of a registered nurse varies according to the following categorizations.
Salary Impact By Nursing Degree & Specialty Certifications
A nurse who has more education or degrees is generally paid more than a nurse who doesn't. Such nurses are valued as they are believed to be better educated, resulting in better patient outcomes. Thus, higher education is a surefire way to earn more, and the additional degrees help make your registered nurse resume more impressive. Some nurses also look at earning specialty certifications such as geriatric nursing, informatics nursing, rehabilitation nurse and so on.
Nurses with specializations are generally more in demand than general registered nurses, and even so, some specializations are more in demand than the others. Some nurses may even pursue Advanced Practice Registered Nurses (APRN) degrees that provide four specialized certifications (Certified RN Anesthetist, Certified Nurse Midwife, Certified Nurse Practitioner, and Certified Nurse Specialist). This additional education earns them more in employment.
The impact on salary varies, but many hospitals will increase pay by 1-3% for a higher degree or specialty certification. Thus, a specialization is also a great addition to a registered nurse's resume, as well a definite way of earning more. Not sure of a specialization or certification, the fastest growing careers in healthcare may help.
Salary Impact by Experience
Nurses with experience are highly valued in the industry as they are believed to be calmer in stressful situations and exhibit better critical thinking skills. Sometimes, nurses with experience may even earn more than nurses with degrees! Experience is a key factor that most institutions consider when hiring a nurse. Most organizes also give standard raises each year, which will increase a nurse's salary.
Salary Impact by Shift
Some shifts are more desirable than others. Choosing to work night shift or weekends can impact a registered nurse salary pretty significantly. For example, night shift and weekends typically offer a $0.50-$2.00 differential. Some organizations will bundle weekend night shifts together providing an even higher differential of $10.00 per hour. This can really make a big impact on
Salary Impact by Location
As registered nurses have to meet the specifications set by the state, they are eligible to practice in that particular state. Each state has its own pay scale for registered nurses due to various factors such as standard of living, demand for registered nurses, the presence of unions, and so on. Nurses in rural locations will be paid less than nurses in urban locations, as the cost of living is lower in the former. Thus, location can play an important factor in how much a registered nurse makes. California is currently the highest-paying state for RN with a median income of $98,000!
So, Finally, How Much Does an RN Make?
According to the Bureau of Labor Statistics, the average registered nurse salaryis $68,450 per year and an average hourly wage of $32.91, as of May 2016. As mentioned earlier, this number is further affected by the location, the nurse's experience, work hours, contractual agreements, education, and taxes. Despite that, the amount earned by registered nurses is still as competitive as most other industries, due to the demand for the profession, difficulty of the work, competition, overtime, and bonus pay. Registered nurses can also increase the amount they earn by working as a consultant or being self-employed, which gives them total control over their fees.
Registered nurses may also work part-time, but this means that they are not eligible for workplace benefits such as insurance and bonuses.
Some registered nurses also travel or work on an as needed basis. In addition to their regular pay, these nurses may also earn a per-deim stipend.
It's Not All About the Money!
Though it may seem easy to judge the highest paid nurses, the amount of skill, dedication, and effort that it takes to be an RN is no easy feat, and that's why RNs are in such demand and are generally paid well. The years and money they invest in their education pay off when they start practicing professionally only due to their competitive salaries. These nurses not only need higher education, they also require skill sets such as organization skills, communication skills, and critical thinking. Sometimes, the responsibilities and workload handled by registered nurses can be so overwhelming that it can leave you wondering whether the salary is indeed enough!
As difficult as the road is to become a nurse, it is definitely a worthy endeavor that almost always results in better pay than a nurse who isn't registered. If you've got the drive and motivation to put in the hours required to become an RN, then you're absolutely going to see the results!
Also check out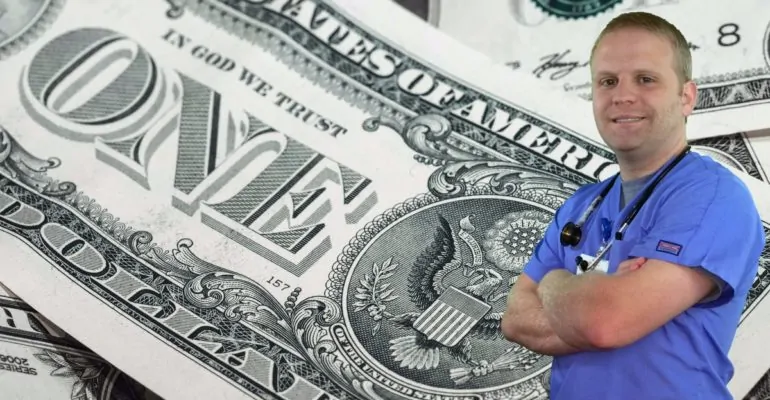 How Much Do Nurses Make from Nursing.com

Nurses, Jobs and Money — A Guide to Advancing Your Nursing Career and Salary
How to Get What We Pay For: A Handbook for Healthcare Revolutionaries