*articles contain affiliate links*
Most nursing professionals have natural nurturing abilities, a desire to give others support, and an appreciation for science and anatomy. Successful nurses also possess a skill that is often overlooked: they can think critically.
A critical thinker will identify the problem, determine the best solution, and choose the most effective method. Critical thinkers evaluate the execution of a plan to see if it was effective and if it could have been done better.
The ability to think critically has multiple applications in your life, as you can see. But Why is critical thinking important in nursing? Learn why and how you can improve this skill by reading on.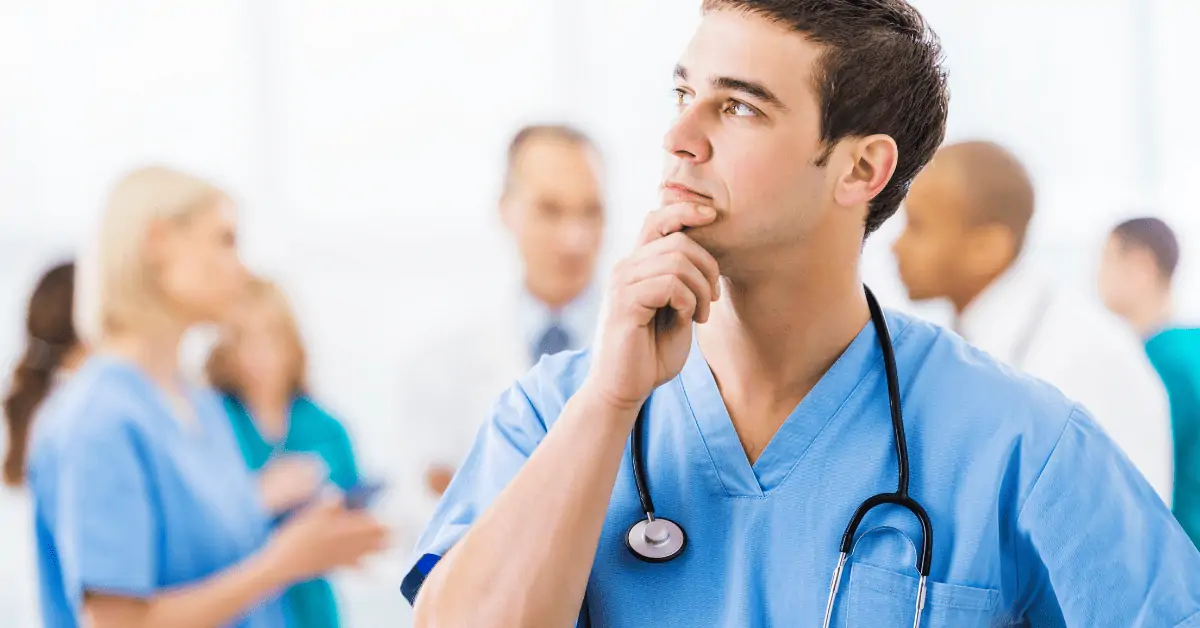 Why Are Critical Thinking Skills in Nursing Important?
Critical thinking is an essential skill for nursing students to have. It's not something that it can teach in a classroom, and it must be developed over time through experience and practice.
Critical thinking is the process of applying logic and reason to make decisions or solve problems. The ability to think critically will help you make better decisions on your own and collaborate with others when solving problems – both are essential skills for nurses.
Nursing has always been a profession that relies on critical thinking. Nurses are constantly faced with new situations and problems, which they need to think critically about to solve.
Critical thinking is essential for nurses because it helps them make decisions based on the available information and their past experiences and knowledge of the field. It also allows nurses to plan before making any changes to be most effective as possible.
It is an essential skill for nurses to have to provide the best care possible. Critical thinkers can comprehend a problem and think about how they can solve it, rather than reactively or automatically.
Critical thinking is a crucial skill for doctors, nurses, and other health care providers.
How can you develop your critical thinking skills?
As you know, learning doesn't end when you graduate from nursing school. You must continue to grow as a professional and develop your critical thinking skills.
Critical thinkers are better problem solvers than others in the same situation because they examine all the facts before coming up with solutions. They can also take many different perspectives into account when solving problems.
It's easy for people to come to conclusions too quickly, but those who think critically will avoid this trap by first looking at every possible angle.
When faced with difficult decisions, these nurses won't just rely on their gut feelings or what seems right according to society's norms; instead, they'll analyze all available information carefully until they develop the best solution.
Critical thinking is also crucial because it helps nurses avoid making mistakes in their work by providing them with a way to examine each situation and identify any potential risks or problems that may arise from subsequent actions before they take place.
It's not enough for you to have empathy if your compassion isn't backed up by critical thought and understanding of how certain decisions might affect others in various circumstances, so keep learning ways to become more thoughtful about the world around you.
The skills involved in being a good nurse are many and varied, but one thing all nurses need, regardless of what specialty they choose, is critical solid thinking abilities.
Reasons Critical Thinking In Nursing Is Important
Nurses' experiences often include making life-altering decisions, establishing authority in stressful situations, and helping patients and their loved ones cope with some of the most stressful and emotional times of their lives. Critical thinking is an essential aspect of nursing.
Following are the reasons:
Nurses' critical thinking has a significant impact on patient care
Recognizing changes in patient status is essential
It's essential to an honest and open exchange of ideas
It enables you to ensure patient safety
Nurses can find quick fixes with it
Improvements can be made through critical thinking
It Contributes to Rational Decision Making
Further critical thinking is essential to nursing because nurses can establish authority in a stressful situation, such as issuing orders or administering care when needed.
This can be difficult because it may require balancing medical expertise with empathy and compassion towards patients' feelings, leading them to question your judgment at some point in time.
Another reason this skill set is crucial involves making decisions that will have life-changing effects on a patient's health and well-being.
These are often irreversible choices that only you know how much weight they carry within the context of each situation, so you need to make sure all factors are carefully considered before deciding what action must be taken next without hesitation.
Skills that Critical Thinkers Need
When it comes to critical thinking, some skills are more important than others. Using a framework known as the Nursing Process, some of these skills are applied to patient care. The most important skills are:
Interpretation: Understanding and explaining a specific event or piece of information.
Analysis: Studying data based on subjective and objective information to determine the best course of action.
Evaluation: Here, you assess the information you received. Is the information accurate, reliable, and credible? The ability to determine if outcomes have been fully achieved requires this skill as well.
The nurse can then use clinical reasoning to determine what the problem is based on those three skills.
The decisions need to be based on sound reasoning:
Provide a clear, concise explanation of your conclusions. Nurses should provide a rationale for their answers.
Self-regulation – You need to be aware of your thought processes. As a result, you must reflect on the process that led to your conclusion. In this process, you should self-correct as necessary. Keep an eye out for bias and incorrect assumptions.
Critical Thinking Pitfalls
It can fall by the wayside when it's not seen as necessary or when there are more pressing issues.
Critical thinking is important in nursing because it can fall by the wayside when it's not seen as an essential or more pressing issue.
It can be difficult to think critically about complex, ambiguous situations with a shortage of information and time in healthcare settings.
If we don't use critical thinking skills, problems might go undetected or unresolved, leading to further complications down the road.
Sometimes nurses can't differentiate between a less acute clinical problem and one that needs immediate attention. When a large amount of complex data must be processed in a time-critical manner, errors can also occur.
Conclusion:
Nurses cannot overstate the importance of critical thinking. The clinical presentations of patients are diverse. To provide safe, high-quality care, nurses must make rational clinical decisions and solve problems. Nurses need critical thinking skills to handle increasingly complex cases.
Check out:
Download Nurse Bingo Today!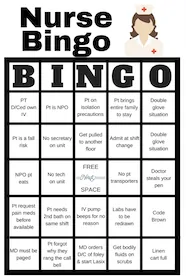 Liven up any shift with a fun game of bingo. See who can fill a row first!
Fill a whole card and lose grip with reality.
Your privacy is protected. We will never spam you.