*articles contain affiliate links*
Nursing school really is a circus, complete with clowns, ringmasters, lions, and flaming hoops to jump through.
Johnson County Community College lawsuit.
To hear their response, one might assure this girl expelled a fetus herself and was proudly poking it at it with a pair of hemostats. She didn't. She took a picture, which her instructor allowed, excited to be participating in healthcare. I would really like to know what the "mother" in regard to said placenta thinks of this nonsense. Would she agree that the action would surmount to being "insensitive and disrespectful toward the mother and the human tissue involved"?
Since the school wants to break it down to being "insensitive to human tissue", then I better never hear of a someone picking off a scab and throwing it away, because that would surely be "insensitive to human tissue". Does anyone really want me to get started on an "insensitive to human tissue" rant, because I could so go there, and it might be a book by the time I was done.
I also find it comical that they choose to clarify the whole "expelled" verses "dismissed" classification. The entire scenario was completely blown out of proportion and the fact that mere months from graduation she is being forces to put her life on hold is what is most upsetting to me for Miss Byrnes.
Wait, I take that back, what is most upsetting to me is the fact that even though the school admits the student is apologetic, and apparently there is no social media policy in place (least that I've heard tell of), they still chose to take such an extreme and cruel punishment. Not only could she not graduate, she was going to be forced to jump through even more hoops than the usual brought on by the 3 ring challenge that is nursing school. And these hoops are flaming, twisting high in the air, and incredibly arrogant, in my humble opinion.
"The bottom line is that the student brought all this on herself and should now accept the consequences of her own actions." I humbly disagree.
"The fact that this story has so quickly gone viral is evidence itself of how damaging social media can be if not used appropriately." Now this statement is true, to some regard, but I feel that the damage that has been done is to the school's reputation, and not because of the facebook photo, but by the numerous blogs, twitter, and facebook reactions the incident has created.
I'm sure the school has created a social media policy, or will very soon, in regards to this. Really, that should have been all the incident amounted to.
See what others are saying about this Social Media Opportunity:
The Wall Street Journal: Odd Facebook Post Leads to Student's Ouster, Suit
SarabethRN.com : Nursing Student Expelled for Facebook Photo: The Problem Beneath the Problem
Those Emergency Blues: The Placenta, The Nursing Student and the Teachable Moment
The Huffington Post: Doyle Barnes, Nursing Student, Expelled For Posting Placenta Photo On Facebook
impacted Nurse: Nursing Student Expelled over Facebook Pic
And
Nursetopia: Consider Me Your "Nursing Student Expelled for FB
Placenta Photo" Aggregator – Will do
And many many more.
If you think I am being ranty about this topic, I am.
But hey, you read the tagline and choose to stick around, so that's all on you my friend.
I encourage your comments and rant participation!
Download Nurse Bingo Today!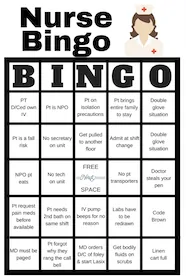 Liven up any shift with a fun game of bingo. See who can fill a row first!
Fill a whole card and lose grip with reality.
Your privacy is protected. We will never spam you.