*articles contain affiliate links*
Have you ever thought about selling your nursing books? If not, it's time to do so. Nursing textbooks are expensive and take up a lot of room in one's home if one doesn't plan on using them for any courses anymore. You can sell these old books back to the store or online.
College textbooks are a multi-billion dollar industry, bringing in tens of thousands every year. The internet has made it possible to buy used nursing books with ease and trade them for other titles simultaneously. You can do everything from your own home without ever having to leave your couch or desk chair.
The advantages don't stop there either; you'll also save money while earning credit hours because buying second-hand is often cheaper than new college textbooks that have prices inflating each semester as they're updated. So let's dive right in.
Why Should You Sell Nursing Books?
You may think about selling your nursing textbooks if you're an old student who needs the money. It's also a good idea to sell old books if you've decided to change programs and don't need the ones for courses that won't be taken anymore.
When most nursing students are asked why they haven't sold back their textbooks yet, it's because of one major reason: they do not know where to go or how to get started. This is when we can help. There are several ways to ensure that you earn money from your old textbooks this semester.
Perhaps you have textbooks for courses that are required of prerequisites but not needed for any classes in the current semester? Or do you have old books from a certain subject that's no longer being taught at school? No matter what the case may be, there's money to be made.
So why keep it all to yourself or let it collect dust on your shelf when someone else might enjoy a little help getting their hands on these aged resources.
When trying to think of where to sell nursing textbooks, students will always look online first because they've already heard about websites such as Amazon and eBay.
However, these aren't even close to being the best places for finding your elusive new buyer. Instead, there are also other online shops where you can sell and buy books.
Best Places Where to Sell Nursing Books
This is probably one of the best places to sell your nursing textbooks. It offers students a unique service, which involves buying back all types of books – including used ones, at very competitive prices. Thus this is where you can find more information about the company and how to contact them to sell your old nursing book online.
BookScouter helps online shoppers find the cheapest books possible in a matter of minutes. Their website lets you search through over 20 million titles and provides you with information on four book buyback providers plus many others who are willing to purchase your old textbooks from you for cheap.
BookDeal.com is a great place to sell your nursing textbooks online because they offer the highest percentage of cashback that you can receive on college books – up to 100% in some cases.
In addition, it is one of the best places to sell your nursing textbooks online because they are friendly and provide free shipping at no cost.
This website offers students a simple way to sell their nursing textbooks online by letting them create a listing and choosing from their convenient listing options.
They've even made the process super simple by allowing you to complete a form with information from the book, such as its ISBN and condition, then they will do all of the work for you.
Although Facebook Marketplace isn't the most convenient method for selling your nursing textbooks, it's one of the best places to sell your books in an instant.
This is because you can connect with friends and acquaintances directly – no need to wait around for someone from another site to contact you.
Some students also choose this option instead of selling their nursing textbooks online to save shipping costs and because it's often faster than dealing with a third party.
This is another option because they have an online marketplace for selling your textbooks. You can sell your books at a high price on Amazon kindle.
If you're a member of Amazon, then you know that it can be trusted and is a popular source for millions of people worldwide. This is why it's one of the best places to sell nursing textbooks online in a safe environment.
To sell your books online at student2student.com, you must first create a free account and then list the book you are selling. Be sure to include as many details about it as possible and any bonus materials or an access code that may be included with the textbook.
Then, if someone is interested in purchasing it from you, they will make contact, and you can negotiate the price together.
If you're interested in selling your nursing textbooks, eBay is another place for you. You don't have to follow their rules or wait for approval from eBay before posting an ad; find a buyer by posting it on that social network or simply scanning the online marketplace.
So there are plenty of places online where you can sell your nursing textbooks online and find a buyer quickly. Now let's move to some frequently asked questions to help you more.
BooktoCash is an app that allows you to get instant price quotes for thousands of books from your phone by scanning the barcode of the book or entering the ISBN.
The app is 100% FREE to download and use! There's no need to set up an account or log in, just use your camera as a scanner to get quotes in an instant. Then you just review your cart and decide if you want to remove any items. Check out and Print the FREE shipping label. Get cashback by check or PayPal within 3 business days after order processing!
What to Do with Old Nursing Textbooks?
If you're a nursing student looking for ways to save money or make new sources of income, there are plenty of things that you can do with your old nursing textbooks. If you no longer need them, there are plenty of profitable ways to put them to use:
You can use the money you receive from selling nursing textbooks online for leisure activities such as traveling. It could also serve as a source of passive income that you don't have to work at.
Where to Buy Cheap Nursing Books?
BookDeal.com is the world's largest marketplace for buying and selling textbooks, new or used. They offer some of the best deals on nursing books online, so it's worth checking out when you're looking to buy cheap nursing textbooks.
Can I Make Money Selling Nursing Books on Ebay or Amazon?
The short answer is yes, and you can make money by selling books such as nursing textbooks. In addition, you can use the cash you earn from selling them to get a new one or for fun activities and entertainment when studying gets hard and boring.
A lot of medical students are looking for ways to make money online. One popular way is by going on eBay or Amazon and selling old nursing books you won't use anymore.
Summary
So, as you can see, there are so many places where you can sell your old books – but what we've discussed above is the best. Nurses are always looking for new sources of information.
Their old books can be a great resource to help educate students and other nurses in the field, so it may not make sense at first glance to sell them online or offline.
If you're interested in making some cash off used copies of medical texts that sit around collecting dust but don't know where to start, follow our guide.
More Resources for Where to Sell Nursing Books:
Download Nurse Bingo Today!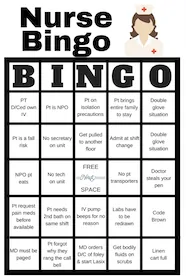 Liven up any shift with a fun game of bingo. See who can fill a row first!
Fill a whole card and lose grip with reality.
Your privacy is protected. We will never spam you.