*articles contain affiliate links*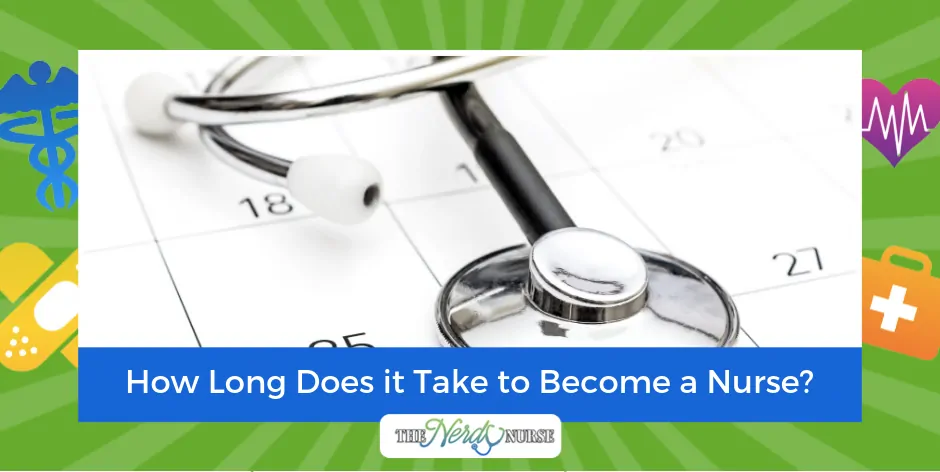 Gain Confidence & Crush Your First Year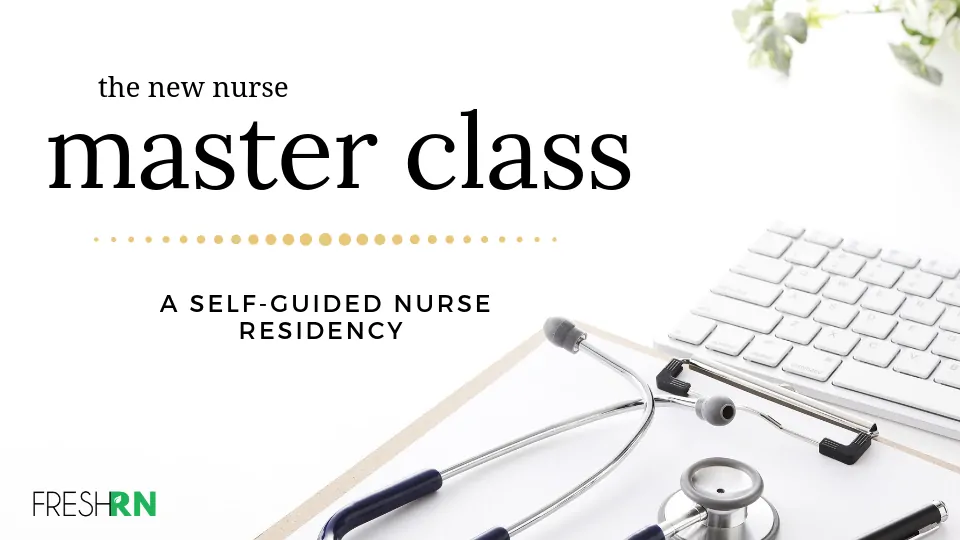 Your first year as a nurse can be daunting. You need someone in your corner telling you what your managers really need from you, helping you learn to interact with your precentor, and really just manager your like. Find all that an more with the Fresh RN New Nurse Master Class.
Start Now
Dreaming of a career as a nurse? There many factors that may lead someone into the nursing profession, but the cost of tuition and the length of study can be significant factors in your decision. The longer the course of study, the less time you have available to work, and the more student debt you will accrue! Luckily there are many options available to become a nurse. You can choose to go straight to your desired level or slowly work your way up with part-time studies. The choice is yours! So, how long does it take to become a nurse?
Licensed Practical Nurse (LPN) or Licensed Vocational Nurse (LVN)
First, let's look at what is an LPN exactly. Licensed practical nurses provide basic medical care under the supervision of a registered nurse. They can perform basic skills such as taking vital signs and giving some medications. To obtain state certification as an LPN, you must attend an accredited LPN program which takes around one year to complete. After you finish your studies, you must then write and pass the National Council Licensure Examination (NCLEX-PN). You can expect to earn a salary after graduation of about $45,000 per year, according to recent data.
Associate Degree in Nursing (ADN)
As an ADN you are a registered nurse and have expanded duties above those of the LPN. You are responsible for supervising LPNs and CNAs, performing more advanced skills, administering medications, and educating patients and families. To obtain state licensure, you must complete an ADN course of study that lasts between 15 months and two years after which you must write the National Council Examination (NCLEX-RN). There are many affordable programs at community colleges around the US, so it is a very accessible program. You can expect to earn a salary after graduation of about $60,000 per year.
Bachelor of Science in Nursing (BSN)
As a BSN nurse, you are a registered nurse and have the same duties as an ADN. This program takes around four years to complete at the college level so it can be quite expensive. As with the ADN graduates, you must write the NCLEX-RN after completing your studies to obtain state licensure. Many people choose to complete the BSN nursing program instead of the ADN program as it is a requirement for any further advanced studies, such as to become a nurse practitioner or clinical nurse specialist. You can expect to earn a salary like that of an ADN after graduation.
Accelerated BSN Program
This program is intended for people who have already completed a college degree in another field of study. Using the knowledge gained in their previous degree, this program allows students to complete the BSN program at an accelerated rate. These programs are generally 12-18 months long at which time they would be eligible to write the NCLEX-RN exam and obtain state licensure.
Bridging Programs
If completing a four-year college program is impossible for you and you are willing to take a little longer to reach your goals, then bridging programs might be right for you. With bridging programs, you can enter at any stage and start working while furthering your education on your days off. Many of these programs are convenient and available online, allowing you to keep working while pursuing further studies.
LPN to ADN Program
These programs are designed for LPN nurses to further upgrade their skills and become ADN nurses. They take around 12-18 months to complete full time at which time they would be eligible to write the NCLEX-RN licensing examination.
LPN to BSN Program
Many LPN nurses chose to go straight to the BSN program, skipping the ADN program altogether. While the program takes longer, around three years to complete full time, you are heading towards your goal at a faster rate.
RN to BSN Program
These programs are designed for ADN nurses who wish to obtain their BSN degree, often to pursue further studies. Many of these programs are offered online, making them easy to complete while working. These programs take around two years to complete.
The long way
While the shortest way to become a BSN nurse is to merely complete the four-year program, many people are financially unable to study full time for four years. The decision to complete your studies using bridging programs while still continuing to work part or full time is a practical option for many people. From start to finish it would take you between 5 and 6 years to finish, a convenient choice for mature students or people with children.
Nursing is an excellent career full of opportunity. With degrees varying from 1 to 4 years in length, there are many options available to you, regardless of your financial or social situation. There is a program the right length and difficulty for you!
Check out: