*articles contain affiliate links*
Becoming a Nurse Anesthetist (CRNA) is a career goal for many nurses. In fact, when I was in nursing school nearly half of the class stated that becoming a CRNA was their future goal. It's not surprising since CRNAs are some of the highest paid nurses with earning potential much higher than the typical registered nurse salary. However, many nurses and nursing students are unclear of the process that must be followed to become a CRNA. In this blog post, we'll discuss some quick facts about CRNAs, average salary, career outlook, educational requirements, and a list of accredited CRNA programs.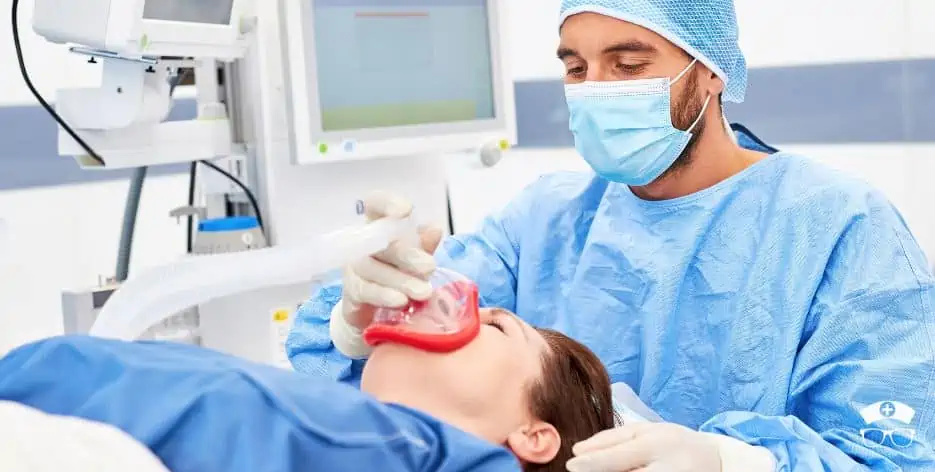 Quick Facts About Nurse Anesthetist
Quick Facts: Nurse Anesthetists, Nurse Midwives, and Nurse Practitioners
2022 Median Pay
$201,934 per year
$80.00 per hour
Entry-Level Education
Master's degree
Work Experience in a Related Occupation
None
On-the-job Training
None
Job Outlook, 2025
26%
Chart via Occupational Outlook Handbook
CRNA Salary
Without a doubt, one of the most attractive aspects of being a nurse anesthetist is the substantial salary. In fact, according to AnesthesiaZone.com:
Certified registered nurse anesthetists are some of the highest-paid advanced practice nursing professionals. Salaries vary greatly by region, type of facility, number of years in practice and sub-specialty. The average Nurse Anesthetist salary for 2006 was more than $160,000. Nurse anesthetists can expect to begin their careers earning in the low $110,000 salary range and can move toward $200,000 or more as they gain additional experience. The rate of pay increases for CRNAs practicing in specific areas.
The Bureau of Labor Statistics states the median salary for CRNAs in 2012 was $96,460 per year or $46.37 per hour. This is compared to an average registered nurse salary of $65,470 per year or $31.48 per hour.
Career Outlook for Nurse Anesthetist
While there are many that feel the recent surge of Nurse Anesthetist's is diluting the market and, therefore, the salary, RNtoBSN.org states that the need for Nurse Anesthetist's is increasing compared to the need for RNs. The job growth for Nurse Anesthetist is estimated to be 31% that is faster than the 19% growth of Registered Nurse jobs. This makes the job outlook for a CRNA great.
Educational Requirements for Nurse Anesthetist
According to the American Association of Nurse Anesthetist, the educational requirements for a CRNA include:
The requirements for becoming a Certified Registered Nurse Anesthetist (CRNA) mainly include having a bachelor's degree in nursing (or other appropriate baccalaureate degree), Registered Nurse licensure, a minimum of one year acute care experience (for example, ICU or ER), and the successful completion of both an accredited nurse anesthesia educational program and the national certification examination. For more information about the nurse anesthesia profession and its requirements, please read the documents information below.
Interested in Becoming a CRNA?
The steps to becoming a Nurse Anesthetist are many, and it's important to know exactly what they are to be successful. I've looked and have only been able to find one resource that clearly outlines everything you need to know to become a Nurse Anesthetist, and that is the ebook CRNA School Admissions: The Cold Hard Facts. This ebook is written by a CRNA and gives you the information needed to master the CRNA application process.
I want to hear from you. Are you interested in pursuing a career as a Nurse Anesthetist? What schools have you researched? What have you heard about the profession? Are there any questions you have or myths you want to dispel? Sound off in the comments below.
Getting a specialty certification as an advanced practice nurse can be a huge boost to your earning potential. We wrote some tips about the PMHNP exam that may be relevant for CRNA exam as well.