*articles contain affiliate links*
Nurses perform a variety of tasks in healthcare facilities, ranging from treating patients and providing direct care to teaching other medical professionals. The job opportunities within this field vary greatly because the nurses themselves specialize in different areas. According to the World Health Organization, cardiac disease is one of the most common causes of death in the United States and is responsible for one in four fatalities yearly. It kills more people than cancer each year. That's where cardiovascular nurses come in. Let's take a closer look at what cardiac nurses do so you can decide if this specialty is right for you.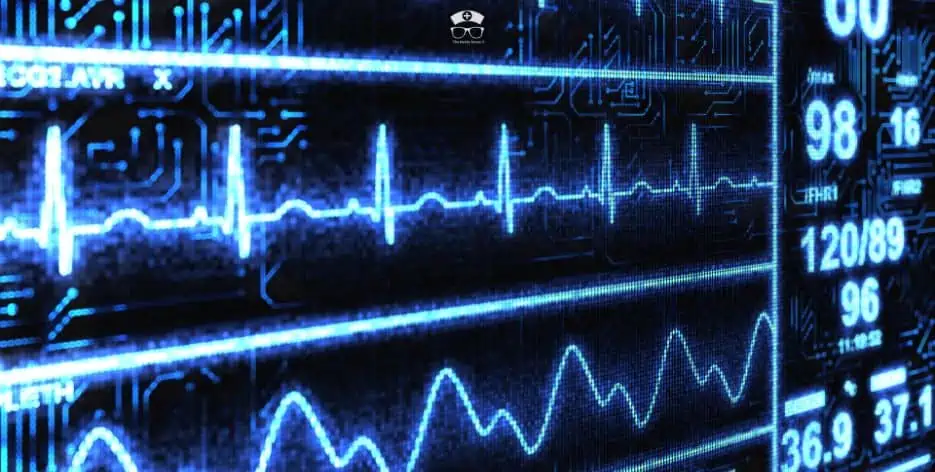 What Does A Cardiac Nurse Do?
Cardiac nurses work under cardiologists and take on many tasks to treat both acute and chronic heart conditions. Cardiac nurses play a vital role in caring for patients with heart disease. They work closely with cardiologists to provide comprehensive care to patients, from diagnostics and screenings to education and lifestyle management. In addition, cardiac nurses play an essential role in helping patients recover from cardiovascular procedures such as heart surgery or angioplasty.
As experts in cardiovascular care, cardiac nurses are uniquely qualified to provide compassion and support to patients and their families during times of illness or stress. They also work closely with other healthcare team members to ensure that each patient receives the best possible care. Whether working in a hospital setting or a clinic, cardiac nurses make a difference in the lives of those they treat.
Cardiac Nurse Jobs
A "heart nurse" goes by many different job titles. Each of them has their own specialties. Let's look at each of them – what they do, and how to become qualified for those jobs.
Cardiac Nurse Certification
Before we look at each job there is, we need to know how to become certified. As with any nursing specialty, you will need to take additional tests and qualify for specific accreditation standards.
There are a few different certifications you can go for if you are interested in specializing in this.
Cardiac Vascular Nursing Certification (RN-BC)
The ANCC (American Nurses Credentialing Center) offers this certification. To obtain it, you just need to complete the eligibility requirements and pass the exam. Learn more on the ANCC website.
Adult CMC
The American Association of Critical-Care Nurses has a wide variety of certifications you can earn. If you are interested in cardiology, look into either getting the CMC or CSC certifications.
CMC is Cardiac Medicine. You'll need to prove a certain number of hours taking care of critically ill patients and pass a test. Learn more here.
CSC Certification is Cardiac Surgery Nursing. This certification will prove that you are able to provide direct care for patients in the first 48 hours after heart surgeries. There are clinical practice hour requirements and an exam to pass. Learn more here.
After you have your certifications, you will be more hirable in the field of your choice.
But which field should you choose? Let's look at what the different nurses actually do.
Cardiovascular Nurse
The most general term for a nurse that works with patients with heart problems is a cardiovascular nurse. They are also called cardiovascular clinical nurse specialists or CNSs.
Most CNS jobs will be located in hospitals. Since they are specialized to work with the heart, they will care for critically ill patients and those recovering from surgeries and procedures like bypass, angioplasty and more.
But the hospital isn't the only place they work. They could help patients recover at home. And the work with patients of all ages, since heart problems don't only happen to a certain age group.
Another term for a Cardiovascular Nurse is a Cardiology Nurse. Both jobs are essentially the same – helping patients recover and/or educating people about how to maintain heart-healthy lifestyles.
Cardiothoracic Nursing
Cardiothoracic nurses typically work in intensive care units. They closely monitor patients with heart conditions that are considered critical. Their job requires them to think quickly on their feet and notice subtle hemodynamic changes that could lead to serious complications.
Cardiac Nurse Salary
How much does a cardiac nurse make?
Due to the requirement for certifications, the salary for a cardiac nurse is higher. The salaries vary by state. You can see an overview of how much you can earn in each state by visiting the Nurse Journal Website.
Here are the average incomes for cardiac nurses as reported by top job websites:
Indeed – $63,00
SimplyHired – $52,000
Is Cardiology Right For You?
Now that you know basically what they do and how become a cardiac nurse, is it right for you?
This job deals with life and death situations. It requires extreme attention to detail and the ability to react quickly when things turn for the worse, like in a code blue or during a-fib.
You also need emotional strength. You'll be interacting with grieving family members and people that might stubbornly refuse to listen to heart-health advice.
It is an incredibly rewarding career. You'll experience so much joy as you see people overcoming tough odds and healing from open-heart surgeries.
If you can handle both the highs and lows and the stress of life and death situations, this job is perfect for you.
Become a Cardiac Nurse
If you're interested in transitioning into the nursing specialty of cardiology, the Cardiac Confidence: A Crash Course for New Cardiac Nurses will give you the skills and confidence you need to hit the ground running. Whether you're interested in cardiology, you've newly transitioned, or you just want a refresher on the critical knowledge and skills of a cardiac nurse, this course is for you.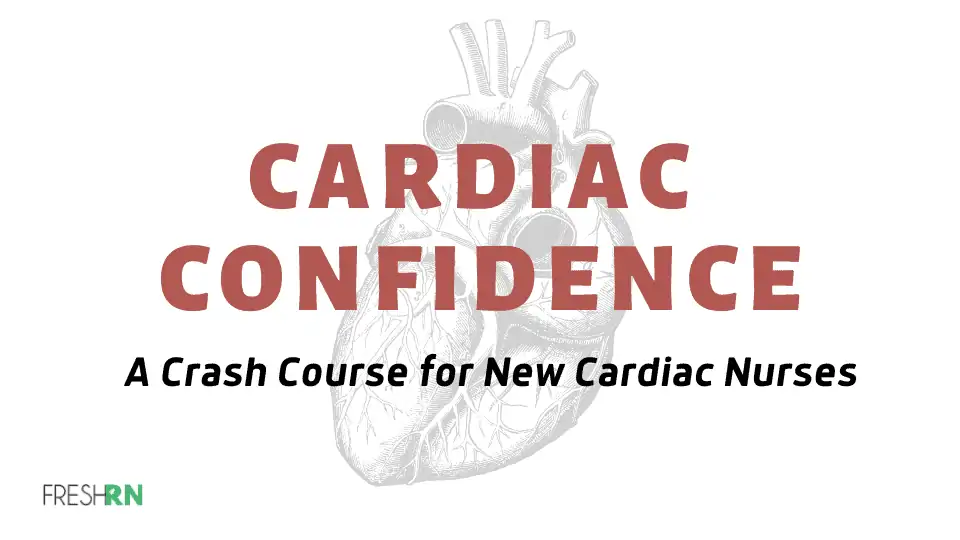 Worried about managing chest tubes? Explaining afib to your patient? Not confident in your CABG discharge instructions? This course addresses all of those newbie cardiac nurse pain points! This course is comprehensive! It has over 70 modules with text, videos, images, and downloads. It's written by nationally certified expert nurse educators: a CV-nurse and Kati Kleber, MSN RN. Plus it has 11 CEUs!
FAQs
What Is It Like Being a Cardiac Nurse?
Being a cardiac nurse is both an incredibly challenging and rewarding career. On the one hand, you are satisfied knowing that you are helping people with a potentially life-threatening condition. On the other hand, you also have to deal with the emotional roller coaster that comes with caring for cardiac patients who are often very sick or anxious about their cardiovascular health. Most days, being a cardiology nurse balances providing top-notch patient care and maintaining your sanity! It can be tough to see cardiovascular patients suffer so much, but it's also gratifying to know that you're making a real difference in their lives.
How Many Years Does It Take To Become a Cardiac Nurse?
It typically takes 4-6 years to become a cardiac nurse. After completing an accredited nursing program, nurses must pass the National Council Licensure Examination (NCLEX) to earn their nursing license. Then, they must complete a hospital- or clinic-based cardiac training program. Finally, they must pass a cardiac nurse certification exam from the American Nurses Credentialing Center (ANCC), the American Association of Critical-Care Nurses (AACN), or another credentialing organization.
What Are the Advantages of Becoming a Board Certified Nurse?
There are many advantages of becoming a board-certified nurse (BCN). First and foremost, BCNs have demonstrated their commitment to the nursing profession by completing additional training and passing a strict exam. This demonstrates to employers that they are highly skilled and knowledgeable nurses who will provide high-quality patient care.
BCNs also enjoy higher wages and increased job security, as they are often the first choice for employers when hiring new nurses. Additionally, BCNs can take on more responsibility in their job, such as overseeing other nurses or leading special projects. Finally, BCNs often report feeling a sense of personal satisfaction and professional accomplishment from achieving this milestone in their career.
How Do Cardiac Nurses Work With Other Healthcare Professionals?
Cardiac nurse practitioners work with other healthcare professionals to care for patients with heart conditions. They work closely with cardiologists, surgeons, and other specialists to provide the best progressive care.
More Information About Nursing Careers
Want to learn about other types of nurses and what they do? Here's more information so you can make an informed decision.