*articles contain affiliate links*
Yes, it's possible to earn a BSN online, but there are quite a few things you will need to consider before enrolling in an online nursing school.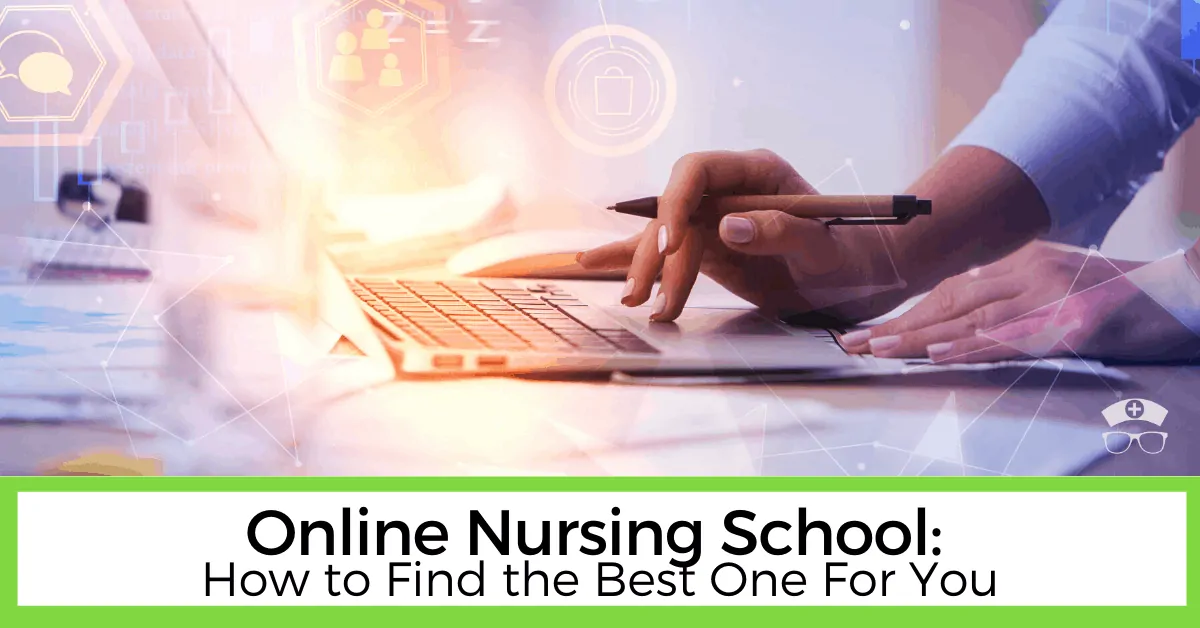 Whether you are trying to become a registered nurse (RN) or get a Bachelor's Degree in Nursing (BSN), taking classes online could be a convenient option. You don't have to travel to campus to take classes. And you can do the schoolwork on your schedule, working around family members or your current job. 
But how do you find the best school and how do you know if it's worth the money? How much does it cost? I'm sure you have lots of questions. This guide will give you everything you need to know about online nursing school so you can make an informed decision. 
What Online Nursing School is Like
Most programs that say they have complete programs actually have a hybrid of at-home courses and location-based clinicals. Nursing is a hands-on career and there is no way to learn all you need to know without spending time in a hospital setting putting what you learn into action. 
There is an exception to clinicals. If you already have an RN and can prove that you have clinical experience, you might be able to just do the coursework online. Talk to the school first and see if you qualify. 
Another thing you'll need to ask your nursing school is whether class attendance on campus is required. There are some schools that are 100% remote-based and others will require at least 1 class on campus a week. 
How to Choose the Best School
There are tons of online nursing schools – how do you pick out the one that is right for you? From accreditation to online reviews, go through each item on this list. Then decide which aspects below are the most important to you. Schools are all different and it's tough to find one that has all of the features below, so find the ones that matter the most to you. 
Accreditation 
You should only enroll in an accredited college. Don't waste your time or money on anything else. If the school is accredited you will have access to federal financial aid. Plus, your credits will transfer to any other school in the future. 
Make sure the school you choose also has approval from your state's board of nursing. If you graduate from an accredited and approved university, you will qualify for other programs later on. 
Clinical Training
Next, ask how the school you are looking at handles clinical training. Some schools will offer courses online and then work with local hospitals where you can complete your clinicals. These hybrid programs are gaining popularity every year. 
Reviews – What Are People Saying
Search online for what people are saying about the schools you are looking at. Some red flags to watch out for include lack of support and difficulty communicating with the teachers. 
If you read lots of nurses talking about how much they loved a certain school, take a closer look at it. It might be one that you'll love too. 
Degree Completion Time
How long does it take to obtain a degree from this school? Some have accelerated programs and others take longer. The longer it takes to get your degree, the more it will cost. So look at an average length of time and see if it works for you. 
Customer Service and Support
Another question you should ask is, how easy is it to talk to a real person? No matter what degree you are going after, chances are you will have questions that are easier to fix when you can talk directly to the professor or someone in financial aid. 
If you aren't able to find a phone number on their website, that might be a sign that they aren't easy to reach. 
Average Student Pass Rate on Licensing Exams
Look up how many students from this school pass licensing exams. If it's a fairly low number, that might mean they aren't very good at teaching what you need to know to pass these important exams. 
But if they have a really average passing rate, that could mean the professors support you and give you the information you will need. 
Career Placement Programs
Another feature you should look for is how they help graduates find jobs. Some schools have job boards while others actually have people on staff that will help you create a resume and give you interviewing tips. 
Career placement programs are incredibly helpful. It can feel overwhelming at first when you are applying for jobs. Having someone you can talk to will give you direction and confidence. 
Types of Online Nursing Programs
There are quite a few different types of nursing programs you can obtain online. Here are some of the most common ones, choose the one that matches your career goals the best. 
Prerequisites
What prerequisites do you need to pursue a nursing degree online? 
High school GPA of at least 2.5
Passing scores on the school's entrance exam for nurses
General education classes such as English, chemistry, and biology. 
Acceptable scores on ACT or SAT
You Could Receive Credit for Work Experience
Ask your nursing school if they offer credit for related work experience. 
There are two ways to go about earning course credit for work experience. One option is to pass a school-approved proficiency exam. This will show how much you know about the coursework. You could know enough to opt out of certain introductory courses. 
You'll find the American Council on Education maintains a database of recommended exams. Other commonly used tests include those designed by the CLEP and the DSST. 
Another option is to submit an officially documented portfolio. List out all your experiences that you think college credit could be awarded for. 
Online Nursing School Cost
This depends on which school you are attending
Not only does doing online school work better in your schedule, but it could save you money too. Depending on the school, you might not have to pay for on-campus fees since you won't be taking any classes on campus. 
You will also save money on transportation costs and you won't have to buy a parking pass to get on campus. You'll also save money on textbooks since most online classes also use online books or sometimes no textbooks at all. 
Plus, lots of online degrees offer a variety of ways to finance and pay for your schooling. Look for a nursing school that will let you make monthly, interest-free payments while you are taking the classes. Avoid student loans if at all possible. 
More Nursing School Tips
Whether you enroll in an online nursing school or take classes on campus traditionally, these tips are for you. 
Nursing School Thrive Guide

How to Survive and Maybe Even Love Nursing School: A Guide for Students by Students

Cracking the Nursing School Entrance Exams (Graduate School Test Preparation)