*articles contain affiliate links*
When you are in nursing school, you need a dependable computer. These are the best laptops for nursing students. You don't have to spend a lot of money to get a good computer.
Computers for Nursing Students
Whether you are taking online classes or not, you still need a dependable computer to use while you are in nursing school.
In this guide, I'll show you the most dependable laptops at the lowest price. I'll also explain what to look for in a computer and answer that question – Mac or PC?
Should A Nursing Student Use a Laptop Or Desktop Computer
Honestly, I recommend investing in a high-quality laptop instead of a desktop or an all-in-one.
As a nursing student, you will appreciate being able to take notes in class and have a laptop you can study on in the library. Lots of notes and lectures will be online. It's possible to take notes on paper and go back home to type them and watch your lectures, but it takes more time.
There are also the 2-in1 laptops that can be used as tablets. Are those worth the investment? If you are spending extra money just for this feature alone, then maybe not. But if you find a laptop like the Dell Inspiron that has a low cost, then it's a fun little feature that you might enjoy.
A few things a 2-in1 (a laptop that can be folded and used like a tablet) can do for nursing students are:
Hook up external keyboards closer to the screen
Use a stylus to write and draw for better studying
Fold to watch videos and lectures
Touchscreen and stylus are quicker on-the-go than trying to type on a laptop
Best Laptops For Nursing Students
Nursing school is already pricy enough. So for my top three picks for best laptops, I chose PCs. I'll share the features of each one and why they work the best for nursing students.
And don't forget that as a student you qualify for a free Microsoft Office suite. It's usually about $50 per year, so that's a nice amount of savings.
#1 Dell Inspiron 15
My first choice is the Dell Inspiron. This is a super-fast 2-in-1 laptop with a bright screen and excellent speakers. It's also lightweight, so it won't kill your back as you carry it around.
If you want something that will fit easily in your bag, get the smaller screen size.
The Dell Inspiron starts at around $850.
Other features of this computer that I love are:
Huge hard drive – Intel® Optane Memory™ H10 32 GB with 512 GB Solid-State Storage
Boots up fast
Able to handle multiple tasks at once – uses a memory with up to 12 GB, 1 x 4 GB and 1 x 8 GB, DDR4, 2666 MHz; up to 32 GB
Crystal-clear graphics – Intel® UHD Graphics with a shared graphics memory
Backlit keyboard
Plenty of ports – 1 HDMI, 2 USB Type 1s, 1 USB-C, Headphone jack, and SD Card reader
Lightweight – 4.45 pounds
Battery life – 14 hours
Fingerprint reader for extra security
#2 HP Envy 13
The HP Envy is another powerful laptop at a reasonable price. HP is known for its innovations and amazing graphics.
What people love about the Envy is that it comes with a lot of extra features that other computers don't.
The HP Envy starts at around $800.
In addition to being a very slim and portable laptop these are the other things people love about it.
Built-in webcam kill switch
Amazing graphics – Intel® UHD Graphics 620
Fingerprint reader
Privacy – HP Sure View Privacy Screen
Speakers from Bang & Olufsen
Battery Life – 19 hours
Super light – 2.59 pounds
Plenty of Ports – 2 USB Type 1s, 1 USB-C, Headphone jack, and SD Card reader
If you like to hook your laptop up to a second screen, the HP Envy doesn't have an HDMI port.
#3 Acer Chromebook
Finally, if you want a really lightweight and fast computer that's great for doing homework on, then the Acer Chromebook is super budget-friendly and works very well.
Starting at only $350, this is a super-affordable option. It might not have all the bells and whistles of the other two, but if you use cloud storage like the free Google drive, you won't need much hard disk space.
This is also just 2.6 pounds, making it super lightweight.
Here are the rest of the impressive specs on it:
Rugged exterior and design protect it from everyday bumps and drops
Spill-resistant keyboard
Rubber safety grip on the outside
Excellent display – Intel UHD Graphics 600
Ports – 2 USB Type-C, 1 USB, Micro SD card, headphone jack.
Lots of Memory – 32 GB Hard disk
It has the shortest battery life out of the others in this list, but it still lasts 12 hours, which is pretty amazing.
Mac or PC For Nursing Students
With the higher price point for Apple computers, it doesn't make logical sense to spend more for a computer that does the same thing.
In the next point, I'll share what to look for in a computer. As you compare features and prices, you will discover that Macbooks are priced at about $1,500, but PCs with the same features cost about $800.
There are some benefits to investing in an Apple computer that might be worth it to you, however. Some of the most popular features are:
Longevity – People say Apple computers can last for years without slowing down or needing replaced.
Long Battery Life
Seamlessly connects with all other Apple products.
That last point is the biggest seller for them. If you are sitting in class and put a note on your iPhone, it will automatically show up on your Macbook. If you have an iPhone and a PC, you will have to use a 3rd party app like DropBox instead, which tends to be a few more steps.
If money is a considering factor for you, a PC will save you money and give you just as much power and performance.
What To Look For In A Laptop
When you are shopping for a laptop, don't get overwhelmed. Sure, there are lots of techy things that sound like gibberish. I'll break down what you want and what they mean so you can make a smart decision.
Memory – RAM and Hard Disk Space
RAM stands for "random access memory." Lots of people confuse RAM with hard disk memory. In their guide to computer memory, Digital Trends magazine came up with an excellent analogy. RAM is the top of the desk and hard disk memory are the drawers underneath.
How much "space" do you need on top of your desk? In other words, how many different tasks do you do simultaneously? As a nursing student, you probably will need to type/format notes while watching lectures.
If you plan to have lots of different programs running all at once, you will need a larger RAM.
But if you will only be using the computer to take notes and access email, you can save money by getting a smaller RAM.
What about the hard disk?
That's the place where you store saved files. With cloud storage, you might not need very much hard disk space either. This is another place you can save money too.
Weight – Portability
Another thing to consider in computers is the weight of the laptop. You'll probably be lugging this thing around between home, campus, and the library or coffee shop.
Thankfully, computer companies are catching on that slimmer and lighter styles sell better. Your chances of finding a fast and reliable computer that is also light is pretty good.
What's the difference between a 5-pound laptop and a 2-pound one? That can be tough to visualize. In this case, I suggest going into a store and trying to lift up the different brands with one hand. This is an excellent way to pick a computer out.
Speed
The speed of a computer is mostly related to the RAM size and how you use the computer. Think of the desk analogy again. If you have a small desk but lots of books and papers piled upon it, it will take you longer to find the one piece of paper that you need the most.
That's why a computer with a bigger RAM appears to run faster. There is more space for it to run multiple tasks at one time.
Screen Size
The smaller screen sizes will generally cost less. Larger screens are nice because they are easier to see. But even on a really small screen, you can increase the font size.
Smaller screens will also give you a lighter computer too.
Laptops for Nursing Students – Ask Around
Another way to find the best laptop for nursing students is to ask around. What do your friends use? Do they love or hate it? Why?
Use cloud storage and try to keep your multi-tasking at a minimum and you will be able to buy a really affordable laptop that works perfectly!
More Nursing School Tips
As you get through nursing school, here are some more tips and even a few laugh breaks!
Dell Inspiron High Performance 7000 Series 2 in 1 Laptop, 15.6

Premium HP Envy 13 Laptop Computer 13.3

Acer Chromebook 315, AMD Dual-Core A4-9120C Processor, 15.6

New Apple MacBook Air (13-inch, 8GB RAM, 256GB SSD Storage) – Silver

Download Nurse Bingo Today!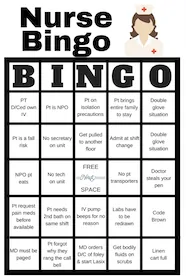 Liven up any shift with a fun game of bingo. See who can fill a row first!
Fill a whole card and lose grip with reality.
Your privacy is protected. We will never spam you.