*articles contain affiliate links*
You're all signed up for your classes. You are ready to become a nurse! Now what? Well, first you need to make sure you have all your nursing school supplies. Follow this complete guide and you'll be ready.
Nursing School Supplies You Need
That anxiety you feel when you don't know what to expect, it hits you hardest right before big events. And nursing school is an exciting step! You are going to start your journey towards a career in helping people.
The one thing you shouldn't worry about is what school supplies you are going to need. In this guide, I will share the 42 essential items you'll need. If you have all of them, you will be ready for anything nursing school throws your way.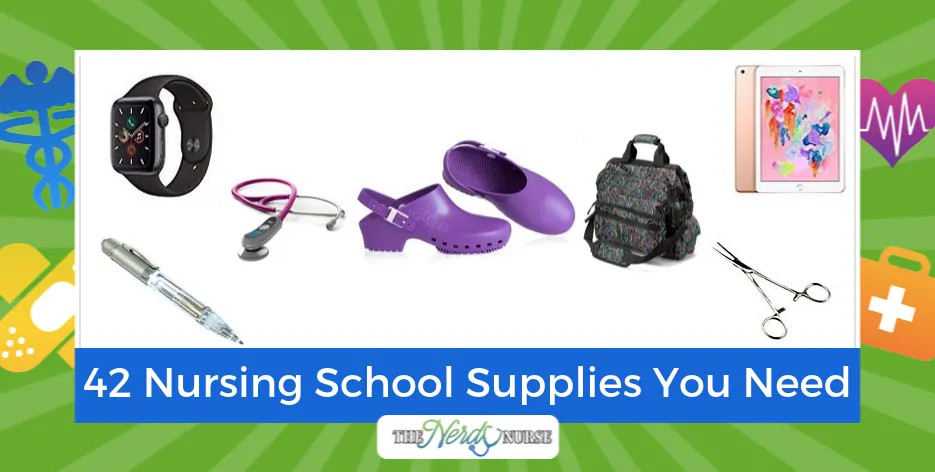 What kind of organizer are you a paper planner or a digital one? Either one is ok, but decide which way you want to go and create a planning system that you enjoy and you'll be able to maintain when you are busy.
You need a place to record these things:
Class schedules
Test/Quiz dates
Study sessions
Contact information for professors
Assignments for each class
If you want to use a paper planner, try to use one that has plenty of space so you can write out all your assignments and due dates. Some people like to color-code their planners, giving each class a different color of ink.
If you use a digital calendar or app (like Google Calendar) you can easily assign a different color for each class too. Plus, you can assign alarms/push notifications for events like quizzes and tests.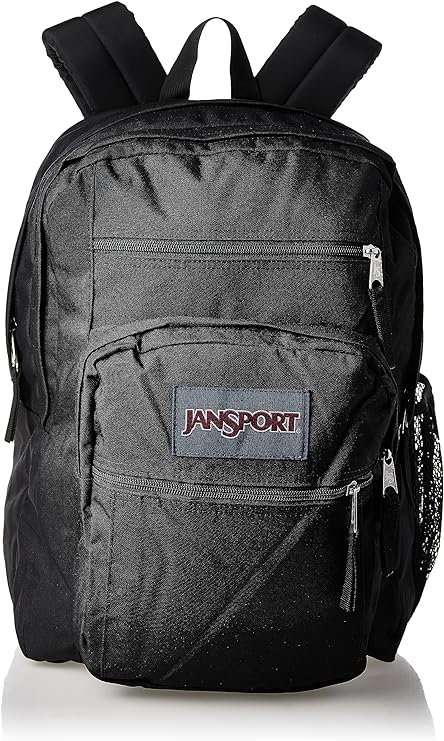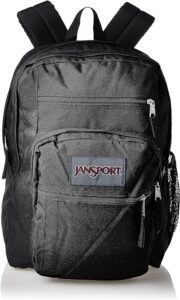 Buy It Now
You'll be carrying a lot around with you from class to class, so you need a backpack that will last and won't hurt your back. I already covered the 5 best backpacks for nursing students.
Gain Confidence & Crush Your First Year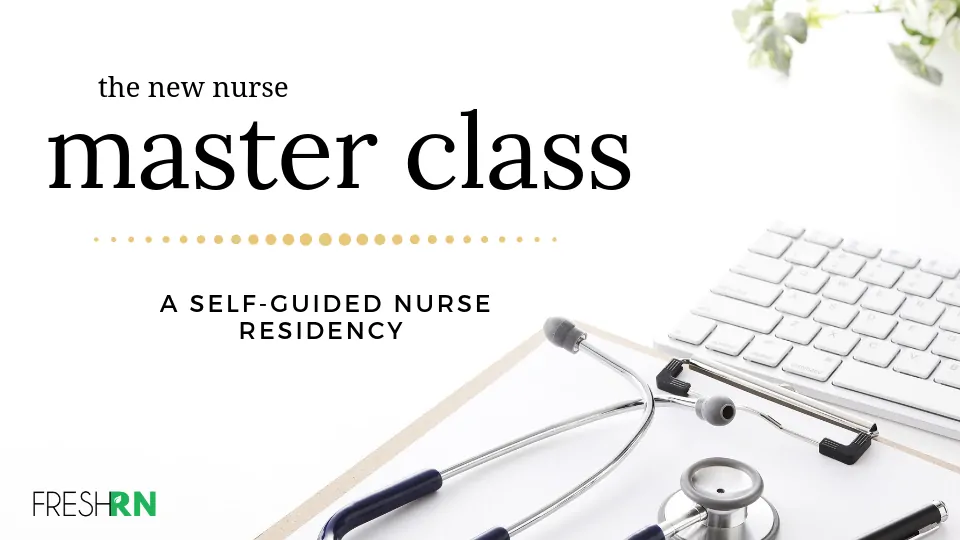 Your first year as a nurse can be daunting. You need someone in your corner telling you what your managers really need from you, helping you learn to interact with your precentor, and really just manager your like. Find all that an more with the Fresh RN New Nurse Master Class.
Start Now
You'll have to decide if you want a wheeled backpack or something with a padded laptop sleeve. And don't be afraid to bring a few heavy books with you to the store when you are buying one and try it on.
When it comes to nursing school backpacks, always pick comfort over fashion.
3. Laptop or Tablet – Techy Nursing School Supplies
Lots of classes will allow you to turn in your work online, so it will save you a ton of time to own a laptop or tablet. Pick something that is lightweight (since you will be carrying it around), and has a fast processor (you won't have time to wait on it to load all the time.). I even have a guide on the best laptops for nursing students.
If you choose to use a tablet like an iPad, don't forget a keyboard case to go with it. Tablets are fantastic since they are so small, they don't weigh very much. The keyboard case will make it so you can write emails and papers at the library without having to wait for an open computer.
You'll keep more than just your badge in a badge clip. You can keep cheat sheets and other IDs in it too. Lots of nurses say not to skimp on the badge clip. If you buy a cheap one, it could break easily and you'll end up spending more money anyway.
Next, you'll need something to help you study and memorize everything. Are you a paper person or do you like computers and doing things digitally?
Index cards on a big key chain are a classic way to study.
But you can do the same thing with an online Quizlet. The best thing about Quizlet is that it is a crowd-sourced site. So there are mnemonics that other nurses upload that helped them pass tests.
Just pick the one that feels the most comfortable to you.
6. The Right Scrubs – Fashion Nursing School Supplies
You want to pick scrubs that are both comfortable and functional. Buy comfortable scrubs too. Find some that have lots of stretch since you will be moving a lot in them.
And don't forget about your pockets. You need scrubs with lots of pockets for a notebook, pens, and all your nursing tools.
Yup, you might need flesh-colored underwear. This is because some hospitals will require a nursing student to wear white scrubs. And white scrubs will definitely show off your fun prints!
You'll use a watch when you take pulses and track med times. Don't rely on wall clocks, they tend to be inaccurate or stop working.
I wrote a comprehensive nurse's watch buying guide so you can buy the perfect one for you.
Color-coding is one way lots of nurses pass tests and learn new information. Pick out highlighters that are light, not too dark like a marker. Lots of people love the clicky Sharpie highlighters because there aren't caps that you can lose and they last a really long time.
If you don't like badge clips, you can always buy a lanyard. However, if you want to go with a lanyard, buy a breakaway lanyard. That way, if your badge gets stuck on a bed or something, it will break away without pulling you down.
I don't have to tell you that you'll be on your feet a lot in nursing school. The most comfortable shoes for nurses will have shock-absorbing material and prevent slips. They will also be easy to clean (because messes happen in nursing school) and have excellent arch support. If you need white nursing shoes, we have you covered with our favorite picks.
No one can remember everything from class. A voice recorder will help you catch everything you missed in class. Buy something that has a really good microphone and is easy to use.
You could also use the memo recording feature on your smartphone. Having a separate voice recorder is one of the most important nursing school supplies because you aren't using space on your cloud storage.
You are going to definitely need some high-quality study guides. Nursing.com Nursing Student Academy has some of the best study guides on the market. Using this site from day one will make it easier to use as you take more difficult classes.
Sticky arrows are the best way to mark important spots inside your books and in your notes. It'll save you so much time flipping and trying to find the important information that you need.
What do nursing students use Sharpies for? So much! Not only can they make flashcards easy to read, but you use them in the hospital when you write on medication stickers and IV bags.
Do you need a fine tip or a larger marker? I'd get one of each. The larger Sharper is great for writing on IV bags.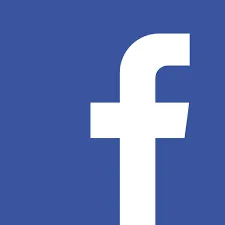 Even if you don't like to use Facebook, you could benefit from using it in nursing school. Lots of nursing students form Facebook groups to share notes and meetup times. There are also Facebook groups with experienced nurses that share tips that helped them pass tests and quizzes.
Even though it's strange, you'll be happy you have access to these groups, so it should be on your nursing school supplies list.
Grab a pack of Post-It notes before you start nursing school. You could use them to jot down mnemonic devices you hear in class or other little memory joggers or things that stump you as you study.
Every nursing student will need a stethoscope. Invest in one that can go from nursing school to your first job. These are the 7 best nursing stethoscopes that will perform easily.
Nursing cheat sheets are just like study guides, but less in-depth. They are filled with mnemonics and facts that you need to memorize. NurseLabs has some really easy-to-read cheat sheets that I recommend.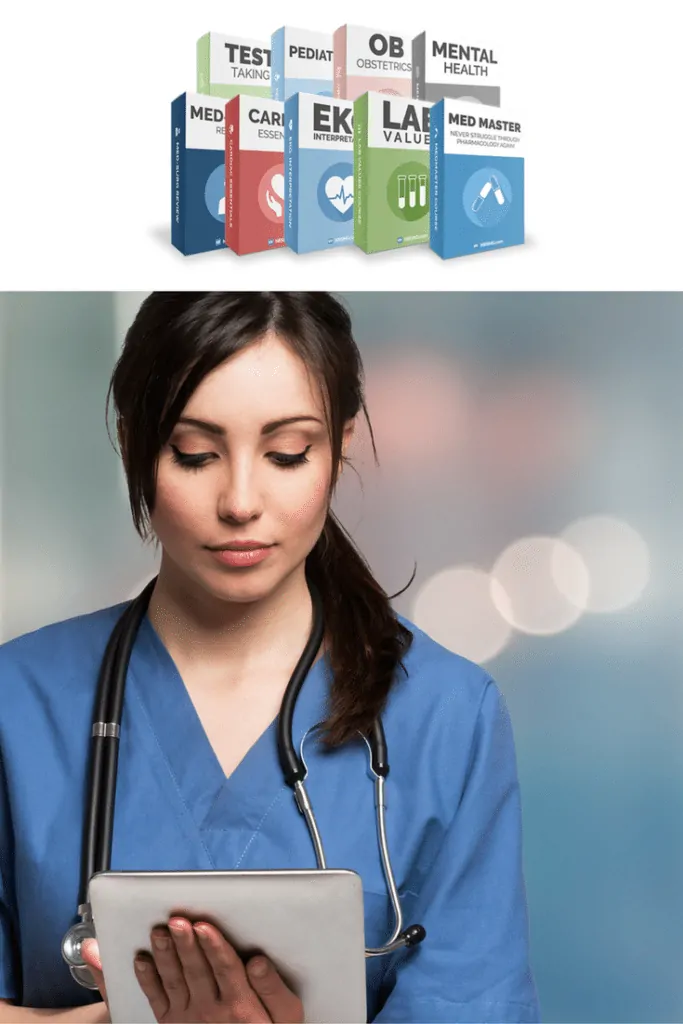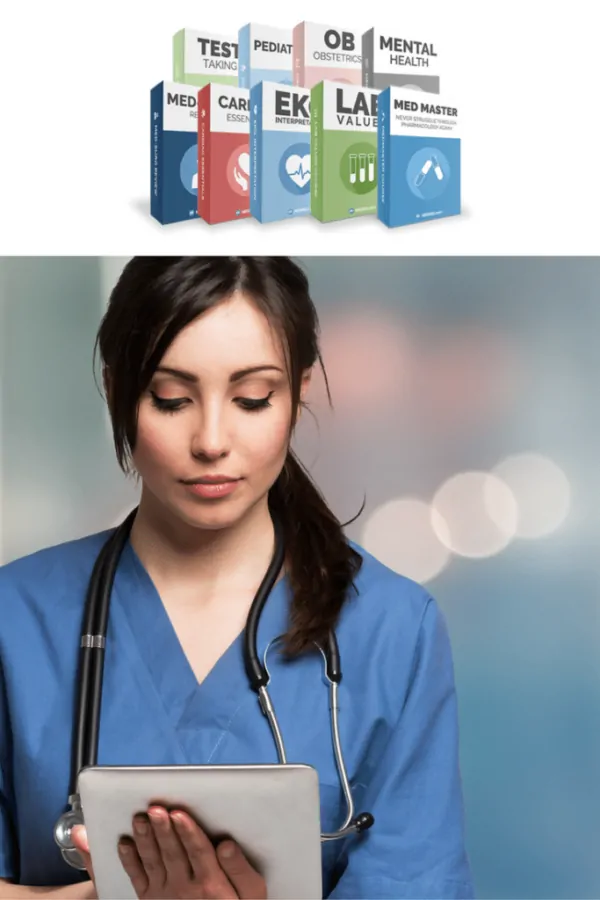 Buy It Now
There are so many nursing school resources and online courses out there. Take advantage of them. Nursing.com Nursing Student Academy has some fantastic ones. Also, look into how to find a nursing school tutor. The material you are going to learn is difficult, be open to seeking help.
You already know that you'll need pens, but take my advice and make sure you have clicky pens. The tabs will clip into your scrub pockets so they are easy-to-find. Plus, you won't have to worry about lost lids or ink leaking onto your scrubs.
Want to save money on pens? Here's a big tip!
Amazon sells bulk lots of misprint clicky pens. These are pens that write well, but the print on them was messed up. You could find 200 pens for $28! Split the cost with a group of nursing students and you'll have enough pens to last you all year.
The hemostat is an all-purpose nursing tool that can be used for so many things. Get one, you will definitely use it. It can clamp IV lines, unscrew IV tubing, and clamp any other tubing.
And, believe me, you will be using lots of tubing in nursing school.
So put a hemostat on your nursing school supplies list. You'll be so glad you did!
23. Support from Friends/Family
It isn't a tangible product, but you will need support from your friends/family. Whether it is a warm meal after you spent all day studying or even as small as understanding when you are too tired to go to a party or get-together, it could make all the difference.
Talk to your family and friends. Tell them how important their support is to you. You'll need it as you work towards your BSN or RN goal.
Believe me, you will use trauma sheers and they will save you so much time. Keep them in your pockets at the hospital. You can use them to cut almost anything. Know a nurse who is a lefty? Try one of these Left-Handed Nursing Scissors For Precise Cuts.
We all know how often you'll be washing your hands. Keep hand sanitizer on you so you can have some whenever you need it. Remember, you'll need to avoid any sanitizers with scents that could irritate hospital patients.
All that hand washing will leave your hands dry and possibly cracked. So prepare for that ahead of time and buy a non-greasy and moisturizing hand lotion. O'Keefe's is one of the most popular lotions for nurses.
Buy a dependable pen light before you start nursing school. Some people have used the flashlight on their smartphones too, but a penlight will make sure your phone's battery doesn't die.
With all the notes you are going to take at the hospital, you will need a nursing clipboard. Buy one that has storage space inside of it too. You can keep notes and cheat sheets inside of it. We love these Top Nursing Clipboards That Fold In Half for more storage.
There are some clipboards with reference guides printed right on the outside. Look for those, they will be a huge help.
You are going to need something that will send you notifications and alarms. There is just too much to remember. From test days to class starting times, you don't want to be late.
If you are a heavy sleeper, pick an app that makes you solve a math problem to shut it off. There are lots of apps with that feature, and it can help you get going when you are super exhausted.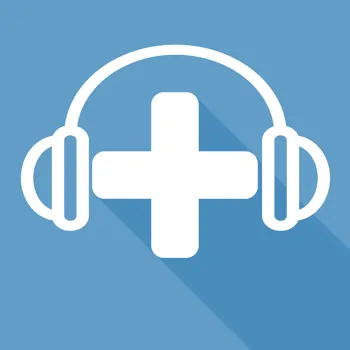 A nursing podcast will be a fantastic way to help remind you of different nursing facts and things you are learning. It can also give you a laugh that you'll be able to relate to.
The FreshRN podcast is perfect for new nurses. Nursing.com also has some podcasts that will give you study tips and memory help.
There is no way to know everything about every single drug. There are so many interactions, side effects, and dosage times, and they all vary. The best one has 140 Must Know Meds. You will use it over and over throughout your nursing school career.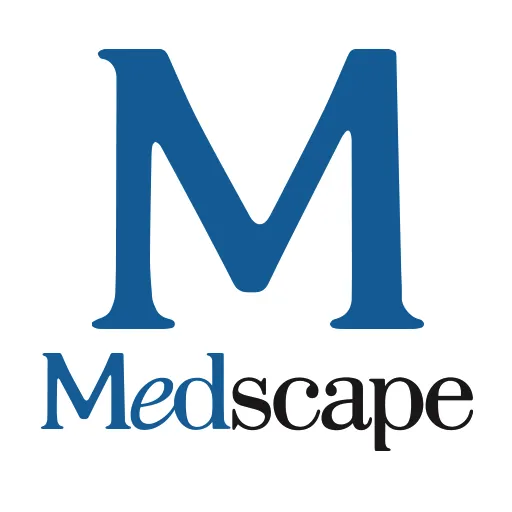 This is a free app created by WebMD for physicians and nursing students. On it, you can look up reference articles and reliable information about more than 8,500 drugs. There's even a Medscape consult option too, where you can connect with other nursing professionals and crowdsource common problems.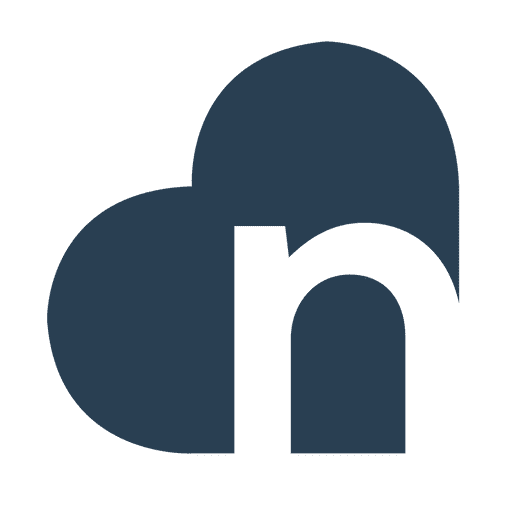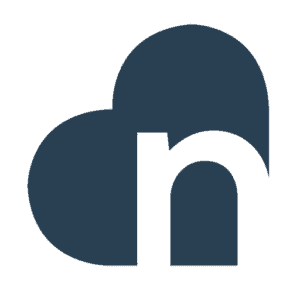 This is perhaps the most thorough and complete Nursing school study tool and classroom supplement you will find anywhere. It also has sold NCLEX study tools and everything is easily organized.
Save money on plastic water bottles and buy a reusable one. Investing in a Yeti thermos will keep your ice water cold or your coffee or tea perfectly hot.
35. Time to Rest
Before you even begin nursing school, tell yourself that you are going to schedule "me-time." It's way too easy to get super busy and leave self-care last. This will cause you to burn out and actually do worse in school.
So schedule a time to rest before classes even begin. You'll need it.
Buy a lunchbox that has plenty of room for an ice pack and lots of small containers. It's way too tempting to just eat out every day. Packing a lunch will help you eat healthier and save you money.
Buy one or two lined notebooks in which to keep class notes or other reminders. It might help to buy one notebook for each class so you can keep track of your notes easier.
Some nurses actually prefer loose-leaf notebook paper and a 3-ring binder. Find the system that works for you.
38. Fast and Reliable Internet Connection
This is a no-brainer, but make sure your internet is reliable and fast. With all the research and communications you'll be doing, you need internet that works every time.
This next school supply is more of a want than a need, but it a luxury item that you will fall in love with! The NeoLab Smart Pen instantly uploads everything you write with it to a cloud storage account. You'll be able to access your files online seconds after writing it.
You can then email the notes this way.
Plus, it has a voice recorder in it too. It's truly an amazing piece of technology.

Buy It Now
Before you start nursing school, set up a cloud storage account for files and papers. This way you can print papers anywhere and be able to share and receive notes.
Some of the best online storage includes:
Google Drive
iCloud
Dropbox
Evernote
OneDrive
Box.com
Color coding will become your best friend in nursing school. Invest in some high-quality colored pens so you can rewrite your notes and color code the really important parts that you'll have to memorize. Pilot G2 pens are worth every penny. They write smoothly and have ink that is easy to read.
Finally, make sure you have a small notebook that will fit in your pocket. You can keep medication notes inside of it and reminders that will help you through your clinical and rounds.
The Best Nursing School Supplies for Success
One of the exciting parts of getting ready for nursing school is shopping for school supplies. This list is complete and exhaustive. It includes every single thing you'll need for nursing school.
The best thing you can do is know yourself. How do you learn? Set yourself up for success by purchasing supplies that work with your brain and how you think.
More Nursing School Insider Tips
Now that you know what nursing school supplies you need, here are some insider tips that will help you soar through nursing school and graduate.