*articles contain affiliate links*
In a career like nursing, you will be faced with many different obstacles and challenges that you must work to overcome. Because being a nurse is not easy and requires a lot of focus and dedication, you must have a good set of smart goals to manage your time effectively. This post will find some examples of smart goals for nursing students that you can use for inspiration when creating your own personal plan-setting strategy.
But before we dive into examples, let's explore smart goals and their benefits so you can understand their importance.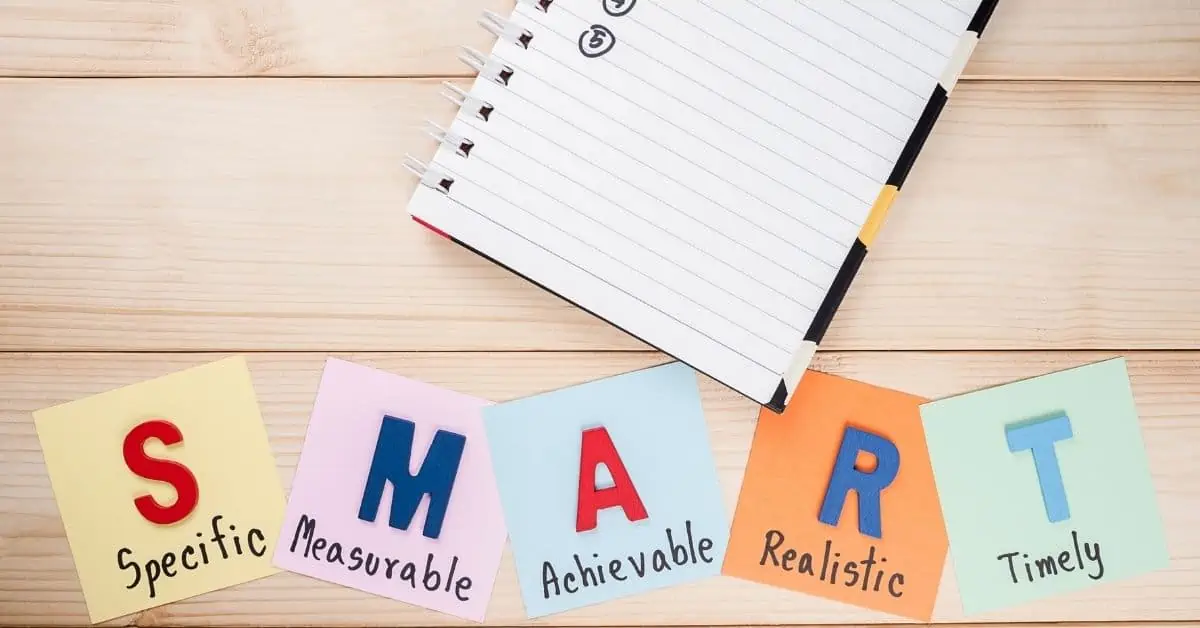 What Are SMART Nursing Goals?
The nursing goal is similar to the more common goals that you might find elsewhere, but some key differences are. SMART is an acronym that stands for five critical characteristics of practical purposes.
Specific
Your goal should include all of the essential details of what your goal is and what needs to be done to complete it. For example, instead of simply writing down "I am going to get better grades", you would write down something like "I will study every day after school with my study guide until I get 100% on our midterm exam." This could also include relevant dates of when the work must be finished by.
Measurable Goal
Your goals need to have some metrics associated with them so you can keep track of your progress. For example, if you write down "I am going to get better grades", there is no way of knowing exactly how well you are doing compared to before. Making goal measurable help you in different ways.
However, if you were to write down "I will study every day after school with my study guide until I get 100% on our midterm exam", then it would be possible for you to know how well you are doing because you could record the date when you completed the assignment and markdown your grade when it is marked.
Realistic Goal
It would help if you made sure that the goals set forth are something that can be accomplished realistically given all of your circumstances. If your goals seem too far out of reach based on what you have right now (e.g., you are currently failing all of your classes), it is not practical to set them at this point in time.
Achievable Goal
This means that your goals should be something that you can work towards achieving given all of the resources and support available to you. For example, if there is no way for you to get into a nursing program right now because it requires an advanced degree, then working towards becoming a nurse right now would not be very realistic.
Time Related
This just means that your goal has some definitive deadline by which it must be completed. Otherwise, when will the plan be attained? A good example would be "I will study every day after school with my study guide until I get 100% on our midterm exam."
Time management skills are very important if you want to become a medical professional.
Bringing It All Together
When you have brilliant and short-term goals in mind, it will be much easier for you to plan out the steps you need to take to achieve your ultimate objective. It's all about being well informed and making the most out of your time.
Small goals might have a time frame of a month. Larger ones might extend that time frame to a year. Again, choose something that is attainable but still a challenge. Often, people or businesses set unrealistic goals for themselves that only lead to failure.
That's why you need to follow the framework of 5 steps to help you create a plan that you'll have a better chance of achieving. With that being said, let us now go into some sample goals that are practical for nursing students everywhere.
7 Examples of SMART Goals for Nursing Students
SMART goals examples are an excellent tool for both nursing students and nursing assistants. They can be used for a variety of purposes. It is not just a goal-setting system used by nurses. You can start by choosing one of these goals or creating your own! Check out these 13+ examples of SMART goals for nurses to get their creativity flowing.
Patient Care
The first category is excellent patient care. These are goals that have to do with caring for patient safety in the hospital or at home. They include goals for nursing evaluations. You can create some treatment plan or do something different like:
I will provide excellent, compassionate care to my clients by making them feel safe and comfortable at all times throughout their stay as health care professionals.
I will develop a care plan for each patient that I see in my practice today. Each project will include specific nursing diagnoses, prioritized outcomes, possible interventions, and rationale for each intervention, including expected results.
Community Outreach/Education
These types of goals pertain to outreach and education about health topics related to nursing or the health conditions of patients you may encounter as healthcare providers.
I will educate ten community members on the importance of flu vaccinations today by providing flyers from the CDC during flu season.
I will speak with two patients today about stress management to help them deal with anxiety, mental health issues, and depression.
Leadership/Management
These goals are typically appropriate for nurses who are in charge nurse, manager, or other leadership roles within a workplace setting.
I will complete my first competency as a charge nurse by leading three medications today according to our hospital's policy and procedure manual using proper labeling methods.
I will work alongside my team member who is struggling to take 30-minute lunch breaks each day to develop a plan to help him accomplish this task. Next week, I will also follow up on this plan to make sure he has achieved success.
Professional Development/Knowledge
These professional goals may be used for nurses who are seeking to develop more knowledge about their profession or read about new information so they can stay abreast of what is required in their jobs.
This month, I will set aside time to learn about the latest evidence-based practice that has proven successful for wound care interventions.
I will read nursing journals for improving my nursing skills and implications on the nursing profession.
I want to become a registered nurse or want to get some interpersonal skills
Nursing Career Related
These types of goals are helpful if you are trying to plan your career path as a nurse. You may also want to make these types of goals if you're going to become an influential figure in some aspect of healthcare (i.e. nursing leadership, public health, education).
Take Charge of Your Nursing Career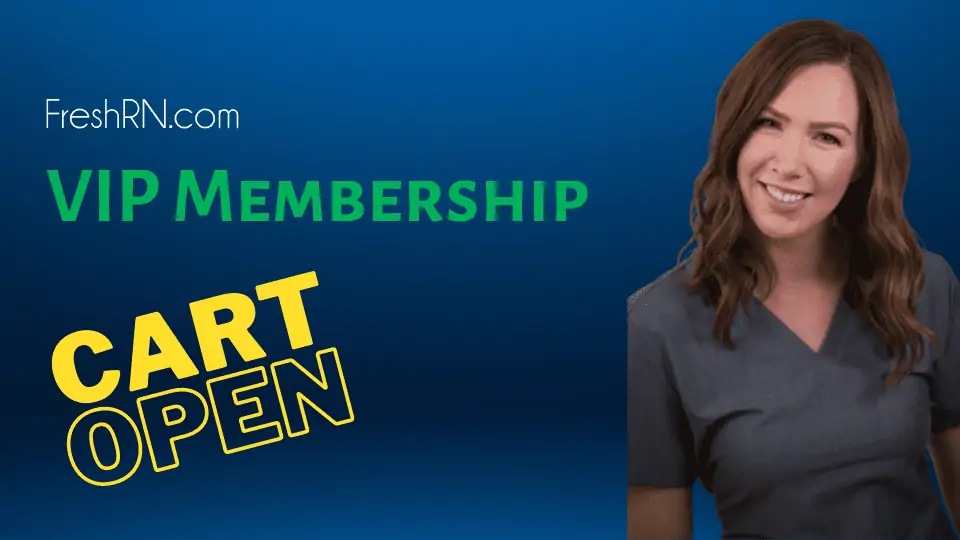 Your first year as a nurse is daunting. You need someone in your corner telling you what your managers really need from you, helping you learn to interact with your preceptor, and really just manage your life. Find all that an more with the FreshRN VIP - Membership.
I'm Ready to Thrive
I will take the ASN exam by January 1st. I will review my experience with the Praxis exam and what I learned to help me in this process along the way.
I want to become an influential figure in healthcare, so I will read two articles about people who have made significant contributions in their fields each week.
At the end of the year, I will review each article's points that relate to influence and record how these apply to my career goals moving forward.
Social
These goals are often aimed at gaining knowledge or understanding about social events related to your profession, new people you meet while networking for a new job opening, etc.
The last category is social. These are goals that don't necessarily pertain to your career as a nurse but become more knowledgeable about things or people surrounding the nursing profession like patient care, managing money, etc.
This year, I will attend four movies with my friends where nursing is an integral part of the storyline.
I will review all of my bills by January 1st and set up all automatic monthly payments, so I never have to worry about late fees again. I will delete my Facebook account without changing any security settings so outside influences cannot impact how I spend time online anymore.
Workplace Efficiency
When it comes to the workplace, efficiency goals are essential to consider if you are trying to become more efficient at your job. Due to the Affordable Care Act, many hospitals have made some changes, including shorter patient stays, minor nurse-to-patient ratio requirements, etc. I will read about these changes and prepare myself for all of the new processes that come with them to be an effective employee.
I will schedule all non-emergency meetings early in the morning, so they do not interfere with my ability to complete all patient care activities throughout the day.
After five years of employment at this hospital, I am starting a master's degree program tonight that CCNE accredits because I would like to learn more about critical care nursing.
Nursing students face a lot of challenges to accomplish their goals because they do not have a lot of control over many aspects of their learning experience. For that reason, it is even more critical for students to set intelligent goals because these can help them focus on what is most relevant and meaningful when trying to achieve success in school.
One thing to remember is always to create short-term nursing goals, first achieve them and then move to the next. You have to move step by step.
Accuracy and Formatting
The best way to make sure your goals are smart is to write them down so you can review them often. When writing down your goals, be as specific as possible about what you want to accomplish and how you will go about doing so. Be detailed in your plans of action and consider the steps it will take for you to achieve each goal. It's also vital that you keep these pieces concise by removing unnecessary words or phrases.
Conclusion of Smart Goals for Nursing Students:
Now that you have smart nursing goals examples hopefully, you will use these to help set your personal goals for this new year. You must follow the guidance in this blog post so that your goals provide value and consistency in all aspects of your life during and after school. With that don't forget to share this with your fellow nurse practitioner students.
Also Check Out: