*articles contain affiliate links*
Nurses are constantly on their feet, and like professional runners take special care to ensure that their feet are taken care of, nurses need to as well. Healthcare professionals have some of the longest shifts in the workforce and can take a serious toll on their feet. Not only can it affect the feet, but unsupportive or low-quality shoes can also cause pain and stress on the legs and back. A hospital setting is rigorous and requires running or walking quickly from patient to patient. Not only can orthopedic nursing shoes improve the experience for nurses, but can also help them to care for their patients better. Having the right shoes can let nurses focus on their work instead of their tired, achy feet. To help you choose the best orthopedic shoes for you, we take a deeper look into everything you need to know. While shoes may not seem like an important aspect, for nurses who are on their feet all day, proper footwear is crucial.
What are Orthopedic Shoes?
You may be wondering what orthopedic shoes are specifically. While there are a wide variety of different nursing shoes on the market, orthopedic shoes take special care of certain parts of the body. Orthopedic shoes are designed to specifically support your feet, ankle, and legs. Orthopedic shoes are typically worn by those that required additional support due to injury, deformity, or neurological disorders.
Common Characteristic of Orthopedic Shoes
To help you understand what makes orthopedic shoes different from regular shoes, we take a look at some of the common characteristics of orthopedic shoes.
1. Greater Sizing Options: Since orthopedic shoes are made for those that have special needs due to injury or deformity, there are more options. These include different widths and sizes to add to the customization of the shoe. While most shoes come with one width choice, many orthopedic shoes have three different widths to choose from to fit your feet better. A show that fits your foot better will be more comfortable and provide more support for your specific foot shape.
2. Removable Insoles: This feature is made for those that need to upgrade to orthotics, which are special medical devices or soles to correct or help with foot pain. This is helpful for those that need to remove the insole to put one in that matches their needs. While some regular shoes do come with removable insoles, they may not provide enough room to fit an insole of your choice.
3. Heel Support: Orthopedic shoes take special care to focus on added support to the rear of the foot. For many, a lot of pressure is put on this area causing pain and discomfort Especially for those that are on their feet all day, the heel can start to exhaust early on. For regular shoes, the heel support is adequate for the amount of time that people are normally on their feet. There is usually little added heel support and may not have room to fit in additional heel support.
4. Special midsole cushions: Many orthopedic shoes focus on other areas of the foot that need extra support. For those with specially-shaped feet, standing up can cause added pressure on certain areas of the foot. Those with extra-high arches may need special support in those areas. Orthopedic shoes are usually well-cushioned and have absorption properties for walking on hard floors.
5. Convenience: Since many patients that use orthopedic shoes may have impacted mobility, the shoes are designed to be put on easily.
How to Choose the Best Orthopedic Nursing Shoes
With all the different nursing shoe options on the market, it can be difficult to find a pair of shoes that fits your needs. There are a wide variety of different styles that some nurses swear by, while others may have better reviews. Even though some may have a seal of approval from other nurses, it may not work for you. Since medical professionals are on their feet all day, you want to find a pair of shoes that helps worry less about achy feet. Here we list out some aspects ad features to look for when choosing the pair for you.
Support: Although the style can be important for your overall confidence and look, the most important aspect of nursing shoes is the support it provides. Some people may need it in certain areas of the foot, so it is important to determine where you need additional support. Ideally, you want to look for a shoe that is lightweight and to help you walk pain-free. When choosing a shoe, do not sacrifice the support of the shoe as it helps to not only support your foot but also your legs and lower body.
Material: This is an important aspect of the weight and functionality of the shoe. You want a durable material that won't feel like a rock weighing down your feet. For those that need to walk quickly for long periods of time, the weight can really add to the exhaustion of the body. You also want to look for a shoe with material that is easily washable. Nurses are susceptible to spills due to the nature of their work. A water-resistant or waterproof shoe that helps to protect your foot from substances as well as make it easy to clean. You also want a shoe that has a slip-resistant shoe. This allows you to walk quickly without having to worry about slipping and falling.
Style: While nursing shoes have a bad rap for looking like old lady shoes, there are many color and style options on the market today. There is no need to sacrifice style for comfort any longer. You can find a shoe with adequate support and cushioning while looking stylish. Many shoes for nurses today look like athletic shoes, but have special technology and added features that a nurse needs. With all the variety of styles do not feel like you need to give up your own style for supportive high-quality shoes.
Orthopedic Nursing Shoes Comparison Table
We've outlined some of the best orthopedic nursing shoes in this comparison table to make it easier to find the one that is right for you. You can click "Read More" on any of them in the table to jump to the section in this article outlining more information about it. Or, you can click the "Check Prices" button to pick it up immediately.
Top 5 Picks for Best Orthopedic Nursing Shoes
Check Price
These clogs are a popular option worn by nurses all over the world. Even though it is a slip-on shoe, the features of these clogs make it perfect for nurses. The material is 100% leather ensuring a long-lasting shoe life. This shoe comes in a wide range of sizes and a variety of colors to fit your style. More importantly, these clogs feature innovative arch support and a padded instep collar. These additional features provide comfort and protection for your feet in just the right areas. These clogs also come with a breathable PU foam footbed that helps to keep your foot cool and comfortable. The specially designed rocker bottom helps to reduce fatigue as well as offer shock absorption. This is a great option for those looking for a stylish, yet functional shoe.
Pros:
– rocker bottom for added support
– versatile and easy to customize
– great arch support for different foot types
Cons:
– can be a bit loud
– does not come in a wide width
Check Price
The Asics Gel Venture 5 is a running shoe that also has the properties that make it a suitable shoe for nurses. This show features a high-abrasion rubber sole that provides the necessary traction for working in a hospital setting. The footbed also features a gel cushioning system and a removable foam sock liner for added comfort. A great aspect of this shoe is that it comes in a wide option for those with a wide foot. For those looking for an athletic nursing shoe, this is the one for you.
Pros:
– suitable traction
– comes in variety of colors
– contoured footbeds are removable
Cons:
– made for women's sizes
– some may not like athletic look
Check Price
This New Balance sneaker is another stylish option with an athletic look. It features an innovative memory sole great for flat feet. It also comes in different color options to fit your style. The shoe has a sleek design, lightweight feel, yet does not sacrifice support. It provides a supportive boot-style design with shock absorption for walking on different surfaces. The shoe comes in a wide range of sizes as well as a wide option for those with wider feet. They also have several different styles so if you prefer slip-on's, mules, or a more classic sneaker, you are sure to find one you love. For those looking for comfortable shoes with a lightweight feel and is affordable, look no further.
Pros:
– extremely lightweight
– memory sole footbed
– slip-resistant outsole
Cons:
– has athletic shoe look
– material is not water-resistant
Check Price
The Sketchers Men's Athletic slip-on shoe are great nursing shoes for men. The mesh upper is well cushioned, yet breathable for long work hours. The sole also has a padded heel for extra support. The Gowalk-max is a popular choice for those that walk a lot since the insoles have a high rebound. Although not the most stylish option, they come in different colors so you can find the perfect pair for you. These are no-nonsense orthopedic nursing shoes that provide adequate support for long shifts.
Pros:
– soles have added support
– slip-on design is quick and convenient
– mesh upper allows breathability
Cons:
– simple design
– synthetic sole for slippery surfaces
Check Price
The Propet men's sneaker is specially designed for walking. This comfortable footwear option features a leather upper making it safe and easy to clean from bodily fluids. It also has small perforations for breathability, making it great for healthcare professionals. The shoe also features a quality support system including a molded EVA midsole, internal heel counter, and a removable footbed. This shoe is customizable for those with narrow feet, wide feet, or flat feet. Although the shoe does not come in a wide range of colors, there are neutral options to choose from.
Pros:
– leather material for longevity
– quality foot support
– large range of sizes
Cons:
– men's sizes
– not the most stylish option
Conclusion
While most people would not think that nurses need special shoes, they are on their feet longer than most athletes are. To help you focus on providing superior care instead of foot pain, there are shoes for nurses that provide adequate support. With all the different types of shoes on the market, you will find the one that you swear by. There are certain products and features that fit with your foot better than others.
More on Orthopedic Nursing Shoes
Download Nurse Bingo Today!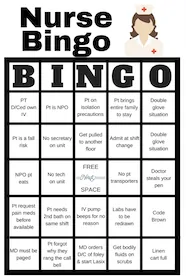 Liven up any shift with a fun game of bingo. See who can fill a row first!
Fill a whole card and lose grip with reality.
Your privacy is protected. We will never spam you.