*articles contain affiliate links*
As many know being a nurse comes with long and hectic shifts. Luckily for you, there are a number of different tools to help you keep organized and focusing on what is important: the patient. Nurse Organizers help to keep all different nursing accessories and items readily available and separated into organized compartments. We have all had the moment where we realized we left something in another patient's room and had to go back and retrieve it. While most hospital and medical settings have a designated nurse station, nurse organizers can save multiple trips back and forth. This allows you more time to care for the patient, as all your essential tools are right on you. A perfect organizer companion helps you feel less stressed during the already hectic shifts as well as help you appear more professional with all your nursing accessories readily available. We go through all the ins and outs of a nurse scrub pocket organizer to help you determine if it is the right tool for you.
What is a Nurse Pocket Organizer?
A nurse scrub pocket organizer is just as the name suggests. It is a helpful tool that carries all your necessary nurse supplies and fits right in your scrub pocket. Although must scrubs come with pockets, it usually consists of larger pockets with no organization. With all the different nursing accessories and materials that a nurse needs you'll end up stuffing those pockets easily. While you may be able to fit all your practical tools into your scrub pocket, you will have to spend time digging around for what you are looking for. This not only looks unprofessional but also wastes precious time you have to care for all your patients. A nurse pocket organizer usually consists of different-sized pockets to fit all the different nursing accessories such as gauze, tape, alcohol swabs, syringes and needles, pens, and much more.
There are other options such as an organizer belt or nursing fanny packs, but some people find it a bit bulky. Whereas, the nurse scrub pocket organizer fits right into your scrub pocket and barely feels like it is there.
How do you Wear a Nurse Pocket Organizer?
Unlike nursing fanny packs or an organizer belt, a nurse scrub pocket helps to organize all your supplies and fits right into your scrub pocket. The product usually comes in a lightweight, slim profile made to feel like a part of your scrubs. While some nurses choose to use an organizer belt, a pocket organizer lets you access all your nurse tools easily and effectively. The different compartments are made to separate all your essential items that may easily get lost and jumbled within the larger scrub pockets. Some nurse pocket organizers come with a belt loop so you can wear it as an organizer belt if you prefer. Others are made to fit directly into the scrub pocket. Even though the main purpose of these organizers is for nurses to organize their tools, they can also be used by anyone in their purses, bags, or backpacks to help organize smaller items.
Where to Buy Them
You can purchase these packs anywhere they sell nursing supplies. We found that Amazon and Etsy have functional and affordable options that have shipping all over the world. While many nurses may not know about the nurse scrub pocket organizer, this useful tool is a great gift to nurses. While there are few in-person nursing supply stores, most storefronts provide quick shipping solutions.
Our Favorite Nurse Pocket Organizers
With all the different options on the market, it can be difficult to choose the best nurse scrub pocket organizer for you. Whether you are looking for an organizer for yourself or a gift for nurses, you are sure to find one that fits your needs. Here we take a closer look at two options from Amazon and Etsy that are high-quality products.
Check Price
This product comes in four different colors and features 3 front pockets and 1 back pocket. It also comes with a velcro-closure pocket for added security. The variation of pocket sizes saves you multiple trips for supplies. The high-quality nylon material is water-resistant, perfect for hospital settings. The product dimensions are 5 inches by 6 inches, which fits perfectly into your scrub pocket. The nylon pocket organizer includes a belt loop adding versatility to the way you can wear it. These organizers make great gifts for any nurse or to use for yourself. This heavy-duty, yet lightweight nurse scrub pocket organizer will become a go-to work essential. Say no more to digging around in your scrub pockets.
Pros:
– quality nylon material is durable
– belt loop adds wearability
– various pockets that fit all your nursing supplies
Cons:
– velcro pocket can make it a bit bulky
– not waterproof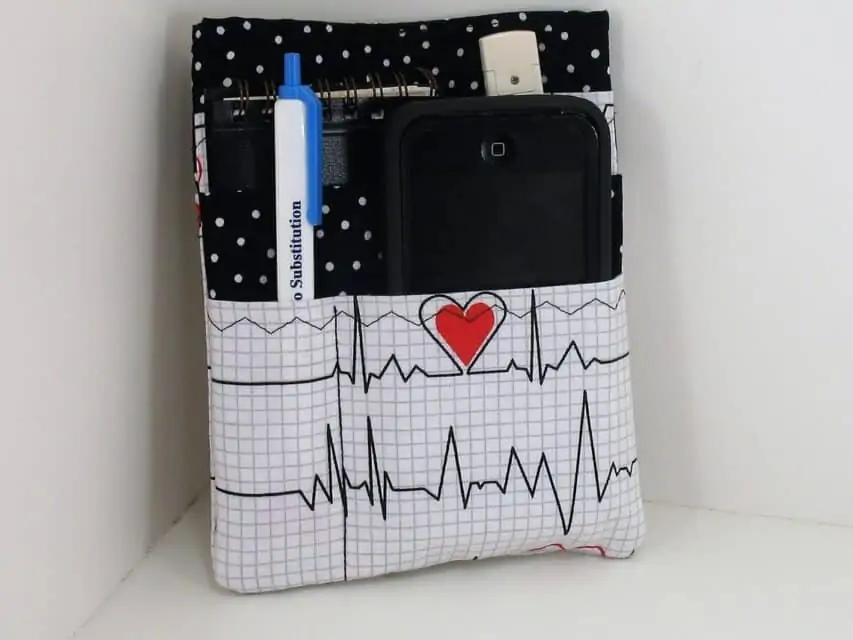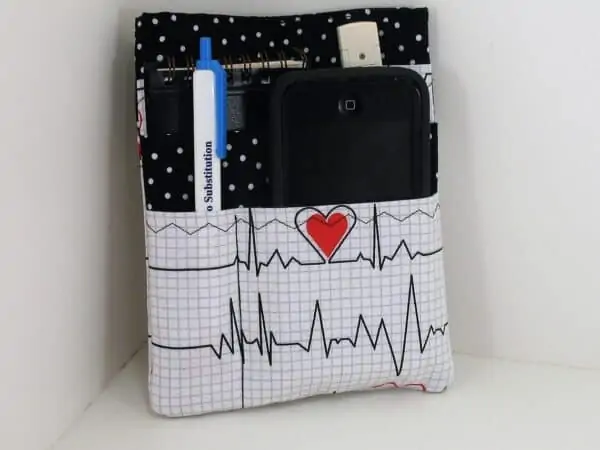 Check Price
This product is no standard organizer as you can choose between different options for the print of the organizer. The shop features different options that fit your style. The packs feature smaller and bigger pockets to fit all your nursing accessories. The organizer size also fits perfectly into your scrub top, making it the perfect assistant for the fast pace of a hospital setting. Feel stylish and organized with this nifty organizer. This excellent gift option is handmade and designed to fit all your nursing tools. The organizer size is 6.5 inches tall by 5 inches wide. The front side has three pockets that are split into various size pockets for the different tools you may have. The backside features a bigger pocket split into two larger compartments. The material is a lightweight cotton that you can barely feel in your scrub pocket. This item not only serves as a nurse pocket organizer, but can also be great as a purse organizer, coat pocket organizer, backpack organizer, or organizer for other uses. This makes it a versatile tool that is a great gift for teachers, gift for vets, or anyone in general. The smaller compartments allow you to access key items easily and keep you from digging around in your pocket or purse to find what you are looking for. 
Pros:
– light weight material perfect for active lifestyles
– fits all your nurse accessories
– small business purchase
Cons:
– handmade so purchase may take longer
– no belt loop
Conclusion
Although must scrubs come with pockets, it usually consists of larger pockets with absolutely no organization. A nurse pocket organizer can help you keep all those supplies you need throughout the shift in one, organized, place.
More on Nurse Pocket Organizers