*articles contain affiliate links*
Let's face it, when you spend most of your day running around a hospital, the last thing you want to worry about is whether or not you're going to slip and fall. Healthcare workers, like nurses, are on their feet all day. While they're focused on their patients, they also need to be comfortable most of the time. That's why finding the best slip on nursing shoes is so important. A high-quality shoe can give them the support and comfort they need to get through their shifts.
There are a lot of different nursing shoes on the market, so it can be tough to know which ones are the best. To help you out, We've outlined some of the best nursing mules in this comparison table to make it easier to find the right one for you.
So, if you're looking for a comfortable, supportive, and slip on shoe for nurses, read on.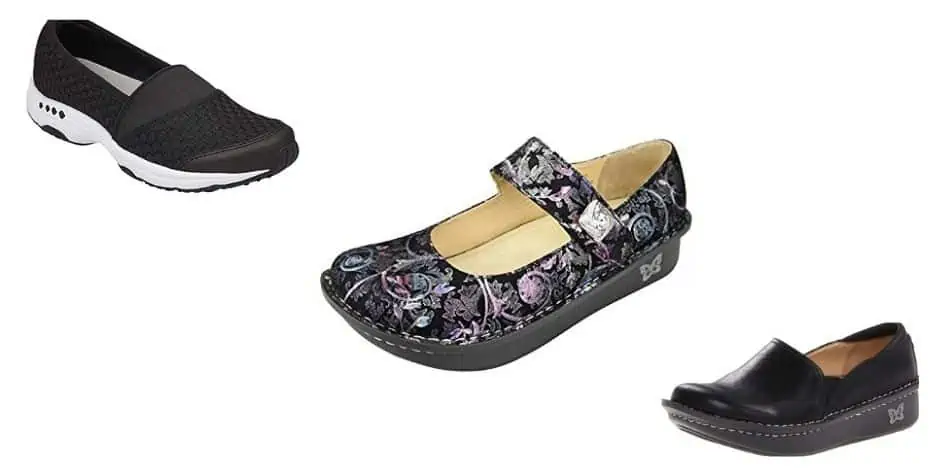 Best Slip On Nursing Shoes
We've outlined some of the best nursing mules in this comparison table to make it easier to find the one that is right for you. You can click "Read More" on any of the items in the table to jump to the section in this article outlining more information about it. Or, you can click the "Buy from Amazon.com" button to pick it up immediately.
Made from stain-resistant leather these nursing shoes offer high comfort and are very lightweight. The outsole is slip-resistant and offers good stability. Alegria nurse shoes are some of the best around. These shoes too are not only comfortable enough to be worn during your working day but they also come with a variety of beautiful designs and styles. They are extremely easy to slip on and off due to the elastic materials. You can find Alegria Debra slip-on in such patterns as solid black and white or midnight garden, and Aztec tile and aloha. These nursing shoes have a comparatively high rating too: 4.2 among over 280 customers.
Comprised of 100% cotton and durable leather, the WorkWear Peacock Women's Step In offers a lightweight outsole and breathable linings. A more traditional nursing shoe, this style can be found at Amazon.com for approximately 10% less than the MSRP of $48.00.
Here is another combination of comfort, fashion, and beautiful design. Alegria Paloma nursing shoes are available in a wide range of colors and patterns and come with such advantageous features as:
Stylish leather upper
Special leather insole with a built-in arch support
Removable factory insole i.e. ability to work with orthotic inserts which means that they are a good choice for those with foot problems
Rocker outsole meant for supporting your posture and gait
Less pressure on the heel
The reviews have shown that Paloma shoes are highly comfortable and don't hurt your feet even after a 12-hour shift. It's not surprising since Alegria nursing shoes are some of the best around.
The only disadvantage that we should mention is the squeaking sound that these shoes are inclined to make. A solution to this can be a silicone lubricant. In any case, you may want to try to avoid patterns that are too elaborate even though nurses' shoes have a reputation for having wild patterns.
A more popularly seen nurse's shoe is the Women's Nurse Mates DOVE Slip On Loafers. Made mostly of leather with a rubber slip-resistant sole, this shoe comes in a variety of colors you can pair with your favorite scrubs. Colors include, but are not limited to, black, metallic navy, pink, and all white. The MSRP on the DOVE Slip-On Loafer from Nurse Mates is $70.00. However, you can order yours today from Amazon.com for 20% less.
Another shoe designed with not only comfort in mind, but style as well. The Alegria Women's Professional Slip-On is comprised of leather with a slip-resistant rubber sole and an adjustable Velcro closure featuring button detail. Let's not forget the patented interlocking cork memory foam footbed that molds to your feet and walking pressures to maximize comfort. Available in a variety of colors and patterns, including Black Butterfly Patent, Professional Floral, and Black Patina, this Alegria shoe has an MSRP of around $120.00 but can be found on Amazon.com for about 25% less.
From Easy Spirit, these comfort shoes are absolutely perfect for walking and light activity. They're easy to slip on and off, plus their removable sock liners absorb shock, offer arch support, and provide superior comfort all-day, into the evening.
Rubber sole

Removable insole

Durable flexible outsole
These shoes are so easy to take on and off, and the sock liner will provide all-day comfort for those days when you are on your feet nonstop.
What to Look for in Shoes for Nurses
When choosing the best slip-on nursing shoes, there are several factors that you need to consider, such as:
Comfort: This is the most essential factor you need to consider when choosing a slip-resistant, slip-on shoes. The shoes should be comfortable enough to wear for long hours without causing any foot pain or discomfort.
Support: The shoes should provide good arch support and not be too soft or too hard.
Fit: The shoes should fit well and should not be too loose or tight.
Style: The shoes should be stylish and should match your uniform.
Material: The material of the shoes should be breathable and should not cause any skin irritation.
Price: The shoes should be affordable and should not be too expensive.
FAQ
How Long Do Leather Nursing Shoes Last?
Leather nursing shoes can last anywhere from 2 to 4 years, depending on how often you wear them and how you take care of them. If you're careful with your shoes and don't subject them to much wear and tear, they can last for quite some time. However, if you're constantly on your feet or are very hard on your shoes, they may not last as long. Either way, leather nursing shoes are an excellent investment for any nurse and can help you stay comfortable on your feet all day long.
How Often Should Nurses Get New Shoes?
There is no hard and fast rule for how often nurses should get new shoes, but most experts recommend replacing them every six months due to the structural breakdown that can contribute to foot pain. While some nurses may be able to get away with wearing their shoes for longer, it is generally better to err on the side of caution when it comes to your feet.
Additionally, if you are starting to experience any discomfort or pain in your feet, new shoes may help alleviate these symptoms. Ultimately, it is crucial to listen to your body and give yourself the best chance to avoid injury by regularly replacing your nursing shoes.
How Do I Choose the Right Size Shoe?
When choosing the right size shoe, it is essential to measure your foot. You can do this by tracing your foot on a piece of paper and then measuring the length and width of the tracing. Once you have these measurements, you can use a sizing chart to find the corresponding shoe size.
It is also essential to keep in mind that different brands and styles of shoes may fit differently, so it is always a good idea to try on a few different pairs before purchasing. If you are unsure about what size to buy, most retailers will be happy to help you find the perfect fit.
Download Nurse Bingo Today!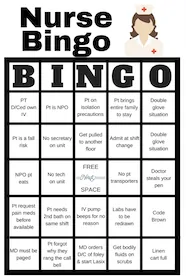 Liven up any shift with a fun game of bingo. See who can fill a row first!
Fill a whole card and lose grip with reality.
Your privacy is protected. We will never spam you.