*articles contain affiliate links*
I've always known that Alegria nurse shoes were super popular, but I held out on trying them for a long time. For several years, I swore by supportive and orthopedic nursing shoes. I would order pairs of shoes from several sellers- and wished I could make fine adjustments to tweak them to my liking. But now I sing the praises of Alegria- a popular European shoemaker- which has a distinctive line of shoes that are both easy to walk in and look great.
5 Best Alegria Nurse Shoes
We've outlined the best Alegria nurse shoes in this comparison table to make it easier to find the one that is right for you. You can click "Read More" in the table to jump to the section in this article outlining more information about it. Or, you can click the "Buy from Amazon.com" button to pick it up immediately.
Why do I like Alegria nurse shoes? If you're anything like me, you'll love to wear shoes that have some style to it, and are quite easy to get in and out of. Alegria does just that.
Alegria makes shoes that look good and are pretty comfortable at the same time. What stands out for me, though, is that these shoes come with a rocker outsole, similar to what you see in the Skechers fitness shoes or Masai balance shoes, but not just as extreme.
Here are some of the best Alegria nursing shoes.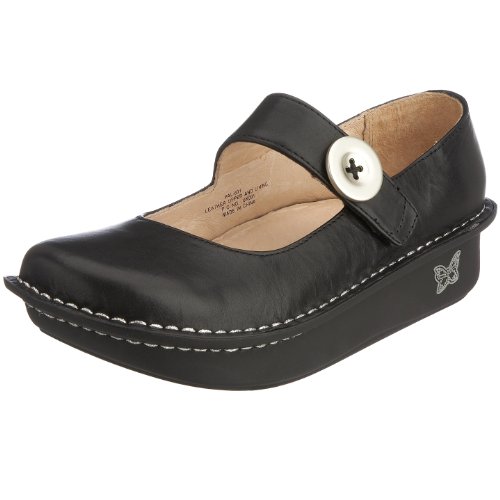 My first impression of this Mary Jane is aptly summed up here- "it is very tempting to wear and feels very comfortable".
The Paloma Professional's strong suit is its glove-like fit, followed by other details like the bright animal-print leather upper, an anatomically shaped footbed for better arch support, a cushioned platform sole, and a specially engineered rocker outsole. What's more, these shoes come in a wide assortment of sizes and colors- so there's one for everyone.
Well-built, durable and smartly priced, Alegria's Paloma FlatAlegria's Paloma Flat is definitely one of the best Alegria shoes out there and I can't imagine a more comfortable and stylish nursing shoe. It's no wonder that these Alegria nurse shoes are some of the best!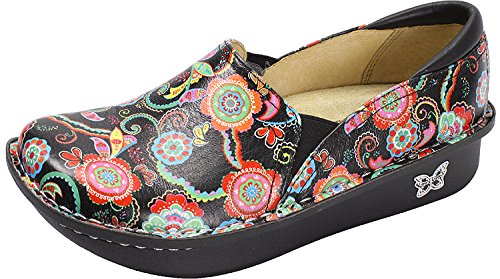 If you're on your feet for several hours straight and are looking for good, durable work shoes that give you better stability, support, and comfort, take a close look at these slip-on nursing shoes from Alegria.
Everything about the Algeria Women's Debra says "let's go walking", beginning with a wide toe box that provides ample room and great comfort; a supportive footbed wrapped in leather and memory foam; a replaceable and contoured insole for a better fit, and a lightweight rocker outsole that gives you a sense of sure-footedness. Other creature comforts include leather uppers; a high, padded heel; and a special elastic goring for slip-on style.
Comes in a variety of sizes and prints to match your wardrobe.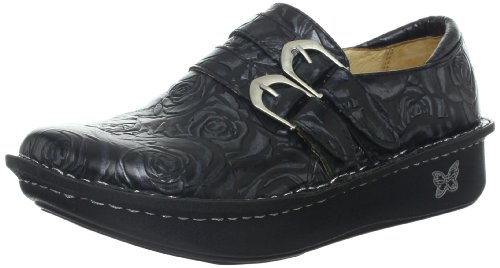 If you're looking for a classic, professional nursing shoe that offers comfort and support throughout your shift on hard and greasy surfaces, Alegria's Alli Solid Flat comes closest.
I picked it as one of my Alegria favorites because it features shiny, stain-resistant leather uppers; a superior adjustable buckle closure for enhanced fit; a soft footbed that is made out of cork and memory foam for optimum comfort; and an Alegria feature in its rocker bottom that is fitted with anti-slip polyurethane outsole.
A champ at offering maximum comfort and sticking to almost any tricky surface, Alegria's Alli is a great nursing shoe.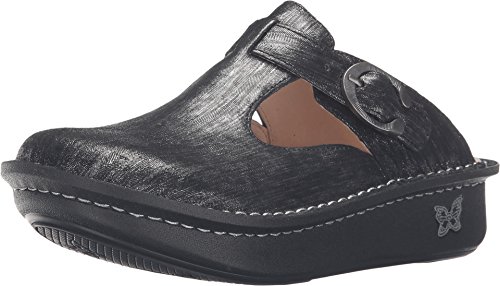 Billed as a classic work clog, Alegria's Classic Pro is a cut above other nursing shoes of its ilk.
With Alegria Classic Clog, you get genuine leather toughness, a round toe box, the fit and flair of an adjustable buckle strap, the footbed protection of a good insole, and the stability and sure-footed feeling of a robustly designed mild rocker outsole that allows natural gait.
I've found them stylish, comfortable and easy to break in, but most importantly, these classic clogs inspire confidence and faith.
They come in medium and wide width options and are available in different sizes and patterns to complement your wardrobe.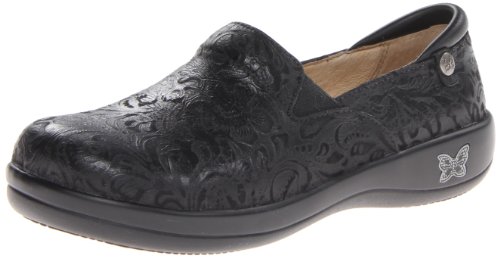 Are you on your feet for several hours? Walking up and down the hard, unforgiving concrete floors in the hospital? These value-priced shoes from Alegria can provide the comfort and support you need.
Striking in performance and appearance, Alegria's Keli makes a classic case for sturdy and well-appointed shoes that look good and can be comfortable at the same time.
The unique look comes from a leather upper and roomy toe box design, plus a well-defined rockered sole that amps up the aesthetic effect and helps natural striding.
Look no further than Alegria Keli if you want support, traction, stability, and all-around comfort in one shoe.
Finding Great Alegria Nurse Shoes
Alegria nurse shoes aren't exactly cheap. So it's critical to find deals and sales. Luckily, Amazon.com usually offers these shoes lower than most places in store and online. I always start there when I'm looking for nursing shoes on sale.
For more information on Alegria Nursing Shoes check out:
Download Nurse Bingo Today!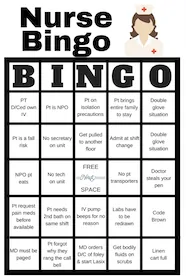 Liven up any shift with a fun game of bingo. See who can fill a row first!
Fill a whole card and lose grip with reality.
Your privacy is protected. We will never spam you.