*articles contain affiliate links*
Most people think of St. Agatha of Sicily as the main – if not only – patron saint of nursing. She is certainly the most well-known, but there are also 3 other patron saints of nursing that hold deep meaning to nurses.
Patron Saints of Nursing
The 4 patron saints of nursing are:
St. Catherine of Siena
St. Camillus of Lellis
St. Elizabeth of Hungary
Each has a beautiful story and inspires nurses for different reasons.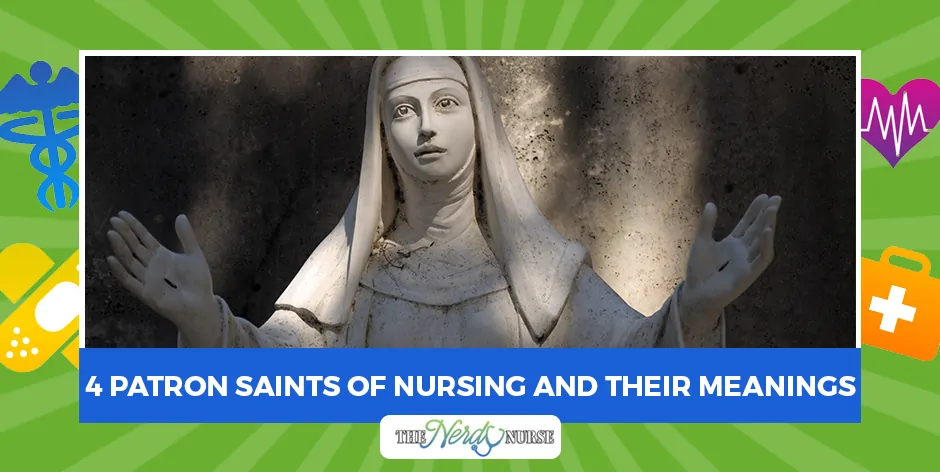 St. Agatha of Sicily – Patron Saint of Wet Nurses & Breast Cancer
St. Agatha was born around 231 A.D. in Sicily to rich noble parents. She is the patron saint of wet nurses and breast cancer because of her story of torture where her breasts were torn off and miraculously healed.
Her Story
She was born with beauty and vowed to remain celibate and sexually pure, devoting her life to God and prayer. A judge named Quintianus wanted her for himself and tried to force her to marry him through imprisonment and torture. She never lost her faith nor dedication, even when he ordered her breasts to be removed. While in prison, she had a vision of St. Peter the Apostle who healed her wounds. She eventually passed away – a virgin – in 251.
St. Agatha Prayer
Saint Agatha, you suffered sexual assault and indignity because of your faith and purity. Help heal all those who are survivors of sexual assault and protect those women who are in danger. Amen
St. Catherine of Siena – Patron Saint of Nurses
St. Catherine was born March 25, 1347 during the outbreak of the plague in Siena. Through her life's dedication to the sick, she was declared doctor of the church.
Her Story
She was born the 25th child to her mother, but because of the plague not all of her siblings survived infancy or childhood. As she grew up, she joined the third order of St. Dominic instead of a convent so she could serve God at home.
When she was 21, she had an experience where she saw a vision of Christ marrying her and giving her a ring. In this vision, she was told to help the poor and sick. It changed her life and from that moment forward she devoted her life to the sick.
St. Catherine Feast Day
Her feast day is April 29. St. Catherine is revered as the patroness against fire, illness, the United States, Italy, miscarriages, people ridiculed for their faith, sexual temptation, and nurses.
St. Camillus of Lellis – Patron Saint of Hospitals & Nurses
St. Camillus is a male saint, born in Italy.
His Story
After becoming addicted to gambling, he became penniless in 1574. He turned his life around and devoted his life to caring for the sick. His confessor, St. Philip Niri gave him permission to be ordained and he founded his own congregation, the Ministers of the Sick. In 1588 his congregation took care of the plague-stricken aboard ships in Rome's harbor. He and his order also founded the first field medical unit as they ministered to wounded troops in Hungary and Croatia.
His Feast Day
St. Camillus was canonized in 1746. He was declared patron of the sick by Pope Leo XIII, and patron of nurses and nursing groups by Pope Pius XI. His feast day is July 18th.
St. Elizabeth – Patron Saint of Nurses & Caregivers
St. Elizabeth was born to royalty in Hungary. She is revered for how she used her position of power to care for the sick and destitute.
Her Story
She was born in Hungary on July 7, 1207. In 1221, she married the love of her life, Ludwig. Together they had 3 children. While married, she advanced causes of charity and worked with the poor. In fact, she was known to wear simple clothes and take bread to the hungry. In 1227, her husband died from illness. She vowed never to remarry, instead chose to live a life like a nun with a vow of celibacy and devotion to the poor and sick. In 1228 she founded a hospital in honor of St. Francis.
Her Feast Day
St. Elizabeth's feast day is celebrated on November 17 and she is the patron saint of bakers; beggars; brides; charities; death of children; homeless people; hospitals; Sisters of Mercy; widows.
All 4 of these patron saints of nursing has an inspiring story of service that anyone can admire. Share this story with your friends and encourage them.
See Also: