*articles contain affiliate links*
Gloves, hand washing, and disinfecting all wear down your skin. So what are the best hand creams for nurses that have red, dry hands? These are the 7 best hand lotions for nurses – they work overtime to nourish your hands.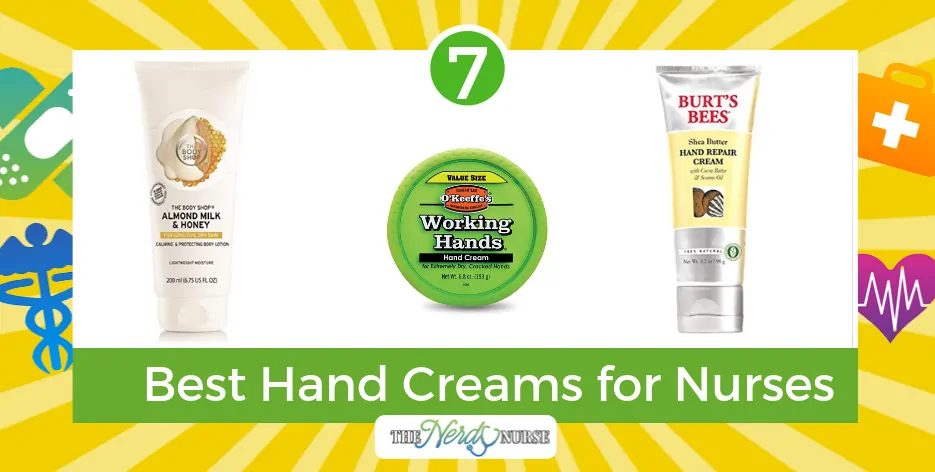 The Only 7 Hand Creams for Nurses You Need
The qualities of the best lotion will both repair and nourish your hands. And boy do we need that as nurses. The frequent hand washing strips your hands of important nutrients and oils. What you are left with is itchy, red, dry skin.
These 7 hand creams will protect and heal your hands so you can work all shift and still have soft hands.
Best Hand Creams for Nurses
We've outlined some of the best hand creams in this comparison table to make it easier to find the one that is right for you. You can click "Read More" on any of the creams in the table to jump to the section in this article outlining more information about it. Or, you can click the "Buy from Amazon.com" button to pick it up immediately.
Burt's Bees Shea Butter Hand Repair Cream – 3.2 Ounce Tube

Burt's Bees is known for producing sustainable products. But even better than their environmental responsibility is how well their stuff works. This hand repair cream has shea butter and cocoa butter plus sesame oil. The result is a thick cream that your skin will absorb quickly.
O'Keeffe's Working Hands Hand Cream, 3.4 ounce Jar

Nurses love O'Keefe's working hands. It's so strong and powerful that it will even soothe and repair cracked skin. And if you don't like smelly lotions, this one is for you too. It's completely odorless and non-greasy.
Badger Healing Hand Balm – 2oz Tin (2 Pack)

Badger Bill created this balm for his hands when he was a carpenter who had dry, cracked hands in the New England winters. It's highly concentrated and works like magic. It's made with a combination of olive oil, beeswax, castor seed oil, and aloe leaf extract.
The Body Shop Almond Milk & Honey Calming & Protecting Body Butter, 6.9 Oz

If you have sensitive skin, then you should use the hand cream from The Body Shop. It has a hypoallergenic fragrance and it is enriched with honey and almond milk.
The tube is small enough that you can keep it in your scrubs and use it throughout your shift.
CeraVe Therapeutic Hand Cream for Dry Cracked Hands | 3 Ounce | With Hyaluronic Acid and Niacinamide | Fragrance-Free

This next hand cream is another one that lots of nurses will recommend. It's more than a lotion, it protects your skin all shift long from the frequent hand washing and other things your skin goes through.
The dimethicone forms a barrier on the skin that is water-resistant. This makes a fantastic addition to a gift basket for new nurses. You'll use it!
Kiehl's Since 1851 Ultimate Strength Hand Salve – No Color – 5.0 oz / 150ml

The key ingredients in Kiehl's ultimate strength hand salve are avocado oil, sesame oil, and eucalyptus oil. When you use this lotion after washing your hands it will soften your skin and feed it with the moisture it craves.
Your hands will feel soft and moisturized, it's a dependable and effective hand cream.
Eucerin Original Healing Cream – Fragrance-Free, Rich Lotion for Extremely Dry Skin – 16 oz. Jar (Pack of 2)

Finally, one of the most reliable brands for repairing dry skin is Eucerin. Try their advanced repair cream. It's formulated for very dry skin. In fact, it provides immediate relief that keeps working for up to 48 hours after you put it on.
Lots of nurses love Eurcerin because it not only makes your hands feel soft, but it helps to strengthen the skin's natural barriers.
What To Look For In Hand Creams for Nurses
When you are looking for a hand cream or lotion, there are a few things you'll need to look at. Pay attention to ingredients, especially if you might have a sensitivity or reaction to perfumes.
Here are some more things to keep in mind when you are buying lotion:
Ingredients – choose things with oils that will replenish your skin with the moisture it is losing when you wash your hands
Skin Barrier – find a cream that will leave a protective barrier on your hands to protect them throughout the shift.
Gloves – buy a cream that won't compromise your glove's integrity.
Scents – it's always best to choose an odorless cream so you don't cause a reaction with your patients.
Reader Recommended Nurse Hand Creams and Lotions
Bloody Knuckles – "Thanks for this article, my hands are already getting dry and its not even winter yet! Another one to check out is Bloody Knuckles (may not like the name) but it is wonderful for Mechanics and people who work out in the elements!" Tami
More Things You Need as a Nurse
As a nurse, we need pens and comfy nursing shoes. But what are the other must-have products that will make your job easier? Check these ideas out next!
L'Occitane Fast-Absorbing 20% Shea Butter Hand Cream, 5.2 fl. oz.

JR Watkins Natural Moisturizing Hand Cream, Lemon Cream, Hydrating Hand Moisturizer with Shea Butter, Cocoa Butter, and Avocado Oil, USA Made and Cruelty-Free, 3.3oz

Aveeno Skin Relief Intense Moisture Hand Cream with Soothing Oat and Rich Emollients for Dry Skin, 24 Hour Moisture, Fragrance, and Steroid Free, 3.5 oz

Yes To Coconut Hydrate & Restore Protecting Hand & Cuticle Cream, 3 Ounce

AHAVA Dead Sea Mineral Hand Creams

Neutrogena Hydro Boost Hydrating Hand Gel Cream with Hyaluronic Acid for Soft, Supple Hands, Light and Non-Greasy, 3 oz